Dubai is not only synonymous for skyscrapers and sand dunes, this modern middle eastern city is home to some of the best beaches in the United Arab Emirates. Whether it is having a picnic at Al Mamzar Beach, riding a speedboat around Palm Jumeriah or jet skiing on the Dubai Marina, the city has endless options to take in its coastline. Dubai beaches are clean, well maintained and packed with entertainment. Since there are dozens of beaches in this region, here is a list of the best beaches in Dubai to soak in the sun:
Top 10 most beautiful beaches in Dubai
1. Jumeirah Beach
Start off beach hopping with one of the oldest beaches in Dubai, the Jumeriah beach is a local family favourite beach. It is a clean and well-maintained beach about 3km long and sectioned into an area for swimming and an area for water sports. You will usually see the beach filled with families in the evening and kids frolicking around. What also makes this one of the most popular beaches in Dubai is a stunning view of the iconic 7-star hotel, The Burj Al Arab, a perfect treat to the sore eyes.
Best for : Families, leisure.
2. Kite Beach

Also located alongside the Burj Al Arab is the hidden gem of kite beach. Adventure lovers and water sports enthusiasts will love this beach due to the plethora of adventure activities you can do here such as kitesurfing, paddleboarding, wakeboarding etc. It also has a 14 km jogging track along the beach with a view of the Burj Al Arab for the fitness lovers. The beach is lively with a number of food trucks so you can easily access finger food while enjoying the beachy vibe. You know you've entered the beach once you start spotting numerous the kite surfing parachutes in the sky, hence why it is called kite beach!

Best for: Adventure seekers.
Also Read: Top 15 Things to do in Dubai
3. Al Mamzar Beach Park
White sandy beach, turquoise waters and wind in the hair will make you forget you're in a huge metropolitan city and transfer you directly to a tropical island. The park has 5 beach fronts filled with 1000 palm trees where you can also find barbecue stations. Find yourself a shady spot for an ideal picnic outing. The beach is exclusive for women on Mondays and Wednesdays.

Best for: Dates, Picnics.
4.Sheraton Jumeriah Beach
One of the best private beaches in Dubai, The Sheraton Jumeirah offers direct access to the pristine beach from its resort. Have fun with the numerous adventure sports it offers like jet skiing, wakeboarding, banana boat rides and parasailing. If adventure doesn't interest you, sunbathe and relax on the beach before enjoying a scrumptious meal indoors.

Best for : Private luxury
Also Read: Meena Bazar in Dubai
5. La Mer

La Mer gives you complete international beach vibes having cafes, shopping outlets and entertainment zones. It is decorated with colourful shacks and graffiti making it an Instagram favourite for clicking cool beach pictures. You can also extend your fun at the water park located here or an inflatable playground called 'Hawa Hawa.' The fun never ends on this recently created manmade beach.
6. Jumeriah Beach Residence

One side you get the view of the pristine sandy beach, look back and you get the view of Dubai Marina's luxurious skyscrapers and look above you will get the view of people diving downwards as the landing zone of Skydive Dubai is located right next to the beach. There is never a dull moment in JBR with exciting views, cute bistros and fancy boutiques lined up. Be sure to arrive well ahead during weekends to experience this famous beach in Dubai.

Best for: fun views and food.
7. Aquaventure Beach
Aquaventure Beach is part of Atlantis hotel's water-based theme park. You will find many tourists relaxing on the sun loungers and experiencing the resort's excellent facilities such as private cabanas and waiter service. Make sure to relax at the beach post enjoying all the fun thrills at one of the best theme parks in Dubai which has numerous water slides and fun rides for all ages.

Best for: Adventure lovers.
8. Sunset Beach
Umm Suqeim Beach is also known as Sunset Beach commonly due to its picturesque sunset views. It is an excellent beach in Dubai to spend a night out and even has a section lit up with floodlights for night time swimming. Enjoy the calm serenity of the beach as there arent any restaurants and cafes in the vicinity. You can also spot the Burj Al Arab from a distance from here while you enjoy a morning run or a romantic evening stroll.

Best for: sunset views.
Also Read: Global Village in Dubai
9.Mercato Beach

Mercato beach in Dubai is a beach not known to many tourists. This hidden gem usually visited by locals is a quaint beach for people looking for peace and quiet from the bustling city of Dubai. You can even find bean bags here for some ultimate relaxation. Mercato mall is located right next to it so you can head there post unwinding to shop or grab something to eat.

Best for: relaxation.
10.Ghantoot Beach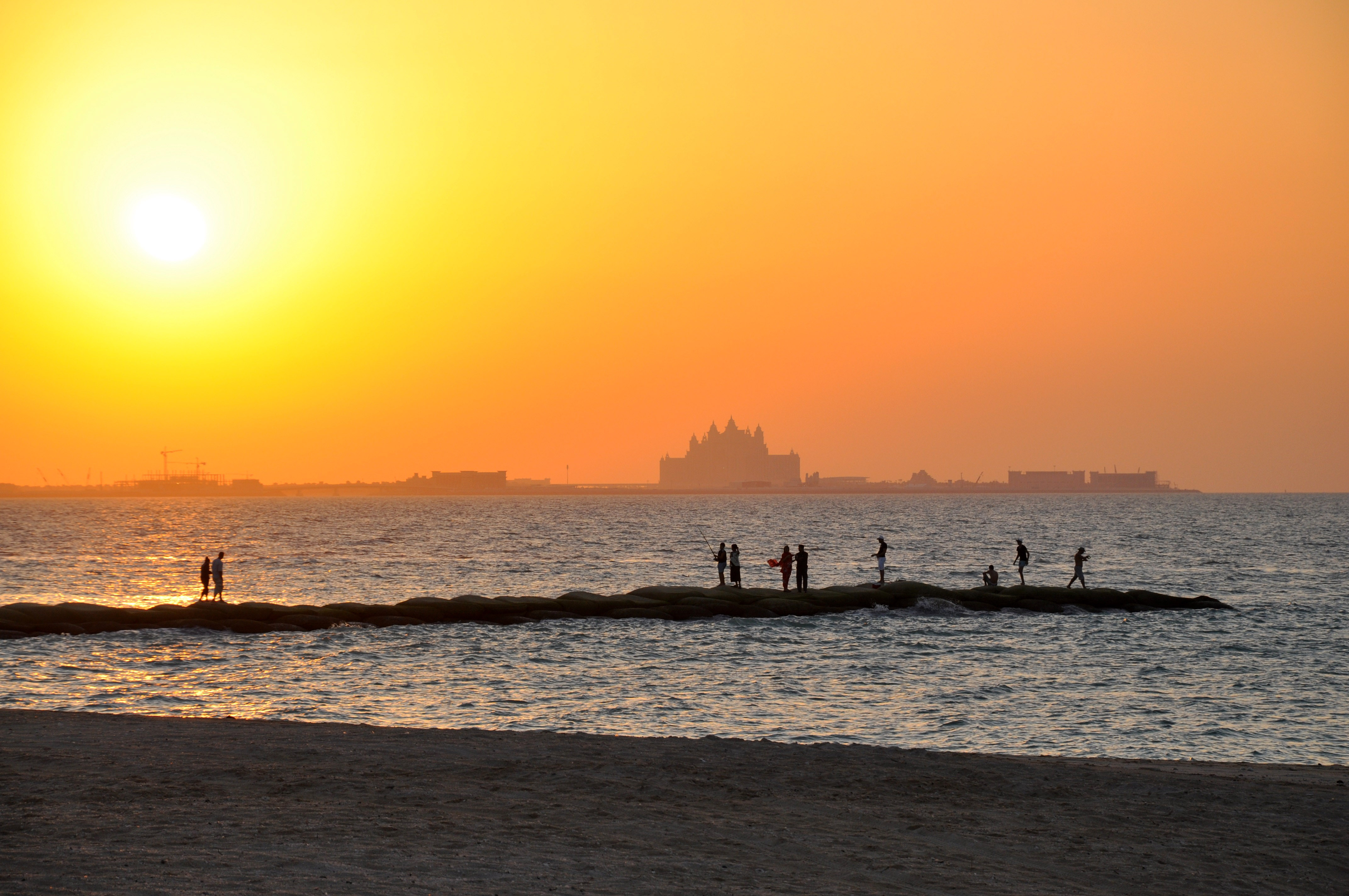 Privacy is key at this beach exclusive to Golden Tulip Al Jazira Hotel. You can watch in the beauty of the superyachts that dock up at the marina or you can enjoy several water sports like parasailing, jet skiing, wakeboarding. Enjoy a game of volleyball without the crowd around you or even a good meal and drinks at the bars and bistros in the hotel.

Best for : Privacy.
Rules to be followed :
Appropriate dressing is a must
Swimwear allowed only on the beach.
Avoid the beaches on the days it is exclusive only for women
Beaches where you can swim in Dubai
1. Al Mamzar Beach Park.
2. Kite Beach Dubai.
3. Ghantoot Beach.
4. Umm Suqeim Park Beach.
5. Mercato Beach.
6. Jumeirah Open Beach.
7. Riva Beach Club.
Want to soak in the sun and the fun in Dubai? Be sure to hit all of these beaches during your next Customized Dubai trip? Leave it to us to design your itinerary for ultimate beach fun.
Also Read: Dubai to open up 2 new islands in 2020