From beautiful lush gardens to futuristic cityscapes, Singapore has got everything to captivate its visitors. The Lion city being one of the prominent cities in the world provides you with a unique experience. Just google Singapore and fall in love with the vibrant city. The most engaging city also has the best restaurants which will fulfill your cravings. I just heard the excitement !! Foodies, ensure you don't miss the top 10 best restaurants near City Hall in Singapore. Yes, you heard me right. The beautifully designed National monument is surrounded by mouthwatering restaurants to serve your plate. Pickyourtrail guides you with the 10 best restaurants near the City Hall. Get ready to be served hot!
10 Best Restaurants Near City Hall Singapore
1. Coca Restaurant –
The doors to this delectable place are open since 1987 serving scrumptious dishes. Coca Restaurant remains one of the most loved restaurants for its variety of Thai dishes. Some interesting ingredients are blended to give an immensely flavored and mouth-smacking dish. Don't miss the handmade dumplings served with Shrimp Paste which is a must-try dish here.

Location: 5 Stadium Walk, #02-01 Leisure Park Kallang, Kallang, Singapore-397693
Cuisine: Thai
2. Wheeler –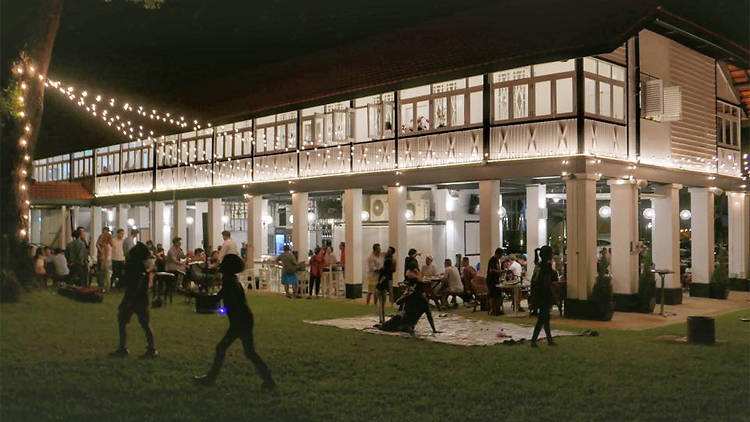 Its a well-known Seletar Aerospace restaurant surrounded by lush greenery and charming views. A perfect place to have a rustic dinner. The first floor offers a cafe area, a grill house, a separate spot for charcoal-grilled meats and burgers. Never miss trying the Tequila and Lime Pork Spare Ribs, which are slow-cooked for 18 hours and basted in zestful tequila sauce. Click a picture on the famous Silver camper van spot under the perfect fairy lights.

Location: 2 Park Ln, Seletar Aerospace Park, Seletar, Singapore – 798386
Cuisine: Continental
3. Dallas Restaurant & Bar –
This contemporary bar bistro is one of the perfect restaurants near City hall Singapore where you can hang out with your friends and special ones. This place offers a variety of culinary delights with a bar. You will find some irresistible food menus with music being played, which will make you dance all night. If you are looking for a fun mouthwatering hangout with some dance moments to show off, you got the right place. 

Location: 31 Boat Quay, Singapore 049820
Cuisine: American

4. King – Long Beach Seafood Restaurant

Craving for some seafood? You better end up landing at King – Long Beach Seafood Restaurant. You can never skip this restaurant from your list. The restaurant is well known for its famous Black Pepper Crab which was originally created here. Your Singapore vacation is incomplete without tasting the most celebrated dish. Some of the best dishes are Australian Lobster Sashimi, BBQ Live Golden Phoenix Fish, Golden Stripe Live Lobster.

Location: 220 Stadium Blvd, Singapore-397803
Cuisine: Seafood

5. The Summerhouse

Another Seletar airport restaurant which tops in the 10 best restaurants near City Hall is The Summerhouse which is definitely worth visiting. A unique dining experience in the idyllic Seletar countryside. It offers a farm to table restaurant on the upper storey. Wildseed offers a cafe by day and Bar by night. Dishes are made by fresh ingredients that are grown on the local farm. Not to miss Tajima Chuck Tender Steak with Shiraz Reduction and garden-inspired cocktails are a must to have a classy experience.

Location: 3 Park Ln, Seletar Aerospace Park, Singapore – 798387
Cuisine: Continental

6. Cut –
Love steaks? You found the right place to be for your cravings. CUT is one of the best restaurants found near City Hall. You can find the finest range of delicious beef blended with top ingredients.

Location: 2 Bayfront Avenue B1-71, Galleria Level The Shoppes at Marina Bay Sands, Singapore 018972
Cuisine: American

7. Soek Seng Bicycle Cafe –
One of the coolest restaurant you can find near City Hall. The bicycle cafe was started in 1954 behind the extraordinary idea of Poon Kang Joo. The ambiance will definitely make you come back for its unique bicycle theme idea. As soon as you enter you will be awestruck by the 30-odd bicycles lining the walls, each hand-painted. You'll find hearty comfort food and an eclectic mix of cuisines, with dishes ranging from beef rendang to vegetarian spaghetti to Japanese.

Location: 80 #01-01 MAJ Aviation Building, Seletar Aerospace Pk, Singapore – 797563
Cuisine: Intercontinental

8. American Taproom
American Taproom is one of the finest restaurants near City Hall Singapore. You will be amazed by the 30 types of beer it has to offer with the hot American food which is a perfect combo to make your evening. 

Location: 80 -01-01 MAJ Aviation Building, Seletar Aerospace Pk, Singapore – 797563
Cuisine: American

9.Warehouse Bistro
Want to have a rocking experience? Land on Warehouse Bistro near the City Hall. Fill your cravings with the best rock band every night. Hang out to have the coolest experience.

Location: 3E River Valley Rd, Singapore 179024
Cuisine: American

10. Yardbird Southern Table And Bar
Find here traditional American dishes that will never disappoint your tastebuds. This classy place is near the City Hall and is well known for its waffles, shrimp roll, smoked pork ribs. A perfect place to hang out with your family and friends.

Location: Marina Bay Sands, 2 Bayfront Ave #B1-07, Singapore 018972
Cuisine: American
A vacation is incomplete without trying out the delicious meals the City of Singapore has to offer. Explore these restaurants near City Hall Singapore with your foodie partner onboard. So what's stopping you? Pack your bags and take a trip to Singapore and explore its culinary best with Pickyourtrail. Happy Cravings!!