Greece is undoubtedly one of the best honeymoon destinations with uncountable beaches, islands and cities. Especially to Zakynthos, every year, tourists flock in uncountable amounts to witness the beauty of the beaches expand in multi-folds. With numerous turquoise colour water bodies, enchanting islands, and charming traditional mountain villages, Zakynthos is safe to say and also one of the prettiest places in Greece! This beautiful place will definitely make your heart warm and calm! Let's know more about the 10 most beautiful beaches in Zakynthos!
10 most beautiful beaches to visit in Zakynthos
Navagio (shipwreck Beach)
Banana beach
Porto Zoro beach
Tsilivi beach
Gerakas
Laganas
Porto Vromi beach
Agios Nikolaos beach
Kalamaki beach
Agios Sostis beach (Cameo island)
1. Navagio (Shipwreck Beach)
One of the most famous beaches in the country and of course the biggest attraction in Zakynthos is the Navagio or the Shipwreck beach. You can know from the name that there was a shipwreck in 1980. And also, the ship has been left alone on the famous white pebble beach. It is very near to Zakynthos town and port Porto Vromi. This is also a very famous beach for photography, destination weddings and parties. Also, it is a world-famous honeymoon destination! Other than this, you can try snorkelling, scuba diving and swimming. Next time when you visit Zakynthos, make sure Navagio Beach is on your list of must-visit places. Because it is hands down one of the most beautiful beaches in Greece to visit on your vacay!
Also read- 10 best wedding destinations in Greece
2. Banana beach
Banana beach is the longest beach in Zakynthos, with soft white sand and crystal clear waters. Unlike other beaches, the banana beach is quite a commercial beach, and you can find many umbrellas, sunbeds, restaurants and other extravagant games. There are many games and adventurous activities like paragliding, jet skis, Ringo rides and scuba diving. You don't have to worry about the transportation because there are plenty of buses shuttling to and from the beach every 5 minutes. Also, this is a great place for you to spend time with your family, and your kids will love it. You can rent a sunbed, enjoy the delicious foods and drinks and call it a day watching the sun go down as you keep admiring the gorgeousness of the beach!
Also read- 10 beautiful offbeat destinations in Greece
3. Porto Zoro beach- One of the beautiful beaches in Zakynthos
Porto Zoro beach is one of the prettiest and naturally beautiful beaches in the city. There are plenty of beach resorts, beach beds, restaurants, crystal clear deep blue waters, and lush green vegetation on the opposite side of the beach. As it is quite far away from the city, it is very calm and pleasing to visit. And again, it is a pebble beach with coarse white sand and plenty of beach chairs and umbrellas. Though the price of foods and drinks might be on the pricier side, it is worth it. Also, you can access the bridges to get to the beach and enjoy the mesmerising view!
Also, read- 15 souvenirs to bring back from Greece
4. Tsilivi beach
Tsilivi is one of the busiest and happening beaches in Zakynthos. This beach is one of the favourites for people because of the pretty resorts, authentic Greek restaurants, pebble shore and clean shallow water. And this is also a great option for babies because the waters at the access points are completely flat. You can try many beach activities and games like parasailing, paragliding, snorkelling, scuba diving and swimming. Or you can just relax under the sun watching the endless skies and waters! Do visit this amazing beach on your next vacation to Zakynthos!
Also read- 10 best resorts with private pools in Greece
5. Gerakas
Gerakas is a very obscure and underdeveloped beach in Zakynthos. But there is no compromise on the beauty and elegance of this beach. After just a 30 minute drive from Zakynthos town, you can reach this stunning family beach. This beach is also a place where Loggerhead sea turtles lay eggs because of the soft sand and closed ambience. Also, there is a turtle information centre near the beach, where you can learn more about the sea turtles and the beach. You can spend the whole day on the beach soaking under the sun and clear waters.
Also read- 10 best national parks in Greece
6. Laganas- One of the beautiful beaches in Zakynthos
Laganas is one of the most lively and happening beaches on Zante because of the fun-loving party vibe and young visitors all the way. There are abundant facilities like beach resorts, multicuisine restaurants, bars, and activities for tourists. If you are travelling with your friends or partner, then this is one of the best beaches for you to visit! You can do bar hopping, snorkelling, enjoying the rides, playing beach volleyball etc. If you are a party animal, then Laganas is completely yours! Do keep this on your bucket list of places to visit in Zakynthos!
Also read- 10 UNESCO world heritage sites in Greece
7. Porto Vromi beach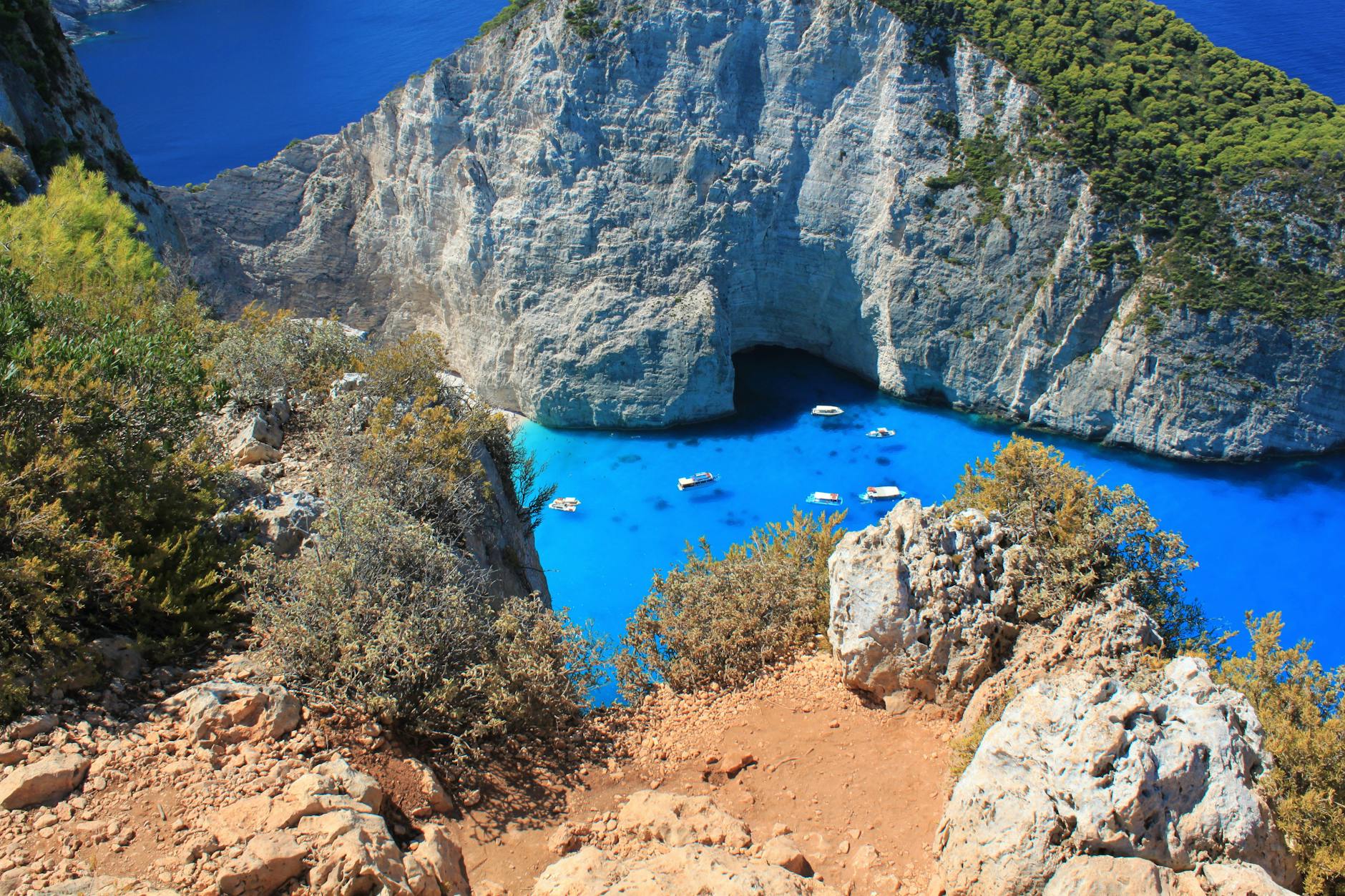 Porto Vromi is a natural tiny little beach with just 25 metres of pebble bay in Zakynthos. There are many notable significances like a small harbour, boat trips to the Blue Caves in Navagio beach, snack bars, the clear turquoise waters and white pebble shore. It is such an underrated beach, so while in Zakynthos, do not forget to go on beach hopping, especially visit this cute little beach!
Also read- 10 beautiful castles in Greece
8. Agios Nikolaos beach
Agios Nikolaos is one of the most beautiful and must-visit beaches in Zakynthos. But there are two beaches in Zakynthos with the same name, so don't forget to visit the golden sand beach. The fine golden sand, calm blue waters, plenty of water sports and adventure activities will make you want more of the beach. There is a tiny quaint chapel on the hill at the end of the beach, which is also a notable attraction. As this beach is very near to the city, there are many restaurants, bars, hotels and other amenities! This is one of the goto choices of beach to explore in Zakynthos!
Also read- 6 most beautiful towns in Greece
9. Kalamaki beach
Kalamaki is a shallow sandy beach and a great one for kids. If you are bringing your children or even toddlers, this is the best safe beach for you to spend the day. But because of some protective reasons, visitors cannot enter this beach before and after sunset. So if you plan on visiting this stunning beach, make sure you go within the given time frame! Unfortunately, water sports or games are prohibited on this beach to protect the sea turtles from being harmed. Of course, there are plenty of authentic Greek restaurants, bars, and transportation facilities near this beach to make it easier for you! Make sure you visit this beautiful beach on your vacation to Zakynthos!
Also read- Greece travel guide- Everything you need to know
10. Agios Sostis beach (Cameo island)- One of the beautiful beaches in Zakynthos
On the Laganas beach, you can find a small wooden bridge that will lead you to Cameo island. This is one of the most popular destination wedding islands in Greece. There are not many restaurants or snack bars near this beach, but it is a perfect destination to rejuvenate yourself! If you wish to escape reality, try visiting this petite hidden gem in Zakynthos! This beach sure has plenty of charm to give you!
Also read- Best nightclubs in Greece
That is everything about the most beautiful beaches in Zakynthos to visit on your vacation! Of course, there are more small and huge beaches, but the above-listed beaches are the most famous and explicitly beautiful! Zante or Zakynthos has more wonderful beaches, islands, villages and restaurants. All you have to do is plan a trip and explore as much as you can! Plan your perfect trip with Pickyourtrail and make the most out of it! Check out Greece tour packages to know about the pre-packages. Or you can customise your Greece package according to your comfort, preferences and budget!
Note: The images that are being published here are the author's choice, and the organisation takes no responsibility for their usability.