The Maldives is the paradise of Earth for all ages, especially for couples and honeymooners. Being a small island, it is one of the world top tourist destinations around the world because of its unique things to do in the Maldives. White sand beaches, clear water, & wonderful climate with amazing resorts what else is needed to Chill out. Actually, It is the flattest country in the world with just 1.8 height from sea level and there is one place that has a 2.3-meter height from sea level which is the highest in the Maldives country. Let's see some of the unique Things to do in Maldives.
10 unique things to do in Maldives
Stay under the water
Deep Flight Experience
Private Island stay
Luxury Yacht cruise
Underwater restaurant
Underwater Spa
Camping under the stars
Big game Fishing
Jet Ski
Ice Skating
Also read: Nightlife In The Maldives In 2023
1. Undersea Villa
Underwater stay is one of the unique experience in the Maldives. It is also one of the rare room type available in the Maldives but only in few resorts. Staying under the water with a view of the sea makes you feel Like your doing scuba diving without swimming into the water with Scuba equipment. No words can explain to you the feeling you will have during the night under the sea while experiencing the nightlife of aqua species.
2. Deep flight experience
The deep flight means going in-depth in a flight, here you will go into the sea in flight like a submarine. It is a very unique experience in the Maldives which you cant able to in all the resort but only through one particular resort called four seasons will help you to book this Activity. During this activity, you can witness the underwater beauties which are coral reefs, colourful fishes, shipwrecks & Flying alongside majestic sea creatures.
3. Private Island stay
Private island- the term itself explains everything. Yes, it is staying on a private island where no other guest or tourist will come to the island, which is a luxury one. Because you have to rent the island for your entire stay period in the island.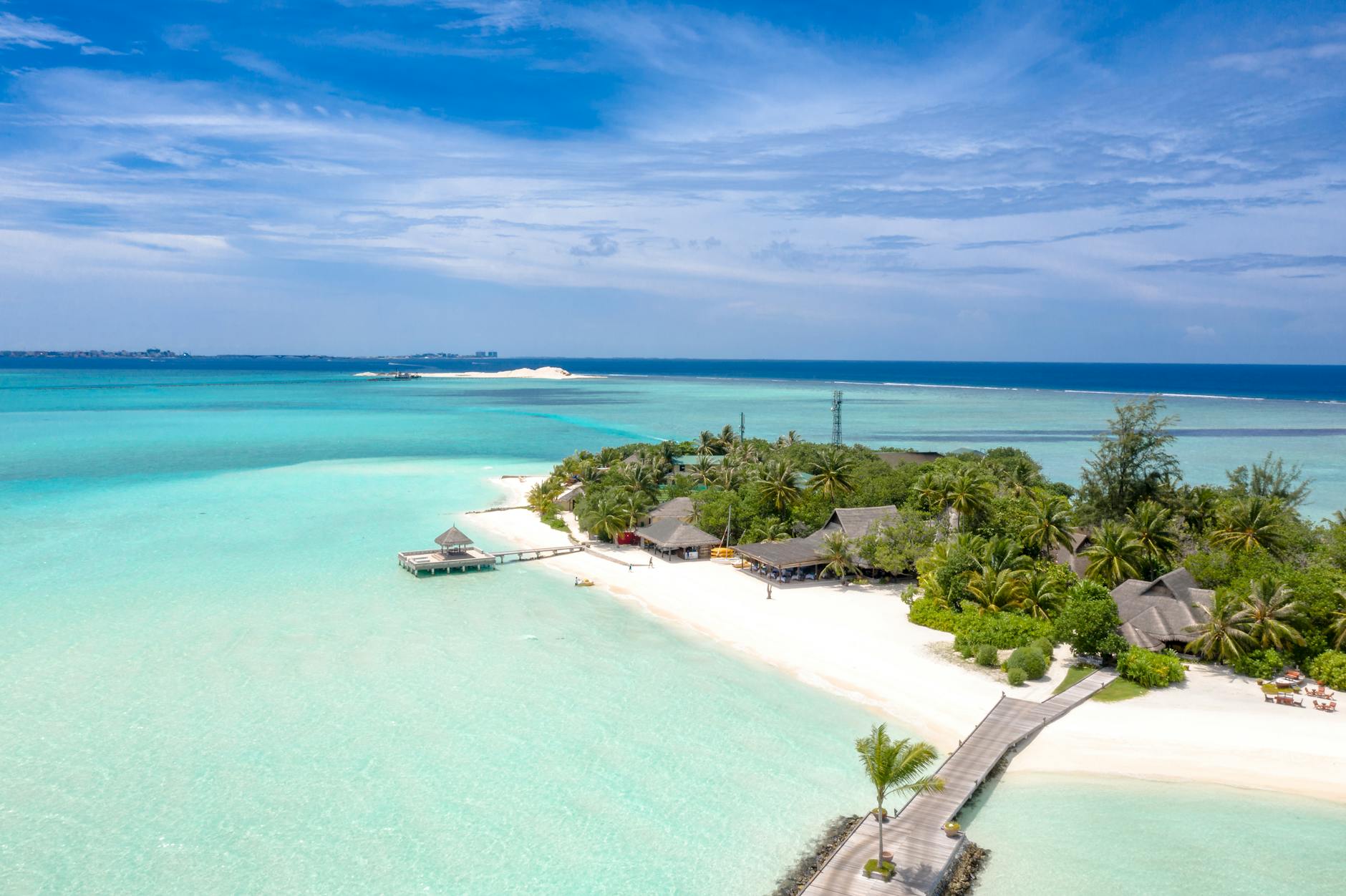 4. Luxury Yacht cruise
Cruise is always an unforgettable one which you can experience in the most tourist destination. But, It is a very unique thing to do in the Maldives, because of its access to exceptional water sports sites around your island during your stay. There are different types of Dolphins watching cruise, sunset cruise, fishing cruise and much more and even a combo of few things. sounds interesting right !!
5. Underwater restaurant
You might have gone to all Kinda restaurants. But in Maldives underwater restaurant is a unique thing to do. There are 6 underwater restaurants available in MaldivesSEA – Anantara Kihavah Maldives Villas, Ithaa Undersea Restaurant – Conrad Maldives Rangali Island, Subsix at Niyama Maldives – Huluwalu, 5.8 Undersea Restaurant – Hurawalhi Maldives, Minus Six Meters Underwater Restaurant, H2O Underwater Restaurant – You & Me by Cocoon Maldives.

Also read: 6 Underwater Restaurants in the Maldives
6. Underwater spa
Spa one of the Major thing to relax. Underwater Spa is something unique thing to do in the Maldives. Not at the resorts will have an Underwater spa. After having a long day of water sports like Scuba diving surfing you might feel knee pain for those Spa will be an amazing treatment. Getting a Gentle massage to get rid of your pain point from your body.
7. Camping under the stars
Camping is always a special one to do especially with loved ones. Here in Maldives Camping kinda a different and unique thing to do. Why because you will be camping on the beachside with amenities like a private suite room which wooden flooring, attached bathroom & of course a double bed which has a transparent bubble kinda tent under the clean sky where you witness Mindblowing view of star & In the Morning without even wakeup from your bed you see the Sunrise from you Beach bubble.
8. Big game fishing
Fishing is always an Enjoyable activity to do. In Maldives you can do the same thing but because of clean water and crystal white sand make it bit unique than the others. You will be doing the fishing with great equipments and experience cruise in the Luxurious boat which make you comfort while fishing. Most Importantly you might even catch different kinda fishes which you might not see in your hometown. Fishes like blue marlin, the trophy sailfish, large Jacks, GT, giant barracuda & rainbow-runner those make the Maldives exciting destination for fishing activity.
Also read: Best seafood in the Maldives – Top 5 Places where you can have the best Seafood!
9. Jetski
Everyone loves to ride Bike Right? Jet ski is also similar one but riding in the water. You might have already heard about this activity in various destinations as well. But, here in Maldives Jet ski is one of the unique things to do because the Maldives is already surrounded by crystal clear water on all sides, so you can explore the most beautiful places spot around your island along with your co traveller.
10. Ice skating
Skating is always a thrilling activity. Here in Maldives Ice Skating is one of the Unique things to do. Know why? because the Maldives is surrounded by water on all sides and it's also a kinda sunny destination but this ice rink was specially made with Glice, a novel material from Switzerland which is not required to keeping the rink cold. Only luxury resort have this activity in the Maldives.
To experience some of these uniques things in the Maldives during your vacation, so start planning your itinerary as per that, Visit Pickyourtrail to see amazing Maldives packages, Maldives honeymoon package for newly married couples. Do reach out to us in case if you need any help in planning your Maldives trip.