Home to the mighty Brahmaputra, Assam is the gateway to Northeast India. The state of Assam is picture-perfect paradise. Also, its a land filled with blankets of tea plantations and wild woods. It is the gathering point for people from all its nearby states. The culture of Assam is a mix of Indo Burmese, Mongolian and Aryan traits.
As you travel around this diverse state, you'll get to know about its rich culture. The livelihood, festivals, dressing style will allure you into this awesome region. Learn the culture of Assam by visiting the traditional temples of Guwahati and historical Siva Sagar. By soaking in the beauty of Majuli Island and interesting with the locals, you will be inspired. Curious already? Continue reading and get to know about the culture of Assam.
Assamese Art and Craft
The people of Assam have mostly been experts in crafts from days of yore. Assam came into light by the virtue of fine silk, stick, bamboo items. When you are in Assam, never miss shopping these items. Also, handicrafts forms like Metal crafts, pottery, jewellery, paintings and woodcrafts has advanced over time. The fine arts and craft is a part of the common glory of Assam. In conclusion, a trip to Assam is never complete if you don't shop a few exquisite art and crafts works from the state.
Also Read: Historic Places In Assam – Let's Go Back In Time And Witness The History
Traditional Dress
The traditional dress of Assam is one of the basic points, which gives a different identity to it and its culture. Assamese adorn a very simple attire. Women wear Mekhela or Chadar. While men wrap Suria commonly known as dhoti and wear Chadar over it. Chadar or Sador is a long fabric which is similar to Mekhela. But it's worn on their left side shoulder by crossing to the right lower waist position.
Cuisine
In Assam food is sacred and eating is a custom. Assamese are generally non-veggie lovers. Their staple eating routine is rice. Assamese cooking has a unique flavour that is set apart by Bengali impact. It comprises of a great taste that would make anybody to go gaga. Most well-known dishes are Khaar, Masor Tenga, Duck Meat Curry. So what are they all? Khaar is a non-vegetarian food which is a mixture of meat, crude papaya, pulses and taro. Masor Tenga is slow-cooked fish, known for its flavour. More than that, Duck Meat Curry is the most popular dish, which you mustn't miss.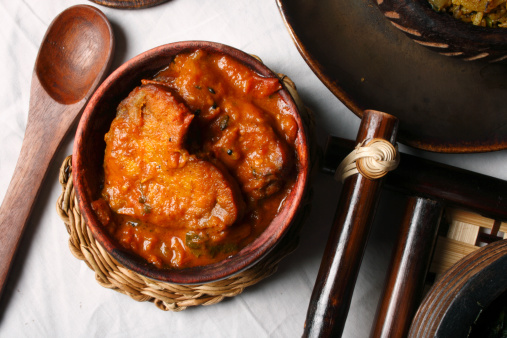 Traditional Jewellery
Assam jewellery has traditional designs, handcrafted by skilful artists in the state. This makes it unique as well. The base of the jewels is crafted using silver. Then, its coated with a thin film of gold. This specific kind of jewellery is very much affordable and needs very little maintenance. Above all, Gold is the most-utilized metal for adornments in Assam, while the use of silver and different metals also have been there for centuries. Above all, gift your partner a beautiful jewel piece and make them happy.
Vibrant Festivals of Assam
The state of Assam has a unique name for its fairs and celebrations all over India. The glory and vitality of the festivals of Assam offer a different level of happiness to the audience. Bihu is the most significant festival. If you are planning your trip right at the time of Bihu, you are the luckiest! Rongali or Bohag Bihu celebrated in mid-April with the beginning of spring which is the start of the sowing season. It is locally known as Rangaali Bihu. Next, Kangaali Bihu celebrated to bring the harvest back home. More than that, Magh Bihu is celebrated mid-January, this is when Assamese feasts and bonfire happens.
Also Read: Tourist places in Assam
Are you culturally curious? Looking for this culture trip? Assam could be the ideal spot! Can't wait to book your vacation? Give Pickyourtrail the opportunity to make your holiday a cherishable one. From customised itineraries to readily available tour packages, make your Assamese holiday, the best!
Note: The images that are being published here are the author's choice, and the organisation takes no responsibility for their usability.