Long weekend coming up? Go on a quick vacation with us. Well, if budget is bothering you, think again as there is a long list of  exotic international destinations that can easily fit into your budget. We are here to customize your International tour packages and make your journey a memorable one. And if this sounds unbelievable, check this list of 25 exotic international destinations to fly to under 25k:
1. Ho Chi Minh City
Country: Vietnam 
One factor that makes Ho Chi Minh City exceptional is the contrast between the old and the new. This is the country's business center, and there are many areas under development, but there are also many places and buildings from earlier eras that are well preserved and well worth visiting to see the French colonial influences as well as ancient Buddhist sites.
2. Hat Yai
Country: Thailand
Hat Yai is the largest city in southern Thailand and heart of transportation, commerce, and tourism. Among other things, Hat Yai is renowned for its outstanding seafood. Hat Yai also features a multitude of markets, both local and international in style, and has a festive night-life, including pubs and discos that are particularly popular with tourists from neighbouring Malaysia. Hat Yai is a relatively safe city to visit, particularly if one avoids the most crowded tourist venues and enjoys the local flavour of the city and the culture of its diverse inhabitants.
3. Manila
Country: Philippines 
If you like big cities you'll love Manila; it's a high-speed, frenetic place, where you can eat, drink and shop 24 hours a day and where the Filipino heritage of native, Spanish, Chinese and American cultures are at their most mixed up. Like many capital cities, Manila bears little resemblance to the rest of the country – something to remember if this is your first taste of the Philippines
4. Macau
Country: China
A lot of people are surprised to learn that Macau is one of the world's most popular tourist destinations. When you realize that it is one of the major gambling centers in the world this starts to make more sense. There is no getting around the fact that most of the people who go to Macau go to gamble, but there are other reasons that you may want to.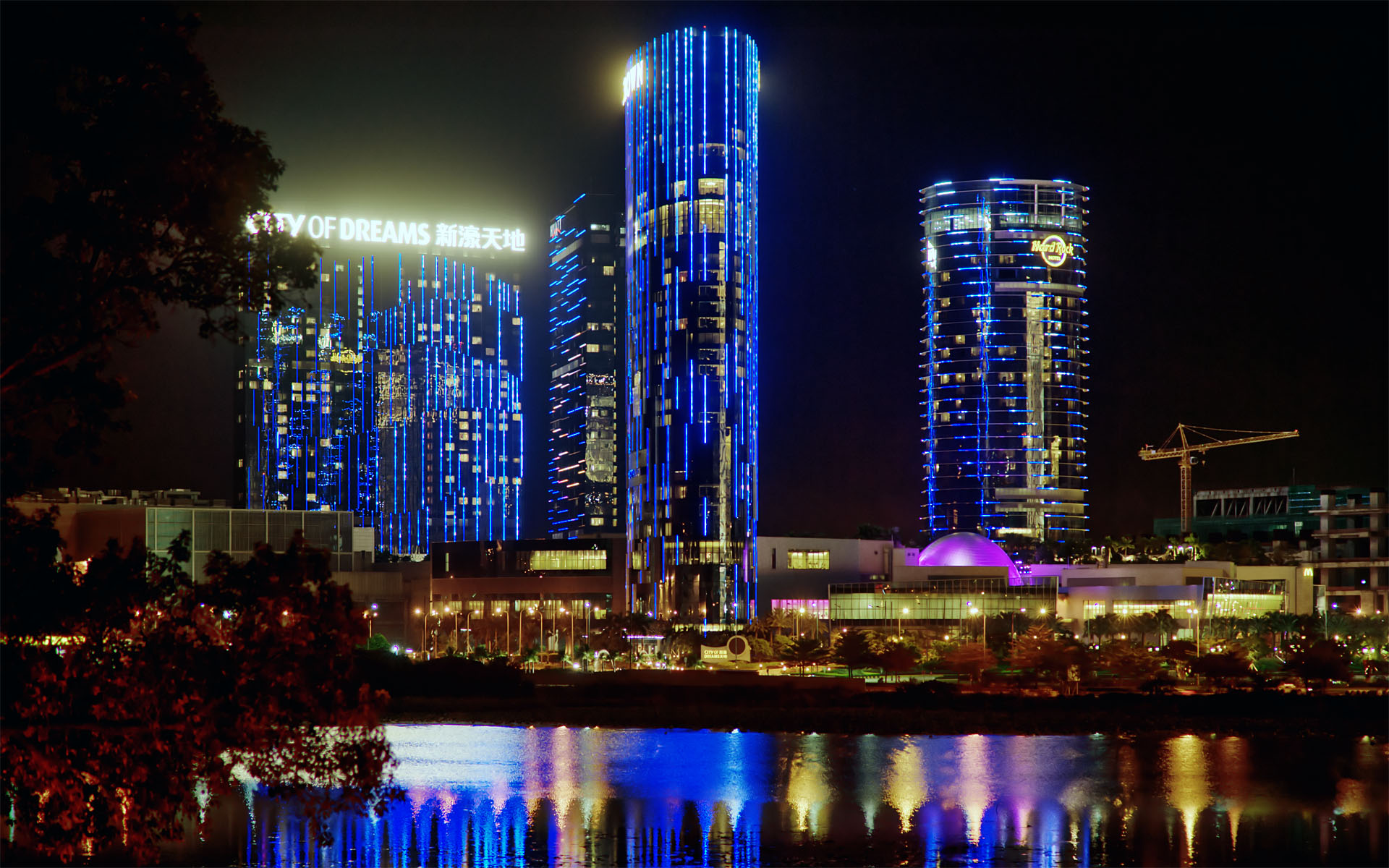 5. Phuket
Country: Thailand
Phuket is Thailand's largest island and one of the most popular tourist destinations in South-east Asia. This island is rich in natural resources and has the perfect weather for agriculture while providing colourful tropical vistas. The terrain is varied supporting a variety of plants and animals, addition to agricultural.
6. Krabi
Country: Thailand
Krabi Town is majestically situated among impossibly angular limestone karsts jutting from the mangroves, but mid-city you're more likely to be awe-struck by the sheer volume of guesthouses and travel agencies packed into this compact, quirky little town. Western restaurants are ubiquitous, as are gift shops that all sell the same old trinkets. Yet if you hang out awhile, you'll also see that there's a very real provincial scene going on between the cracks. Though lately, it is the increasingly moneyed side of Krabi Town that seems to be blooming and growing.
redits: gulgasht
7. Bali
Country: Indonesia
Bali is an extremely beautiful island and possibly the most famous holiday spot in Indonesia. It is also the only Hindu island in Indonesia. In recent times it has been made famous by the Book/Movie –  Eat, Pray, Love and has been attracting an increasing number of tourists every year.
8. Penang
Country: Malaysia
A fascinating fusion of the East and West, Penang embraces modernity while retaining its traditions and old world charm. These are reflected in its harmonious multiracial populace and well-preserved heritage buildings which led to George Town being accorded a listing as a UNESCO World Cultural Heritage Site recently. Long regarded as the food capital of Malaysia, Penang also entices visitors with its beautiful coasts and scrumptious cuisines.
9. Langkawi
Country: Malaysia
Langkawi is one of Malaysia's best-known and most popular beach destinations. Blending historical attractions, great fare, excellent diving opportunities, exciting night-life and dirt-cheap shopping, this duty-free island is truly an oasis of the seas. Langkawi's pristine beaches are rated among the best in the world while its vast roads provide easy access to many historical landmarks and picturesque attractions, perfect for those exploring via rented vehicles. There are a few sights that you definitely need to check out before leaving this island, so check out our comprehensive list of Top 10 Attractions in Langkawi.
10. Boracay
Country:  Philippines
Out of all the islands in the world, Travel+Leisure Magazine chose to name Boracay as its Best Overall Island of 2012.Located in Malay, Aklan, Western Visayas, Boracay is just seven kilometers long, and less than a kilometer wide at its narrowest point – a postcard-sized tropical paradise.
11. Sapporo
Country: Japan
Sapporo, capital of the mountainous northern Japanese island of Hokkaido, is famous for its beer, skiing and annual snow festival featuring enormous ice sculptures. The Sapporo Beer Museum traces the city's brewing history and has tastings and a beer garden. Ski hills and jumps from the 1972 Winter Olympics are scattered within the city limits, and Niseko, a renowned ski resort, is nearby.
12. Kuala Lumpur
Country: Malaysia
Kuala Lumpur, the capital of Malaysia, is called KL by locals. Its modern skyline is dominated by the 451m-tall Petronas Twin Towers, a pair of glass-and-steel-clad skyscrapers with Islamic motifs. The towers also offer a public skybridge and observation deck. The city is also home to British colonial-era landmarks such as the Kuala Lumpur Railway Station and the Sultan Abdul Samad Building.
13. Phnom Penh
Country: Cambodia
Phnom Penh is the vibrant bustling capital of Cambodia. Situated at the confluence of three rivers, the mighty Mekong, the Bassac and the great Tonle Sap, what was once considered the 'Gem' of Indochina. The capital city still maintains considerable charm with plenty to see. It exudes a sort of provincial charm and tranquillity with French colonial mansions and tree-lined boulevards amidst monumental Angkorian architecture. Phnom Penh is a veritable oasis compared to the modernity of other Asian capitals. A mixture of Asian exotica, the famous Cambodian hospitality awaits the visitors to the capital of the Kingdom of Cambodia.
14. Lombok
Country: Indonesia
Long overshadowed by its superstar neighbour across the Lombok Strait there's a steady hum about Lombok that catches the ear of travellers looking for something different from Bali. Blessed with exquisite white-sand beaches, epic surf, a lush forested interior, and hiking trails through tobacco and rice fields, Lombok is fully loaded with equatorial allure. Oh, and you'll probably notice mighty Gunung Rinjani, Indonesia's second-highest volcano, its summit complete with hot springs and a dazzling crater lake.
15. Cebu
Country: Philippines
Simply being from Cebu carries a certain cultural heft, and it's not hard to see why. Cebu is the hub around which the Visayas revolve. It is the most densely populated island in the Philippines and is second only to Luzon in its strategic and economic importance to the country. The main attractions are its white-sand beaches and spectacular diving, namely off the northern tip of Cebu at Bantayan and Malapascua islands, as well as on the south-west coast at Moalboal. And don't ignore much-maligned Cebu City, which has lively bars, emerging eateries and great island-hopping opportunities.
16. Johor Bahru
Country: Malaysia
After years of being criticised as a dirty, chaotic border town, Johor's capital Johor Bahru has been repaved and replanted and is suddenly a lively, appealing place to hang out. Even the sketchy watch salesmen and down-and-out sidewalk lurkers who congregated along Jln Tun Abdul Razak have been swept away by an increased police presence. Just off this main drag you'll find bustling food hawkers, interesting old architecture and wide, clean side-walks. The city still has more crime compared with most Malaysian towns, but there's a real urban buzz and some surprisingly cosmopolitan corners to explore.
17. Sandakan
Country: Malaysia
Sabah's second city lacks the small cosmopolitan pulse that keeps KK throbbing; in contrast, Sandakan feels like a provincial city with provincial horizons, not to mention a grubby city centre. But Sandakan was once a major port of call, and as such it has played an important role in Borneo's past, as attested by religious relics, haunting cemeteries and stunning colonial mansions.
18. Tawau
Country: Malaysia
Ever been to an after-work happy hour and met a co-worker who is nice, courteous, polite, pleasant and agonisingly boring? Then you've met Tawau. There's nothing particularly bad we can write about this town, but (forgive us the pun) there's not a lot of 'wow' in Tawau either. This may be one of Sabah's larger cities, and it's the state's major border crossing to Indonesia – Kalimantan is just to the south. Apart from that? Not much. But if you're heading to Semporna or the Maliau Basin, there's a good chance you'll be passing through. And hey – the people are friendly, the food is decent and the lodging is a pretty good deal. Just don't expect much past this and you'll likely leave satisfied after eating the great scoop of vanilla ice cream that is Tawau.
19. Taipei
Country: Taiwan
Taipei is having a very late coming-of-age party. But then again, this unhurried but vibrant capital has taken a while to become comfortable in its own skin. With Chinese, Japanese and Western influences in its food, culture, folk arts and architecture, Taipei has finally decided that it's a mix, and all the better for it.
20. Hanoi
Country: Vietnam
Showcasing sweeping boulevards, tree-fringed lakes and ancient pagodas, Hanoi is Asia's most atmospheric capital. Just don't expect a sleepy ambience. It's an energetic city on the move, and Hanoi's ambitious citizens are determined to make up for lost time.
21. Bangkok
Country: Thailand
Bangkok is the capital of Thailand and, with a population of over eleven million inhabitants, by far its largest city. Its high-rise buildings, heavy traffic congestion, intense heat and naughty nightlife may not immediately give you the best impression — but don't let that mislead you. It is one of Asia's most cosmopolitan cities with magnificent temples and palaces, authentic canals, busy markets and a vibrant nightlife that has something for everyone.
Credits: bangkok.peninsula
22. Pattaya
Country: Thailand
Pattaya is a town on Thailand's eastern Gulf coast known for a wild night-life scene that attracts international visitors, weekenders from Bangkok and expats. A quiet fishing village as recently as the 1960s, it's now lined with resort hotels, high-rise condos and a large seaside mall. Jet-skiing and para-sailing are popular activities at Pattaya's busy beaches.
23. Yangon
Country: Myanmar
Yangon (formerly Rangoon) is the largest city in Myanmar (formerly Burma). A mix of colonial architecture, modern high-rises and gilded Buddhist pagodas define its skyline. Its famed Shwedagon Paya, a huge, shimmering pagoda complex, draws thousands of pilgrims annually. The city's other notable religious sites include the Botataung and Sule pagodas, both housing Buddhist relics.
Credits: Myanmarcentralpark
24. Singapore
Country: Singapore
Singapore has the sharp and constant contrasts: smoky temples in the shadow of skyscrapers, luxe condos backing onto jungle, old-school shophouses housing secret cocktail dens. I can travel the world without ever leaving the island. One minute I'm in the 'Hong Kong' wet markets and malls of Chinatown, the next the 'Mumbai' street scenes of Little India, the next the red-light 'Patpong, Bangkok' district of Geylang. Dig deeper than the 'sterile' cliches and you'll find a place more complex, contradictory and addictive than you might imagine. Even after countless sojourns, Asia's little red dot never fails to make me swoon.
25. Sibu
Country: Malaysia
Gateway to the Batang Rejang, Sibu has grown rich from trade with Sarawak's interior since the time of James Brooke. These days, although the 'swan city' does not rival Kuching in terms of charm, it's not a bad place to spend a day or two before or after a boat trip to the wild interior.
Credits: expatgomalaysia
If you are ready for a budget vacation, then drop us a postcard!
Note: The images that are being published here are the author's choice, and the organisation takes no responsibility for their usability.