Raise your hands if you've initiated a Goa trip with your friends and then cancelled it. The fun fact is all of us would have done it at least once in our lives. The struggle is real while planning a trip to Goa. But It's time to break the myth and pack your bags for real and especially visit the neighbourhood of Fontainhas in Goa. Read on to know more about the place and the special things about the place.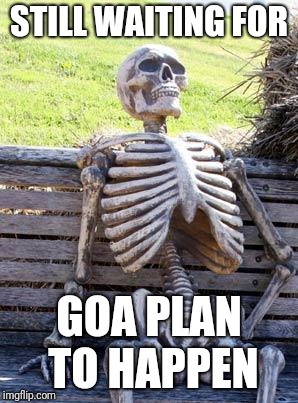 Goa is a real paradise in India filled with the best of places. We all know for a fact that the place is filled with calm shores, beautiful beaches and thrilling water sports. But there's a lot more here! In this article, I'll take you to one of the quaint yet colourful and picturesque places in Goa. Fix the lens, adjust the exposure and start shooting the place which is full of peculiar vivid buildings that will help you take Instagram worthy pictures. In short, this place is considered as a photographer or film maker's paradise.
The Fontainhas is located in Panjim square of Goa and is also known as Goa's Latin Quarter. It is tucked in an ancient creek called Ourem Creek to the east and the Altinho hills with stretches to the west. Many tourists head to this heritage colony for the spectacular tireless beaches of Goa's coastal area, but it's colourful and eye-catching sights are more than worth visiting.
History of the Fontainhas
Goa was once taken over by the Hindus, Muslims, and Portuguese. The Portuguese had a strong influence in this place which could evidently be seen in the Fontainhas. Founded in the 18th century by a wealthy Portuguese, Antonio João de Sequeira, the place was initially used for coconut plantation. It was then remodelled into a lively residential area for Portuguese administrative officers and rulers. Hence, this place stands as a visual reminder of Portuguese remnants with bountiful houses and cottages with intricate architecture and fluorescent painted houses.
Surprises at the Fontainhas
Buckle up your shoes and wear your hat because Fontainhas is best explored on foot. Travelling back in time while strolling among its narrow cobbled streets is a whole new level of experience. Drop your jaws at the old Portuguese houses that date back to the 18th and 19th centuries. You can spot all kinds of hues like green, pale yellow, and blue, along with red-coloured tiled roofs, artistic doors, and overhead balconies.
Here's a chance for all the photographers and artists to fall in love instantly with the wide array of colours spread over the narrow, winding landscape. Apart from the traditional houses and cottages, you can also visit the cute little cafés and bakeries that are over 100 years old dotting the streets of Fontainhas. The most significant fact about this place is that the houses are painted every year after monsoons. This rule was laid out by the Portuguese, which is sincerely being followed even today.
St. Sebastian's Chapel
Soak up in the local atmosphere and get drenched in the historic beauty. One of the significant attractions of the Fontainhas is the most beautiful and emblematic Chapel of St. Sebastian. It attracts tourists with its pristine white exterior, which is a great contrast to the colourful neighbourhood. On sliding into the building, you will spot excellent artworks- a crucifix, and a statue of the Virgin Mary.
Amazing Art Galleries
With beautiful street arts, murals and painting-like views, the place itself is a tremendous artwork, to which an icing on the top is the Gitanjali art gallery. Situated next to the heritage hotel, Panjim Inn, this art gallery offers a huge display of contemporary art and a collection of Scandinavian art from the early 90s. Get amazed at the linocuts, etchings, lithographs, woodcuts, and serigraphs by the most skilled artists in the world.
While artists enjoy the best time of their trip, this gallery also treats the reading minds. It hosts a great collection of poetry and book readings, art and theatre workshops, book launches, and courses on art, history, and film appreciation. Do not miss hitting the café in its premises where you can warm up with espresso as you browse the collection. Also, make sure to visit the famous Velha Goa Galeria to get your hands on the traditional hand-painted Azulejos.
Maruti Temple
Get some blessings from the Lord Maruti while you are in this place. Stop at the Altinho hill, overlooking the picturesque Mandovi River where you can find this Maruti Temple. This place, dedicated to Lord Hanuman ensures to offer peace and serenity to its devotees. The calm atmosphere and panoramic vistas of the Latin Quarter are so amazing that you should not miss visiting during your Goa trip.
Fountain of Phoenix
If you visit the Maruti temple, the god will bestow you with another beautiful location near the temple. Do not miss this "Double-Dhamaka"! This unmissable spot is the Fonte Phoenix (Fountain of Phoenix) that is located right next to the Maruti temple. It is a graceful natural spring that dates back to the Portuguese era. It holds the pride of deriving the name Fontainhas, because of its origin and existence.
Fontainhas during February
If you are planning your Goa trip during February, be sure to attend the Fontainhas Festival. It is during this festival, art takes precedence where all the local residents turn their houses into art galleries. This art and cultural festival showcase the Goan heritage in addition to exciting music and dance events.
Where to stay?
If you are looking for a stay at this place, great! You have come to the right website. You can choose from the number of accommodation options available for all pocket-sizes. Smell the scent of Portuguese luxury in one of the many Portuguese mansions here.
WelcomeHeritage Panjim Inn:
Go back in time with the vintage-styled furnishers, antiques and authentic Goan hospitality. Opt for any of the standard, deluxe and superior rooms to live the life of Portuguese legacy. With lounge and restaurant facilities, this place is one of the best options in the Latin Square.
Address: Panjim Inn, Fontainhas, Panaji, Goa, India,
Contact: +91 0832 222 6523
La Maison Fontainhas
This boutique hotel has a crazy combination of exotic traditional charm and modern luxury. Stay at the place filled with beautiful furnishings, art pieces, and other mod cons. This property adds value with its on-site restaurant with a European fusion fare.
Address: La Maison Fontainhas, 5/158, Near St. Sebastian Chapel Fontainhas, Mala, Panaji, Goa, India
Contact: +91 0832 223 5555
The Mitaroy Goa Hotel
If you are a person of extravaganza and richness, Mitaroy Goa Hotel is the perfect choice for you. The luxurious hotel is outfitted with a minibar, balconies to enjoy views, en-suite bathroom and other exotic amenities. You can also carry your paw-some friends as this property is dog friendly
Address: Mitaroy Goa Hotel, 31st January Road, Fontainhas, Panaji, Goa, India
Contact:+91 094480 87708
Other Hotels
If you are a backpacker or a budget traveller, you can prefer the local B&B, Hospedaria Abrigo de Botelho, Afonso Guest House and OLD QUARTER by the hostel crowd.
Address: Hospedaria Abrigo de Botelho,Rua De Natal, Fontainhas,, Panaji, Goa, India,
Contact: +91 095277 78884
Address: Afonso Guest House, No.173, Near St. Sebastian Chapel, Fontainhas, Mala, Panaji, Goa, India
Contact: +91 0832 222 2359
Where to eat?
Fill your tummy during your Goa trip in the restaurants lined up on the roads. Try Portuguese cuisine at the Viva Panjim and Horse Shoe hotel. If you are a BBQ freak, Barrels and Bones is the right spot for you! Have some lip-smacking seafood in the Hospedaria Venite. Also, try out your hand in the Joseph Bar and Confeitaria 31 De Janerio. These two places are not meant to be missed.
Goa is more than a place. It is an emotion! This paradise of South Asia is where hospitality takes precedence over anything. Feel the most alive in this beautiful place with your friends and family. The best part about Goa is that it is completely affordable and you can experience boundless fun within your budget. Head to the Pickyourtrail website and start planning your Goa trip right away! Let's Make It This Time!
Note: The images that are being published here are the author's choice, and the organisation takes no responsibility for their usability.