We all know how amazing Middle Eastern cuisine is. But, how do you find equally good Indian food there? Though Abu Dhabi is filled with Indian restaurants, the hunt for the best is not as easy. So, we have tested and tasted the best and the classy restaurants of Abu Dhabi. Here we walk you through the best Indian Restaurants in Abu Dhabi.
These restaurants, take you back in place and remind you of how mouth-watering our Indian food is with the secret spices, thick aromatic flavourful gravies and heavenly aromas. Restaurants like Indigo, Angar and Rangoli would definitely find a place in the hearts of those people who love Indian food. The culinary scene in Abu Dhabi is actually pretty lit. Together, let's explore these beautiful and amazing Indian restaurants in Abu Dhabi that serve rich, flavoursome and heavenly food.
1. Punjabi Grill – Abu Dhabi
This magnificent restaurant is situated right amidst azure-coloured waters and early European renaissance structures. The setting would almost make it feel like a walk back in time.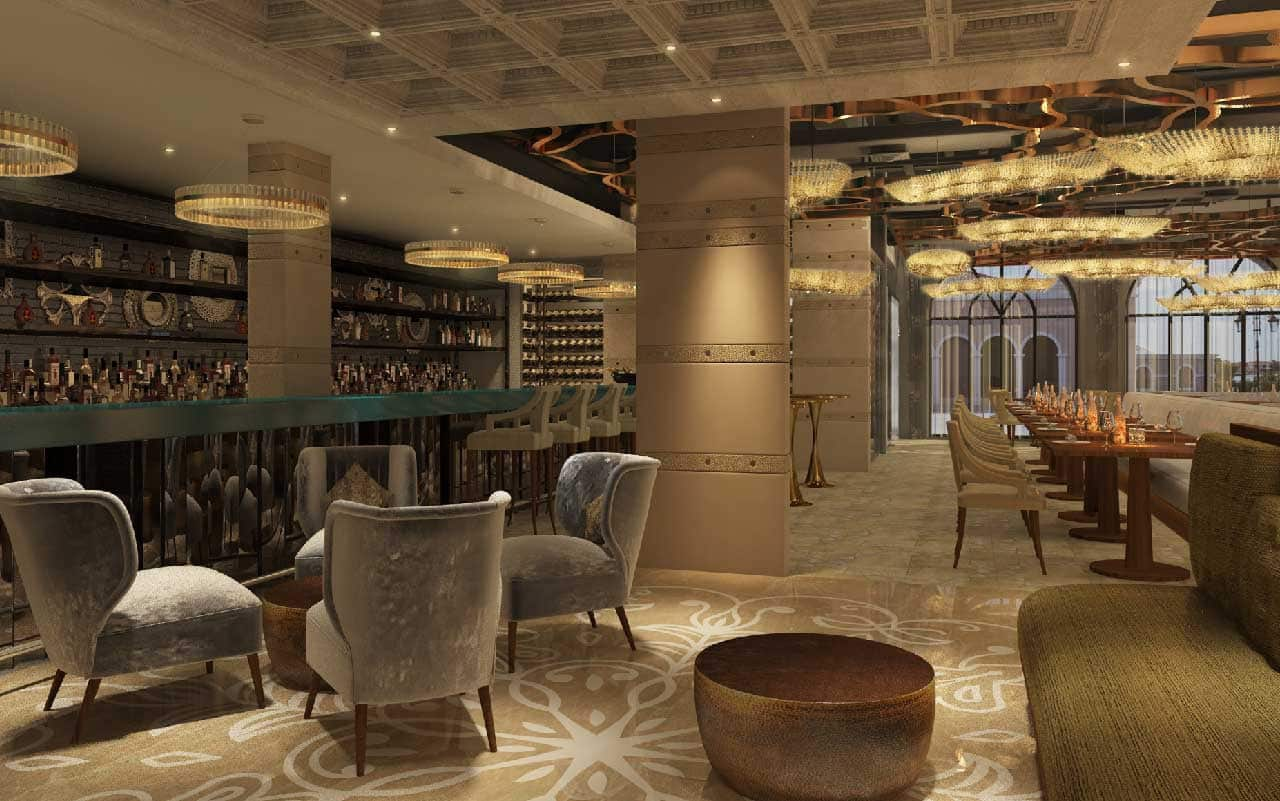 This restaurant would be a great choice for a lovely family get-together. The pleasant, panoramic and vibrant sceneries outside have a great vibe. But, that's not all. This place is just as dreamy a place for your perfect romantic date with the intimate romantic dinners you've always dreamed of. The dazzling interiors, the romantic outdoors makes this place irresistible for your dream date.
On the other hand, the menu has the best-handpicked dishes by the Chefs which would satisfy anybody who walks through their doors. There is something for everyone. For a Salmon person, they have their famous Salmon tikka and for a paneer loving soul, they have the delightful Paneer Multani. All the dishes would be a surprising delight to your taste buds. Once you taste these dishes, they will leave you craving for more and more.
Cuisine: Traditional North Indian and Punjabi.
Timings: 12:30 pm till midnight every day.
The average price for 2: 210 AED
Location: Venetian Village, The Ritz-Carlton Grand Canal, Near Sheikh Zayed Grand Mosque Center.
This restaurant definitely deserves to go on the list of " Best Indian restaurants in Abu Dhabi."
Also Read: Places to Visit in Abu Dhabi
2. Angar
For those who love a little spice and tanginess in their dishes, this place definitely has to go on your bucket list for Abu Dhabi. Located on the beautiful Yas Island, it has the best Tandoori dishes one can ever find. The sea-food lovers and non-vegetarians are definitely in for a treat here. Its traditional appetizers, along with the thick lassis and countless other beverages, make it the best place to have a meal.
This restaurant has such elegant interiors and a lively atmosphere. You can also choose to dine under the stars while the dedicated servers serve your tasteful dishes. Angar earns its place in the "best Indian restaurants in Abu Dhabi" list with their authentic and value for money, tasty, yummy, Indian bread.
Timings: 7:00 pm-11:00 pm (Tuesday to Sunday), 2:00 pm-11:00 pm (Fridays)
Average Price for Two: AED 200-350
Cuisine Type: Indian
Location: Yas Hotel, Yas Island
Also Read: Best Shopping Malls in Abu Dhabi
3. Asha's
Yes, that's right. This was named after one of India's most renowned Singer, Asha Bhosle. This restaurant, situated on Yas Island, aims to win your hearts with their delightful yet meticulous culinary skills. As it is right in the heart of Yas Island's busiest shopping destination, it is the perfect place to take your shopping break. This place is absolutely perfect for your family gatherings too. The bright interiors, the active bustling crowd promises a very lively dining experience. Their menu is rich and varied with exquisite dishes from Northern and Western India, both having their own beautiful unique tastes. Cocktail lovers are in for a treat here!
Vegetarians needn't feel left behind as their vegetarian offerings Like Dal Makhani have a special "Asha's" touch to them. The non-vegetarians would absolutely cherish their one of many exquisite dishes such as Murgh Malai Kebabs. This is definitely one among the best Indian restaurants in Abu Dhabi.
Cuisine Type: North-West Indian
Location: First Floor, Yas Mall, Town Square, Yas Island
Average Price for Two: AED 275
Timings: 12:30 pm-3:30 pm and 7:00 pm-12:00 am.
Also Read: Abu Dhabi Souks A Must Visit Place for Travelers to Abu Dhabi
4.Indigo
Among all the restaurants in Abu Dhabi, this is one of the most charmingly located restaurants. Overlooking the beautiful and glistening blue waters of the bay, this modern Indian fusion restaurant commands a place on the Beach of Rotana. This is also extremely close to the Abu Dhabi Mall.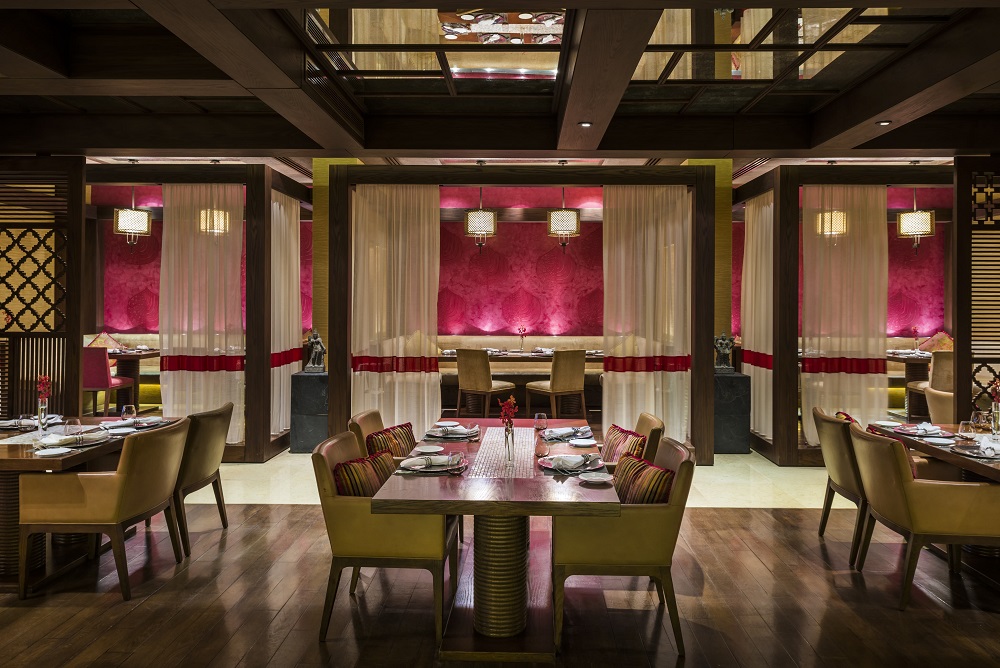 Their huge and varied menu hosts dishes from all of India! From the famous street chaats of Delhi to their special Sikandari Raan (Roasted baby lamb's leg ) it is just mouth-watering! Huge and royal brown vases at the entrance in the lobby and their delicate and soft curtains draped on the walls give a very royal aura to this restaurant. The bustling crowds of the city, make it a lively place to dine.
Location: Ground floor, Beach Rotana, Tourist Club Area (Al Zahiyah)
Timings: 12.30 pm – 03.30 pm & 06.30 pm – 11.30 pm
Average Price for Two: AED 300
Cuisine Type: North Indian
Also Read: Free Things to do in Abu Dhabi for Tourists
5. Rangoli
As you walk in through the doors of the famous Rangoli, you would be greeted with their vibrant and attractive décor and mesmerising aromas. It is one of the modest yet classic restaurants, which serve the royal and authentic Indian Gourmet. Situated on Yas Island, it gives you the pleasure of the scenic views of the clear skies of Abu Dhabi from their windows. This restaurant gifts you the most serene atmosphere to dine in and relish the gourmet delights.
Also read: Abu Dhabi Vs Dubai?
This restaurant again earns its place in the list of the best Indian restaurants in Abu Dhabi with its wide variety of dishes. Their menu is almost flooded with the most delicious dishes. Be it appetizers, be it their refreshing cocktails, be it for vegetarians, be it for non-vegetarians, they have it all. There are so many dishes and such a wide variety, you wouldn't be able to try them all. While they have mouth-watering kebabs and tikkas for the tandoor lovers, they also serve their delicate dishes with some of the finest wines for your romantic date.
Cuisine Type: North & South Indian
Average Price for Two: AED 295
Timings: 6:00 pm-12:00 am every day, 12:30 pm-4:00 pm brunch on Fridays
Location: Yas Island Rotana, Yas Marina
Also Read: Best Bars in Abu Dhabi
If you find the above article helpful and planning a vacation to Abu Dhabi, visit pickyourtrail.com and check out the Abu Dhabi Packages page for exciting deals or drop a Whatsapp inquiry. Happy travelling!
Also read: 10 Best Indian restaurants in Dubai
Note: The images that are being published here are the author's choice, and the organisation takes no responsibility for their usability.