Bangkok which is primarily known for its pristine beaches and resorts is also very popularly known for the happening Khao San Road nightlife. While one can enjoy great food along with a vibrant nightlife, one can also take a walk down the Khao San located in central Bangkok and is 1km long of a stretch. So be it shopping, trying out new restaurants or just rave partying this street is your go-to place. While most bars play loud electronic music there are also a few soothing jazz ones that calm you down. If you're into themed places then even that would be an option here to enjoy with family and friends. Home to a range of Spa facilities, kiosks, hotels, bars, massage parlour- there's nothing you would not miss here when you head back home.
Khao San Road night market is a small stretch of hawkers and kiosks who sell food all night long, a very lively market I would say. In the same line, you would surely find a handful of hotels that offer delicious food of various cuisines. The nightlife here would mean nothing if you went home without shopping here, Khao San Road night market is one of the best places to brush up your bargaining skills. From electronics to various equipment, apparel and even tailoring there's so much to explore here. All you gotta do here is eat, drink, shop, and party – repeat.
Best time to travel
During the months of March – October, you could consider visiting Bangkok, as it will be the summers there.
How to get there?
There are direct flights from India- from the many major cities take a good 3-4 hours of flying time. A few of the airlines that are recommended are Jet Airways, Thai Airways, Air India, Indigo and Bangkok Airways flights.
Distance from Bangkok airport to Khao San Road is 27 km and it would take 2 hours by road.
From central Bangkok to the Khao san road commute by motorcycle taxis, buses or express boats.
Basic Tips
Be very careful about your belongings, carry things safely and be aware of pickpockets as the street is always busy.
Never judge a book by its cover, a bar may look so dead outside or flashy but the insides will surely surprise you.
If you are using public modes to commute around the city, do keep in mind that the tuk-tuk may charge the foreigners exorbitantly high.
Most people feel the street food here is not great. If you feel the same you could even head down to Soi Rambuttri.
Timings of the road
Monday to sunday – 10:00 am – 11:00 pm.
No entrance fees involved for this attraction, this street is up and running throughout the day.
Bars are open till 2 in the morning, Whereas the vendors and the kiosks stay up all night although the Local 7/11 stores shut down by 11.
Clubs you should visit here
The Club Khaosan Bangkok– head down there for a typical Europe snazzy joint with disco balls, with raised DJ both and a big dance floor to get your moves on. Surprising this place gives the exact same vibe of how bars are in Europe with trippy visuals in the background
Adhere The 13th Blue Bar– A typical bohemian vibe, with diminutive blue and jazzy music played by a resident blues band every day from 10 pm- this bar brings it down to the bare essentials with tables, bar and instruments where the prices are also quite reasonable. Occasionally other locals are even entertained by a different band or special events.
Bombay Blues– an Indian joint located a few minutes away in the Soi Rambuttri street, is not exactly a bar material but has a colourful red-yellow decor inside with really expensive food. More of date or like family sort of place with good booze.
Brick Bar -the best place to hear local Thai music made of signature red brick walls, this bar has very dim lighting and a live music policy with jazz, ska and blues.
Superflow City Beach Club– first-ever day and nightclub that keep the night young and going for as long as you're there. Music runs through the night, and they also turn full moon' parties on weekends with a real beach party vibe.
Here are just 5 of the top most visited bars but There are plenty of bars on this street like Molly Bar, Cinnamon, Hippie de Bar and Shamrock that play great live rock music.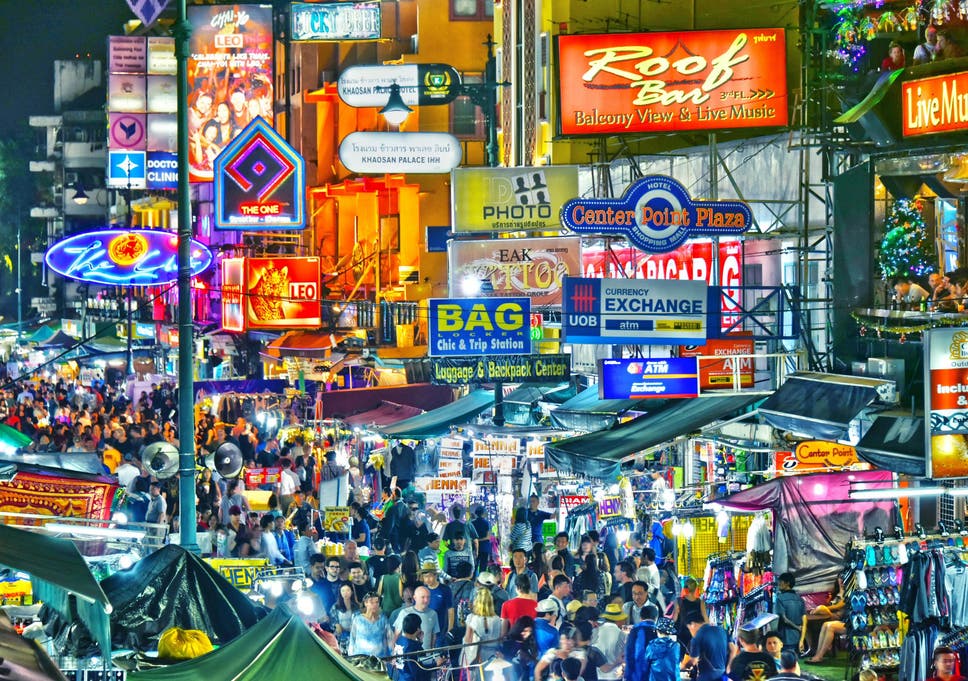 Khao san road is mostly known for its backpacker central, and there are no historical sights to speak of or visit in this street. But the location of this street lies in the heart of the old city also known as Rattanakosin which makes it easy to cover a couple of attractions that are close by and are accessible like the Bangkok National Museum, Democracy Monument, The Grand Palace, National Gallery and a lot more. You can take a tuk-tuk or a cab to reach these places from this street, you could even try walking upto an extent.
Coming down to the most important part, there are plenty of hostels, hotels and motels that offer great accommodation at a reasonable price, you wouldn't have to look around too much unless and until you want a quiet place which would be very hard to find in this part of the city. Go ahead and plan your vacation to Bangkok and enjoy shopping all day.
Happy vacationing!