If you are looking to travel to enjoy pleasant sunny days in November without burning your pocket, read on. Thailand is your go-to place. Some of you may have heard about Lopburi, some of you may not.
So let's do a deep dive into the interesting Lopburi and the definitely unique festival based there.
Lopburi, a former Siamese kingdom capital and a treasure trove of old buildings, is under siege. Lopburi is typically left off many vacationers' itineraries since it is off the beaten path of the towns that draw tourists to Thailand in the first place. Crab-eating macaques, a Southeast Asian species with piercing eyes and inquisitive natures, have overrun the old town, spilling out of temples where they were previously worshipped. Hordes of raging wild monkeys have been terrorising a Thai village after becoming addicted to sugary beverages and chowing down on bananas. In Thailand, amongst the revered holy animals, Monkeys have a special place.
What is the Lopburi Festival?
The Khmers conquered Lopburi in the 11th century. The Khmers built several major structure during their reign in and around the Siam land. However, the Khmer Empire collapsed in the 17th century, and King Narai of Ayutthaya rebuilt the city. Locals in Lopburi have an annual ritual of thanking the monkeys for helping to bring tourists to the area. This is generally alluded to as "Monkey Province." The celebration is held in magnificent style among the ancient Khmer ruins of Pra Prang Sam Yod Temple. Monkeys may be seen all across Lopburi, and many will assemble for the feast provided to them during this celebration. Every year, last Sunday of November is when the festival begins. The local people come together to pick the theme for the festival every year. Wheelchair monkeys were the theme of the 2021 festival.


Live music and dancing acts are also part of the festival. Monkey pick their food from the long tables with high piles of food. This appears to offer individuals good luck, which is most likely why they are treated so well throughout the city. Sticky rice, fruit, and salad are among the foods served at the feasts. Be mindful of not getting in between crossfire of a monkey food battle, which is quite common at this celebration.
Also read – 10 Most Fascinating Places to Visit in Thailand
Thailand Honeymoon Package @ ₹ 23,100
History of Lopburi Monkey Banquet Festival
Since 1989, every year, the Lopburi Monkey Banquet Festival has been on an unbroken streak. And more so, in order to provide a delicious dinner for wild monkeys while also promoting Thailand's tourism. The Lopburi Monkey Banquet Festival represents a distinct Thai viewpoint. Monkeys are regarded as the most faithful and valiant troops in the protection of Narai, Hinduism's most beloved god. He will provide good fortune and tranquilly to Thailand, provided people protect him and his place of worship. As a result, individuals and tourists attending this festival will engage in a variety of activities such as playing with monkeys, feeding monkeys, and so on. These are the kind of activities that draw a large number of people. On this occasion, people decorated fruits and built monkey figurines. There will be around 4 tonnes of fruits on display during this fair.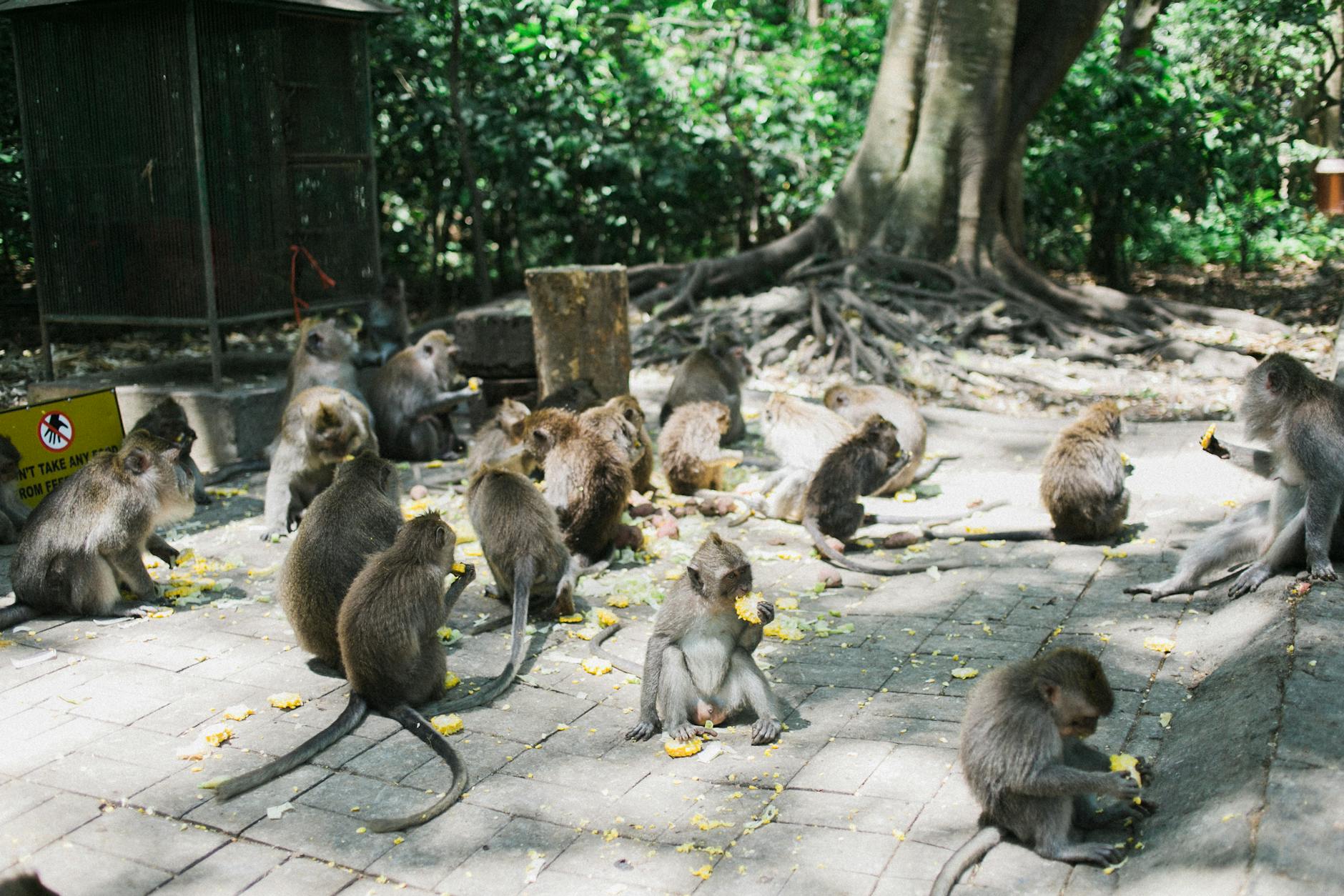 At this festival, there will be around 4 tonnes of fruits such as bananas, apples, grapes,… as well as many other drinks such as fruit juice, Coca-Cola, milk, mineral water, and so on. One of the most important foods at the feast is fruit jelly. These have utility for a variety of purposes. The celebration will begin at 10:00 a.m. Following the opening, fruits and pastries, beverages, and soft drinks will be exhibited on tables throughout the temple. Thousands of monkeys will congregate and feast. Tourists are thrilled to be feeding the monkeys, and some even make jokes and pose for photographs with them. Although Thailand must pay a large sum of money each year to arrange this event, it also draws a large number of tourists.
Also read – 10 Reasons Why You Must Visit Thailand – The Land
Thailand Tour Package @ ₹ 20,990
What else happens at the Lopburi Festival?
The Lopburi Monkey Banquet Festival will begin at 10 a.m. The waiter will first carry the tables to the temple yard. There are many various colours and monkeys on the table. More than 600 monkeys dance on the welcome tables to greet tourists to this location. The baby monkeys banded together to have a great time at the celebration. This image is believed to be one-of-a-kind and intriguing. And, this is popular among visitors. There is a lot of food and fruits at the celebration. Monkeys, on the other hand, will undoubtedly choose bananas. The sight of monkeys scurrying for bananas usually enthralls the visitors
The monkeys here are particularly naughty; they freely play, often impersonating tourists or playing with their baggage. Furthermore, the eye-catching acrobatics that they execute will undoubtedly leave guests with lasting memories. When the monkeys raise their hands to ask for your food, you will undoubtedly have a good time. Be fast to catch these monkeys' great moments! During the event, visitors may also take part in parades, experience unique cultural performances, and learn about the goods for sale.
Also read – 15 Souvenirs To Bring Back From Thailand: Remember Thai Forever!
When and Where is the Lopburi Monkey Festival?
The actual date of the monkey festival is yet unknown. It normally takes place on the last Sunday of November. Lopburi is the provincial capital in central Thailand. It is around 155 kilometers north of Bangkok and takes approximately three hours to go there from the metropolis. Because Thailand's transport network is quite advanced, you could go to Lopburi province quickly and smoothly.
Also read – 10 Things To Do For Couples In Thailand: The Unique Of All!
How to Reach Lopburi?
The train ride from Bangkok to Lop Buri takes around 1h 38m and covers a distance of approximately 126 kilometres. The Bangkok to Lop Buri train service, operated by the State Railway of Thailand, departs from Bangkok Junction and arrives in Lopburi. Typically, 70 trains operate weekly, but weekend and holiday timetables could change, so check ahead of time. Trains leave every hour or so. Tickets are affordably priced, however prices vary based on the train and the seat purchased. Some trains are also quicker than others.
Also read – Top 10 Must See Hidden Gems On Your Thailand Vacation
In addition to the Lopburi Monkey Festival, there are several more one-of-a-kind events held throughout the year. Thailand will undoubtedly be an appealing location for travellers and their friends and families. So, what are you still waiting for? Pack your luggage and travel to Thailand to witness the Lopburi Festival and other interesting festivals. Visit the Pickyourtrail to find fascinating Thailand tour packages or even better, to customise your Thailand itinerary. You might even create your own itinerary and make your fantasy vacation a reality.
Note: The images that are being published here are the author's choice, and the organisation takes no responsibility for their usability.