Maldives vs Mauritius, two destinations that seem to be quite similar when you first hear about them. Yes, they do have a lot of similarities like the brilliant white sandy beaches, amazing turquoise waters & overall awesome tropical island getaways. With Mauritius and Maldives tour packages, you can visit both destinations. But the question still prevails, what differentiates the two, and which is the better pick for a vacation? Are they different enough and warrant visits to both of them? Both Mauritius and Maldives tourism has grown drastically. Well, I'm quite familiar with these destinations and break them down for you. So, if you're trapped in the 'Mauritius or Maldives' debate, here's a complete Maldives vs Mauritius guide to help you choose your ideal hideaway. So let's get started, which place is better, the Maldives or Mauritius?
Maldives vs Mauritius: Geographical differences
| | | |
| --- | --- | --- |
| Geographical Difference | Maldives | Mauritius |
| Location | The Maldives is a tropical island getaway located in the Indian Ocean, made up of 26 atolls and approximately 1,190 coral islands. | Mauritius is an island country located in the Indian Ocean, around 2,000 kilometres southeast of Africa. |
| Land Area | It is one of the world's smallest countries, with a total land area of around 298 square kilometres. | It has a land area of about 2,040 square kilometres. |
| Climate | The Maldives features a tropical monsoon climate with two distinct seasons: the dry season, which lasts from December to April, and the wet season, which lasts from May to November. | Mauritius has a tropical climate with two seasons: a warm, humid summer (November to April) and a cooler, drier winter (June to September). |
| Topography | The Maldives is an island nation with a low elevation of only 1.5 metres above sea level. The islands have white-sand beaches and are surrounded by coral reefs. | Mauritius is a volcanic island paradise with mountain ranges and a centre plateau. The coastline is ringed by coral reefs and features white and black sand beaches. |
Maldives vs Mauritius: Activities and Sightseeing Opportunities
| | | |
| --- | --- | --- |
| Activities and Sightseeing | Maldives | Mauritius |
| Snorkelling and Diving | You can expect beautiful coral reefs and varied marine life on your Maldives holiday. Banana Reef, Maaya Thila, and HP Reef are some popular Maldives destinations. | There are many underwater caverns and wrecks to explore on your Mauritius vacation, making it ideal for snorkelling and diving. Blue Bay Marine Park, Flic en Flac, and Le Morne are all popular destinations here. |
| Water Sports | A tropical destination is incomplete without water sports such as jet skiing, parasailing, and windsurfing, Maldives has it all and will not disappoint you. | Water sports enthusiasts can enjoy kite surfing, water-skiing, and paddleboarding in Mauritius. |
| Beaches | Cocoa Island Beach, Veligandu Island Beach, and Baros Island Beach are some of the most beautiful white sand beaches and must be included in your Maldives itinerary. | There are a variety of beaches to choose from, including crowded public beaches like Trou aux Biches and Grand Baie, as well as quiet stretches of sand like Le Morne and Flic en Flac on your Mauritius trip. |
| Wildlife | Maldives is home to a variety of marine species, including dolphins, whale sharks, and turtles. | Mauritius is home to rare wildlife species such as the Mauritian flying fox, the Pink Pigeon, and the Giant Aldabra Tortoise and can be found at La Vanille Nature Park. |
| Cultural Sites | There aren't many cultural attractions in the Maldives, but it does have a unique blend of Islamic, South Asian, and African traditions. | There are many UNESCO World Heritage sites in Port Louis, including Aapravasi Ghat, the Le Morne Cultural Landscape, and the old town. |
| Adventure Activities | The Maldives offers a variety of adventure activities such as island hopping, submarine expeditions, and seaplane tours. | Zip line, hiking, and quad biking are among the adventurous sports available in Mauritius. |
| Local Cuisine | The country is well-known for its fresh seafood, coconut-based meals, and fiery curries. | Mauritius is known for its combination of Creole, Indian, and Chinese cuisine, with delicacies like fish vindaye, dholl puri, and samosas, |
Also Read: Places to visit in Maldives | Things to do in Maldives
Maldives vs Mauritius: The Budget Difference
| | | |
| --- | --- | --- |
| Budget Categories | Maldives | Mauritius |
| Flights | Flights from India to Maldives can be costly, particularly during peak season. A round-trip ticket should cost between INR 35,000 and 75,000. | Flights are generally less expensive from India to Mauritius, with round-trip tickets ranging from INR 25,000 to 70,000 per person. |
| Accommodation | Accommodation in the Maldives can be expensive, with costs ranging from 7,000 to 1,13,000+ per night for a luxury resort. Budget choices such as guest houses and motels are also available, and can be less expensive. | Accommodation in Mauritius is normally more reasonable, with costs ranging from 4,000 to 75,000+ per night for a premium resort. Budget choices such as guest houses and hotels are also available. |
| Food and Drinks | Food and drinks can cost you between 2,000 and 7,000 rupees per person at a premium resort. However, low-cost options such as local cafés and street food are available at lower prices. | Food and drinks are generally less expensive in Mauritius, with meals at a premium resort costing between INR 1,000 and 3,500 per person. Budget options such as local cafés and street cuisine are also available. |
| Activities and Tours | Activities and tours in the Maldives can range from INR 3,500 to 35,000 or more per person for activities such as snorkelling, diving, and island hopping. | Mauritius' activities and trips are generally more reasonable, with prices ranging from INR 1,500 to 15,000 per person for activities such as trekking, sightseeing, and water sports. |
| Overall Cost | Overall, the Maldives can be an expensive vacation, with a minimum budget of roughly INR 200,000 to 350,000 per person for a week-long stay. | Mauritius is more affordable, with a week-long trip costing between 95,000 and 200,000 rupees per person. However, costs can vary depending on the situation. |
Also Read: Things to do in Mauritius
What to choose the Maldives or Mauritius?
Now, after what we discussed, you might be thinking that Maldives is quite the letdown. Well, here is where Maldives kinda redeems itself. If you want one of the best possible laid back vacations and just log off from the world. Then, Maldives is perfect for you. Since it's made up of small islands, you find that most resorts are on individual islands. One resort on one island, it's like your own slice of paradise. These are all private islands and in most cases are not open to the public. These are individual island resorts that only paying guests can access. The rooms as well are much more luxurious and spacious. The cost of water bungalows in Mauritius is quite a bit more expensive, in the Maldives you have a wide range of water villas in Maldives that you can pick from different price points. Similarly, the advantage of having more scattered geography with less concentrated landmass is that the waters around the Maldives are also that much more exquisite. Check Maldives Visa for Indians.
Mauritius does hit back with some positives of its own, though. If you are looking for some engaging nightlife, Mauritius offers that in spades compared to the Maldives where the nightlife is just okay. There are not many pubs or bars in most of the commonly inhabited islands of Maldives, primarily because it's a Muslim country. Alcohol is usually served only at resorts that operate under special licences to serve liquor. Mauritius, on the other hand, doesn't have these restrictions. A lot of great pubs and late-night hangouts, especially near Grand Baie. Rum is also produced locally, and these days you have some late-night eateries popping up as well. Also, as we discussed earlier, Mauritius has sightseeing options that are actually accessible by road. So if you are someone that isn't too much into water sports and like exploring more, Mauritius might be a better pick.
Also Read: Islands in Mauritius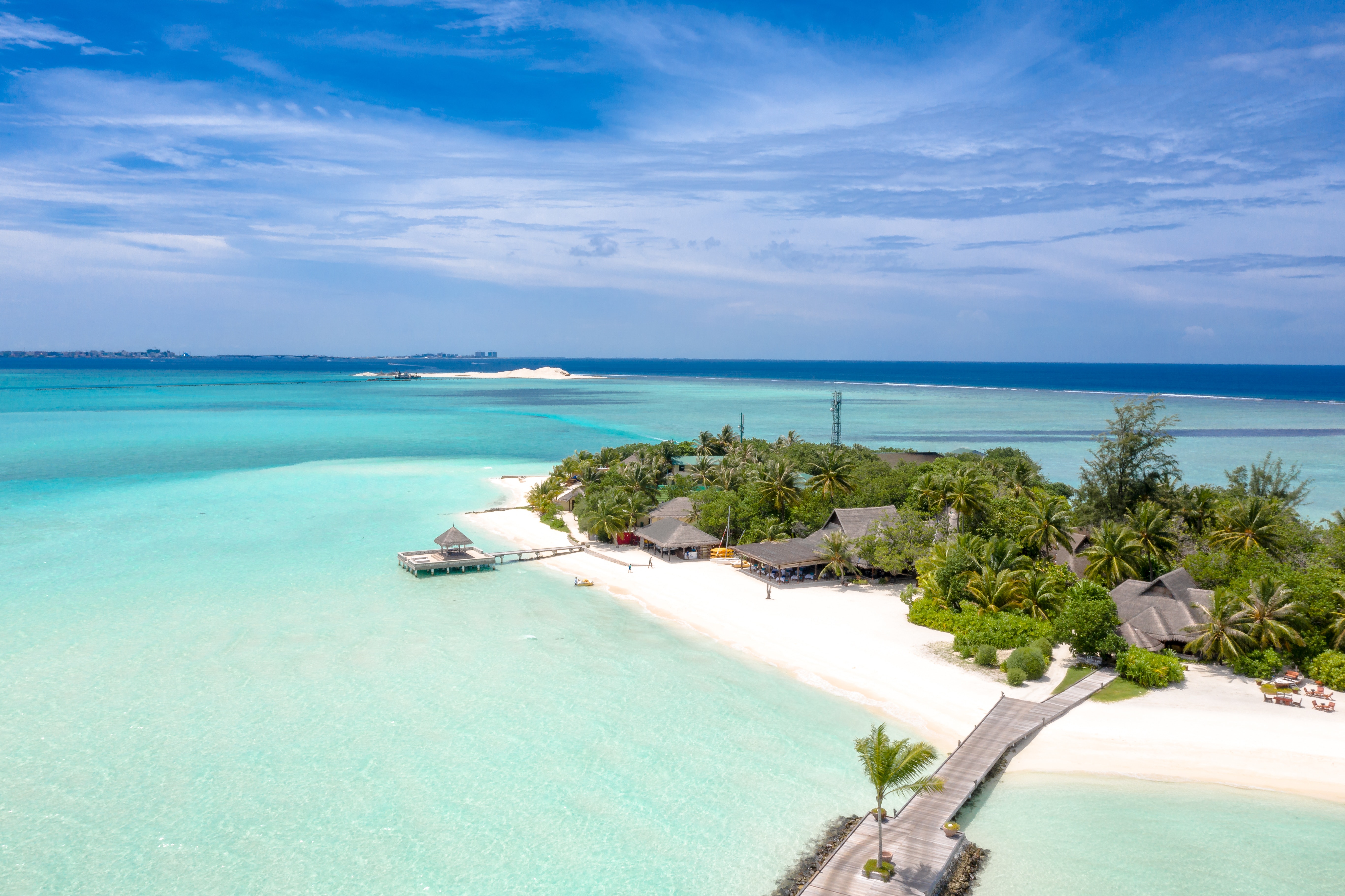 Plan a Vacation Today and Choose between the Maldives or Mauritius
Now, it's very hard to put a clear winner here, and that's because there isn't one. Maldives will give you the best possible experience when it comes to resorts and feels of being in a tropical paradise in the middle of nowhere. The reefs, the beaches, and the luxury here are just on another level compared to Mauritius. The nature of the destination also makes it great for a short vacation of 3–5 Nights. Where Mauritius makes the most sense is if you are planning a vacation for 6 Nights or more. You have sightseeing options you can take up, you have some great nightlife and overall it's better suited to be explored. It mixes relaxation and exploration quite well.
At the end, like most things in life, the decision here falls on these factors and above all, it falls down to what you want to do on your vacation. I hope this was helpful for you guys and this helps you decide where you want to travel to. If you need more help to decide, or you are looking for some amazing deals for your next vacation to the Maldives, check out Mauritius tour packages or Maldives honeymoon packages. Reach out to the great people over at Pickyourtrail. Their destination experts will be able to help you plan and customize your vacation to your liking, and also get you some of the best deals along the way. So, what are you waiting for, go check them out?
Also Read: Places to Visit in Mauritius
Also Read:
Maldives Packages by Departure City
Note: The images that are being published here are the author's choice, and the organisation takes no responsibility for their usability.