As intricate a puzzle that life may be, true joy lies in unravelling the clues as we live on. As we continue on the journey of life, we begin to uncover smaller bits and pieces of the jumble of life. Art is a similar puzzle, where every experience you have been musing over, it is similar to soulfully piecing together a beautiful puzzle and once you are done and you step back- it's the most marvellous sight ever. Bali is blessed with such a puzzle-like art museum of Neka Art Museum.
Neka Art Museum is one of the oldest art museums which amazes travellers for its brilliant architecture and amazing scenic views. Check out the best museums and activities to do near the this Museum in Bali.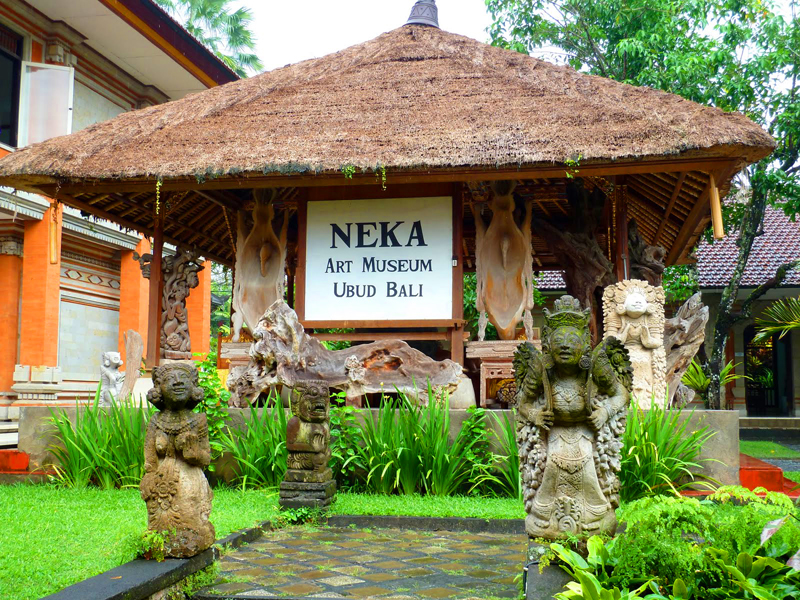 History of Neka Art Museum
A museum plays as a significant role for a country. A museum is considered to encapsulate soul and art, paintings, artefacts and scriptures. If a museum is seen as a set of artefacts or just a normal structure, then it has no purpose. It is successful only when it contributes a sense of culture, history, development and continuity. Keeping all these in mind, Suteja Neka built the world-famous museum in Bali called the Neka Art Museum.
Neka Art Museum in Bali is famous for traditional, authentic Balinese art and Affandi painting collections. It stands as a perfect example of an art museum for its collection of ancient Balinese and international art.
Located in the cultural heart of Bali, Ubud, the museum was built in the year 1976 but it was officially established in the year 1982 by the Ministry of Culture & Education.
Rise of Neka Art Museum
The Neka art museum was named after the founder himself. Being a promising Balinese teacher, Suteja Neka, who found himself fascinated by art and paintings, left his job and started helping his father who was one of the famous woodcarvers, I Wayan Neka.
In collaboration with his close friends, Dutch artist Rudolf Bonnet and Arie Smith, Suteja began collecting high-quality paintings. Neka wanted to establish a fine art museum in Bali. This thought was provoked in his mind after his arrival from the Europe trip which he made with his friend Bonnet, in the year 1975. He was fascinated by the museums in Europe. After years of struggles and planning, on 7th of July 1982, the museum was inaugurated by late Indonesian Minister of Education and Culture, Dr Daoed Joesoef.
The Neka Art Museum is authentic and distinctive because its collection of international artworks by Balinese were inspired by the natural beauty, life, and culture of Bali. The Museum's collection contributes to one of the key sources of inspiration, information, research, and education for people all around the world. The museum serves as the perfect gateway for the future generation artist and tourist to gain a better understanding and experience of the Balinese art and culture. The museum is officially approved as an institute of international standing.
Exploring Neka Art Museum
The Museum is notable for its exquisite blend of traditional and modern painting, in past and present Bali. The Museum stands as a significant institution which preserves culture and ancient artistic paintings such as Barong and Rangda dance art, Fisherman Boat painting by Affadi.
The Neka art museum is nestled in a beautiful lush green garden which makes the place more scenic and lures travellers from all walks of life. You will be amazed by the paintings of Affandi, a famous artist who has contributed Barong and Rangda dance art, and Fisherman Boat painting. These paintings are exhibited in the Balinese painting hall. The museum is constructed in a way that it has 7 buildings, each building exhibiting unique painting styles contributed by various artists from different parts of the world. These 7 buildings are named as :-
Balinese Painting Hall
Arie Smit Pavillion
Photography Archive Center
Lempad Pavillion
Contemporary Indonesian Art Hall
East-West Art Annex
Keris Hall
and they are roman numbered so that it will be easy for you to navigate the buildings. Each building starting from Balinese painting hall to the Keris hall showcase distinctive paints of Ida Bagus Rai, I Gusti Ketut Kobot, Arie Smit and Rudolf Bonnet.
Inside Neka Art Museum
The museum does not just hold paintings, Vintage black and white photographs of American photographer Robert Koke who has documented pictures of important personalities, dances, and ceremonies of Bali. The paintings describe the Balinese folktales, Indian epics such a Mahabharata, Ramayana. Most of the Ubud style paintings have a lot of western influence and these paintings depict daily life, dances, and ceremonies of Bali. The museum explains the different painting techniques which Balinese used in the late 1930s and early 1940s. The buildings do hold the paintings of the youngsters from Penestanan village located in Ubud. These paints are based on the colourful scenes of ceremonies, rice harvests, and the daily life of the villagers of Penestanan, Bali. Neka Art Museum will be a complete treat for nature admirers and the ones who love the stylish and aesthetic style of paintings.
Ubud trips are incomplete without dipping yourself into this cultural and heritage-rich art and architectural paradise of Bali. Ensure to pick Neka Art Museum in the Bali itinerary to have a complete experience in the cultural heart of Bali. So check some Bali trip packages offered by Pickyourtrail and choose the one that suits your likes & tastes and explore Bali! Happy travelling!