Phuket is Thailand`s biggest island and also the most renowned tourist spot among travellers. Blue waters, sandy beaches, highly spiced Thai cuisine, and extraordinary snorkelling and diving are all a part of the appeal. Arriving from everywhere in the world, visitors flock to Phuket for peace and adventure, and this island quotes as one of the most famous locations in Thailand. Confused about which places to visit in Phuket in February? Scroll down to know more about the best places to visit in Phuket, Weather and festivals.
Weather in Phuket in February
The weather in Phuket during February is warm and dry, with typical temperatures ranging from 23°C to 33°C.  It is a  popular month to visit Phuket and enjoy its beautiful beaches, with 9 hours of sunshine, blue skies, and the occasional tropical shower. February is a great month to visit Phuket and other nearby places. The oceans are quiet and warm at 29°C, making snorkelling and diving ideal.
Also Read: Phuket in January – Places to Visit, Weather, Places to Stay, and More
Places to visit in Phuket in February
1. Karon Beach
Karon Beach attracts many couples and families with its 3.5 km of squeaky golden sand and sapphire blue waters. It's a great place to swim in mild weather, but be careful during this time as big waves shatter the vast shores here when the winds get stronger. Karon Beach remains one of the beaches to visit in Phuket in February.
Restaurants and resorts are scattered along the busy roads opposite the beach, but some 4-star resorts have direct access to the beach. At the southern end of the beach are the luxurious bungalows of the nearby Marina Phuket Resort. At its northern end, Centara Grand Beach Resort Phuket overlooks the coast with a water park.
Also Read: Karon Beach in Phuket, Thailand
2. Phuket Town
Phuket Town is located in a beautiful bay on the southeastern coast of the island. The island's city is vibrant thanks to the many hotels, restaurants, massage parlours and other attractions that Patong Beach created in the decades since its development began in 1980. The architecture reflects the influence of Chinese immigrants and Portuguese aesthetics, in interesting contrast to the more traditional Thai style found elsewhere.
Take a walk through the streets of Phuket's Old Town with well-preserved shophouses, Sino-Portuguese mansions, temples and shrines. Other things to do in the town include visiting the Phuket Trickeye Museum, a 3D interactive art gallery, and worshipping the colourful Chinese temple, Juitui Shrine.
Also Read: Shopping In Phuket: A Complete Guide to Places to Shop in Phuket
3. Big Buddha, Phuket
Quietly nestled on an island at the top of Nackard Hills between Kata and Chalong, the Great Buddha of Phuket is one of the island's most distinctive landmarks. When you reach the top of the 45-meter-high monument, you'll be greeted by a spectacular 360-degree view. Covered in white jade marble, this statue was built in 2004.
It's a quiet place, perfect for a day's break. You can hear the prayer flag fluttering in the wind and the little bells ringing. You can take a taxi or tuk-tuk up the winding 6km road to the hill, but you will have to climb steep stairs to reach the monument.
Also Read: 3 Best Buddha Statues in Thailand that are an Epitome of Peace and Sanctity
4. Wat Chalong
Wat Chalong is the largest, most popular and arguably the most beautiful of the 29 temples in Phuket. Dedicated to two respected monks, Luang Pochaem and Luang Pochuan, you can see their life-sized wax models and other figures in the exhibition house.
The Great Pagoda protects fragments of Buddha's bones and features murals depicting images from the Buddha's life story. As you wander around the premises, you can see many golden Buddha statues in various poses.
Festivals in Phuket during February
Chinese New Year Festival
With a history of Chinese immigrants to Thailand for centuries, about 15% of Thailand's population is now of Chinese descendants. Chinese New Year is not a Thai holiday, but it is celebrated in some parts of the country. In places such as Bangkok's Chinatown, Phuket and Chiang Mai, street parades, cultural performances and firecrackers will help to celebrate the New Year. February 2022 announces the year of the tiger.
Chiang Mai Flower Festival
The Chiang Mai Flower Festival, held on the first weekend of February, is one of the most colourful festivals in Thailand. It is an event that the whole family can enjoy, such as flower exhibitions, street parades, local markets, and music concerts.
Also Read: 5 Upcoming Fabulous Festivals in Thailand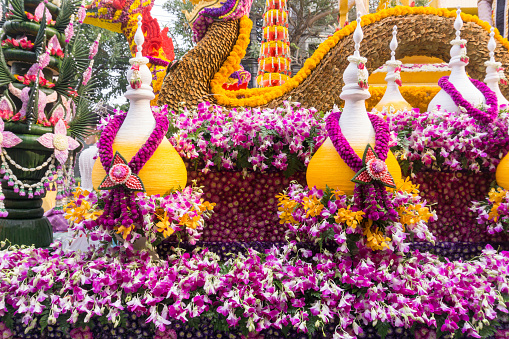 Frequently Asked Questions about Phuket in February
1. What is there to do at night in Phuket?
The following are some of the top things to do in Phuket at night:
a. Visit the night markets in Phuket
b. Attend Siam Niramit's cultural performances.
c. Spend an enjoyable evening in Phuket FantaSea.
d. Patong offers live music.
e. Check out Dream Beach Club.

2. Is it safe to travel to Phuket? 
Phuket is a fairly safe place to travel. However,  be careful, especially in dark places. We recommend that you do not go alone. 
3. What is Phuket famous for?
Phuket is famous for its exotic beaches, vibrant nightlife, colourful night markets, delicious seafood, the Great Buddha of White Marble and scuba diving. 
4. What should you see and do in Phuket?
Any traveller should not miss all of Phuket's famous and unique attractions. Phi Phi Island is one of the most beautiful sites in Phuket, and visitors can stay there for a day or two.
5. Is Phuket Better Than Bali?
Both Phuket and Bali are major tourist destinations in their respective countries, and travel cultures differ greatly in what you experience. It is not advisable to compare such wonderful places in Thailand and Indonesia, but it is advisable to visit and enjoy both.
There you go! Our complete guide on Phuket in February. By visiting these extraordinary places and festivals, you could make your trip to Phuket a very unique one. Explore these destinations and have fun with your loved ones. Want to customise your trip to Thailand according to your preference? Visit the Pickyourtrail website and customise your Phuket package at amazing deals!