The art and culture of Kerala is something which impresses the larger audience, right? It has attracted millions of people through its unique art form and one such interesting art form which could be found in Kerala is Kalaripayattu. Kalaripayattu is one of the oldest forms of martial arts in Kerala. Usually practised by warriors of Kerala belonging to all caste and religions. This martial art is currently attracting many tourists and people are much interested to learn this art form. In order to learn this art, one would require an immense amount of strength and courage. However, anyone can watch this beautiful form of art. You will find a lot of places to watch Kalaripayattu in Kerala. And yes, here is a list of top places to watch Kalaripayattu in Kerala. Well, have a read!
Also Read: Islands In Kerala – Find The Top 8 Islands Which Are Incredibly Beautiful!
Places to watch Kalaripayattu in Kerala
We here at Pickyourtrail have curated a list of top 8 places to watch Kalaripayattu in Kerala. Have a read and get to know more about the art form and the training places.
C.V.N. Kalari
Greenix Village
Kadathanadan Kalari
ENS Kalari
Kerala Kathakali Centre
The Kalariyil Dharmikam
Mudra Cultural Centre
Kalari Kshethra
1. C.V.N. Kalari
And yes, the first one to enter the list of Places to watch Kalaripayattu in Kerala is C.V.N. Kalari which is located in Trivandrum. This school was found in 1945 and has established as a famous Kalaripayattu school. This art has been a blend of both defence and learning about the culture. And that is something which is beautifully conveyed to the students in this school. C.V.N. Kalari conducts regular training sessions and short term classes for the tourists.
Location?
S Street Rd, Fort, East Fort, Chalai, Trivandrum, Kerala 695023
2. Greenix Village
Greenix Villiage is a famous cultural performing art centre in Kochi and is a perfect place for all the art lovers. Not only Kalaripayattu, but you will also find a lot of Kerala's art performances and training classes here. Interestingly, you will be able to find an L-shaped gallery area for Kalaripayattu where you can watch the art form. Also, you will find the traditionally used Kalaripayattu weapons on one side of the gallery. Greenix Village also gives a session about the massage techniques which are used for people who have been injured during Kalaripayattu. Overall, Greenix Village is a must-visit if you love Kalaripayattu and all other Kerala art forms.
Location?
C.C. 2/481, Calvathy Rd, Calvathy, Aspinwall Junction, Kunnumupuram, Kochi, Kerala 682001
Also Read: Festivals Of Kerala – Let The Celebrations Begin!
3. Kadathanadan Kalari
A visit to Kadathanadan Kalari is undoubtedly one of the best places to watch Kalaripayattu in Kerala. The Kadathanadan Kalari centre is located in Thekkady and conducts regular performances for the visitors. You can take the front seat and enjoy watching this art form. A visit to this place will give you a lot of learnings about this old art form. To avoid the queue, you can easily book a ticket online and get a chance to witness this art form.
Location?
Tiger Reserve, Thekkady, Kumily, Tamil Nadu 685509
4. ENS Kalari
ENS Kalari is one of the famous Kalaripayattu centres which is located in Ernakulam. Interestingly, ENS Kalari is a part of Kerala Kalaripayattu Association. The speciality of ENS Kalari is its trainers. Yes, the trainers have a vast knowledge of this art form, Ayurveda, mathematics and many more. It is the trainer who moulds a perfect student, right? And that's what ENS Kalari exactly does.
Location?
Nettoor PWD Road, Ernakulam, Kerala 68204
5. Kerala Kathakali Centre
You can watch Kalaripayattu shows here on a daily basis. Well, apart from Kalaripayattu, you can also take your time and witness some of the best Kathakali and other Indian classical dances. Also, get prepared for the crowd as this place will flock with visitors from all across the world. So, to avoid the crowd and the queues, make sure you book the tickets beforehand.
Location?
KB Jacob Rd, Fort Nagar, Kochi, Kerala 682001
Also Read: Kochi Diaries: Best Places To See In Fort Kochi
6. The Kalariyil Dharmikam
The Kalariyil Dharmikam is situated in Trivandrum and is a centre for learning Kalaripayattu art and also helps the performers to heal and masters them in spirituality too. The famous Guru Balachandran Nair is the one who teaches the Kalaripayattu art form here. In addition, the whole ambience of this place is something which is highly appreciatable by the locals. The training rooms and the delicious food provided here are at their best. Most importantly, the teaching given here will prepare you both mentally and physically.
Location?
Parasuvaikkal, Trivandrum, Kerala 695508
7. Mudra Cultural Centre
Mudra Cultural Centre conducts Kalarippayattu shows regularly where the performers are allowed to showcase their talent to the larger audience. You can also see some performers bringing their raw power and inspiration from sturdy animals like lion, deer, elephant and snake which are the highlights of the show.
Location?
Kumily Thekkady Rd, Thekkady, Kumily, Tamil Nadu 685509
8. Kalari Kshethra
The final one to enter the list of top places to watch Kalaripayattu in Kerala is Kalari Kshethra. Kalari Kshethra conducts daily evening Kalarippayattu shows where one can witness the beauty of this spectacular art form. You will be able to watch four types of Kalarippayattu which are known as Mey Payattu, Vadi Payattu, Ayudha Payattu and Adi Thada. That's interesting, right? Well, if you are interested to learn Kalaripayattu, you can also request Kalari Kshethra to arrange a special training class. However, classes will be arranged on an availability basis.
Location?
Kochi Road, Chithirapuram South, Munnar, Kerala 685655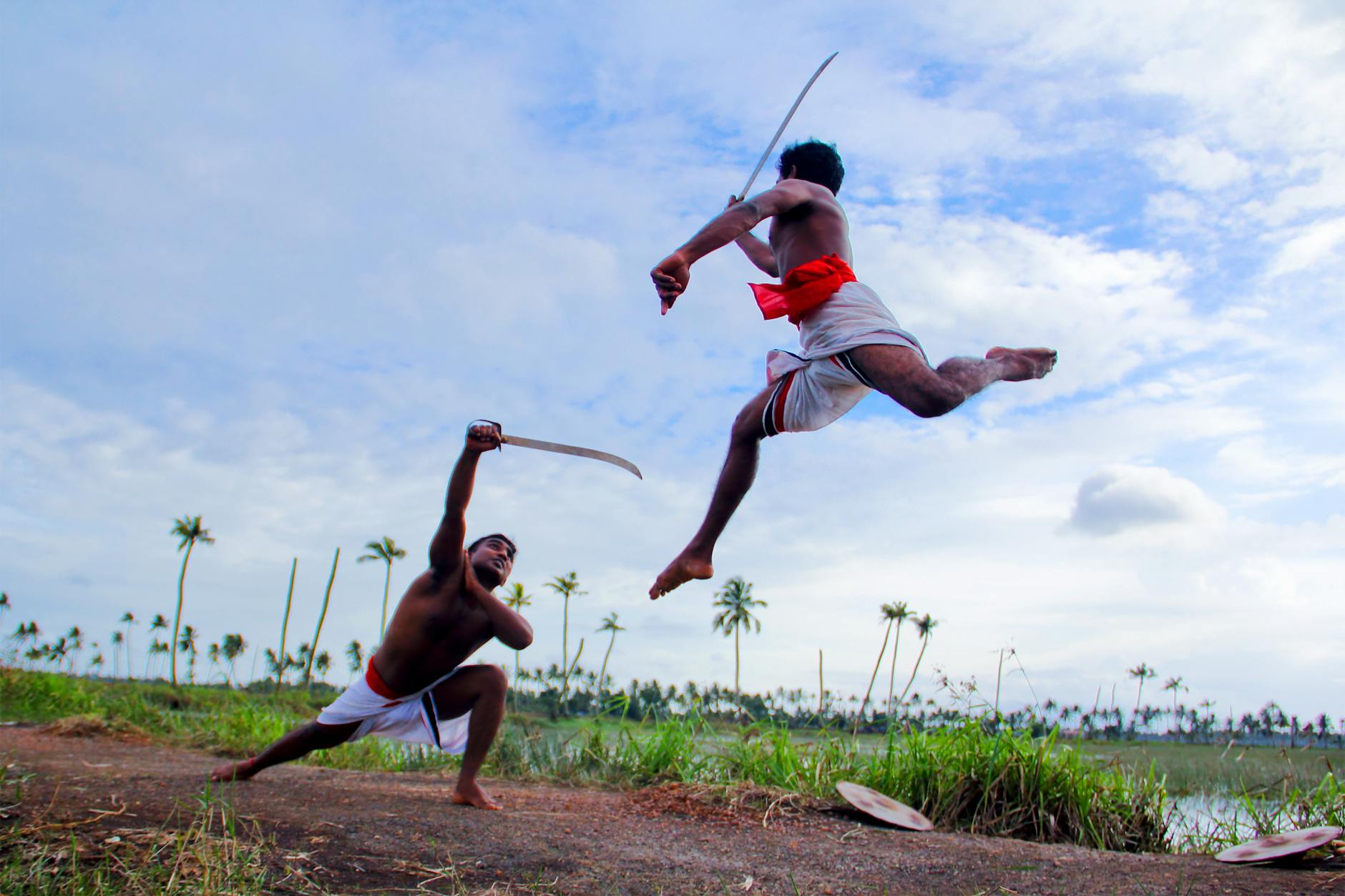 Also Read: Kerala Cuisine – Why So delicious?
Kalaripayattu was once taught by professional masters to a few students who had the need to learn this art form. But now this art has come to light and is open to anyone. So, why don't you take a chance and learn this art? If not, you can at least make your way to the above-mentioned places to watch Kalaripayattu in Kerala. That's a good idea, huh? So, without any further delay, head to Pickyourtrail website and check on the impressive Kerala travel packages. Also, you can ping us in Whatsapp for more options. Get ready to pen down your cherishing experience with Pickyourtrail! Happy travelling!

If you are looking for a perfect international trip, Pickyourtrail offers you the best International tour packages where you can customize your itinerary.
Note: The images that are being published here are the author's choice, and the organisation takes no responsibility for their usability.