Bali is considered as one of the most mesmerizing island destinations that boasts of lush green mountains, gushing waterfalls, scenic beaches, majestic ridges and holy temples. Although Bali is a small island when compared to other islands, it has better activities to offer to its tourists. The island 7 million tourists flocking in every year owing to its blissful climate and divinity.
Famous for its astonishing coastlines, paradisiacal waterfalls and traditional Balinese architecture, Bali is not only home to honeymoon travellers but also for the spiritual. It's a destination for all kinds of travellers with its numerous attractions, heart-stopping temples, authentic culture, ancient rituals and traditions and of course traditional dance performances. The island is also known for its religious practices, age-old cultural traditions and mythologies. With exotic temples and stunning sunset temple tours, Bali is one of the most loved tourist destinations in the world.
If you are looking for solace away from the hustle-bustle of city life, Bali is blessed with divine and serene temples. One among the oldest civilizations of the world, Bali has thousands of temples (which is called as 'Pura') in the country, each with distinct architecture, different idols to worship, a host of different rituals, lots of devotion and plenty of mythological stories that will leave your mouth agape in amazement. Not many prefer temple tours as they aren't as exciting as going on roller coaster rides. Holy spring water officially called 'Pura Tirta Empul' in Bali also known as Tirta Empul Temple is an exception. It is a very distinctive temple and has a rich history, an epic battle between a powerful and magical king named Mayadenawa and the God Indra.
Myths about Tirta Empul Temple
Usana Bali, a Balinese manuscript which describes the arrogance of the Balinese king, Maya Denawa who is said to be a non-believer of God and took a stand against the people who worshipped god. The mighty warriors of the God Indra arrived and they started attacking Maya Denawa for being a rebellion. Sooner the king was punished by the god and put him away from the throne. In order to show his vengeance, he poisoned the warriors of Indra and the warriors died. Angry Indhra planted a pole to the earth and sprang water. The water was used on the dead warriors, instantly they got healed, and got their life back. So this water is believed to be the origin of life and prosperity. Today, this water serves as the salient source for irrigation at rice field in Tampaksiring.
Purifying the Soul at Tirta Empul Temple
The temple is very famous for its water spouts that believe to purify the soul and remove all sins. Tirta Empul, Bali, is one of the lively, energetic and substantial water temples in Indonesia. The temple was constructed in 926 A.D. and is dedicated to Hindu god Vishnu, considered as the god of water. Tirta Empul is a significant temple complex and holy mountain spring located 14km North of Ubud, the village of Manukaya in central Bali. It is considered as a national cultural heritage site and US President Barack Obama, Michelle Obama and daughters Malia and Natasha, during their visit had added that Tirta Empul is one of the best temples to visit and experience.
The temple is situated beneath the Presidential Palace of Tampaksiring. The Presidential place was constructed by Indonesia's first president, Soekarno, built-in 1957. The beautifully built palace itself is a significant vantage-point of the island. Combining with the Presidential Palace, the Tirta Empul Holy Water Temple standouts to be one of the most attractive places for tourists in Bali.
Rituals and Traditions at Tirta Empul Temple
Tirta Empul is a gargantuan and complex structure that takes minimum 30 minutes to explore the entire temple premises. There are certain traditions and customs and etiquettes which are followed even now in Tirta Empul such as wearing 'Sarong" a traditional Balinese dress one should have to wear before entering the temple. You can see a small counter where you can buy the entrance ticket which costs IDR15.000 and the sarongs can be hired for a small donation at the entrance of the temple.
Tirta Empul temple comprises of 3 main sections, namely outer courtyard, secondary and inner courtyard. Visitors pass through the outer courtyard of Tirta Empul which is filled with lush gardens and stone gates adorned with statues and plants that lead to the entrance. After passing through this Candi Bentar, a colossal walled courtyard greets the visitors to a large serene crystal-clear pool, which is called as 'Jaba Tengah', the salient source for the ever-flowing holy spouts. Purification ritual which is performed in the Holy spring water is known as 'Melukat'. Bathers have to perform the ritual by dipping themselves three times in the holy spring water pool and drink the freshwater three-times to complete the ritual.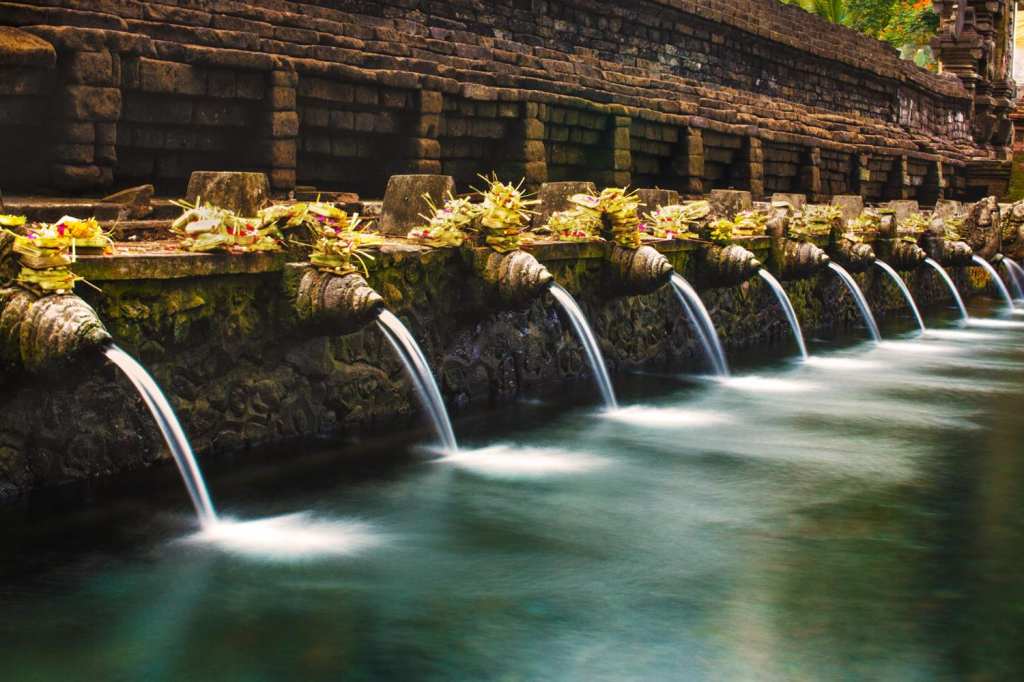 Tirta Empul Temple – Things to remember
Few things that you should remember before going to Pura Tirta Empul temple.
Opening hours: Opening hours may differ, although the temple is generally open between 9 am – 5 pm.
Entrance fees: the entry fee is IDR 15,000 per person. Tickets can be purchased from the small booth near the entrance.
A small donation for purification ritual: For performing the ritual you need to pay 25,000 IDR for a locker and extra sarong for bathing.
Dress code: You cannot enter into the temple without wearing the sarong. A person from the store will help you tie the sarong. Ensure you carry a pair of clothes to wear after performing the ritual. You are not allowed to enter the temple with wet clothes.
Restricted areas: Few areas inside the temple premises are restricted as they are meant for praying and ensure you respect the rules.
Looking to explore Tirta Empul Temple in Bali? Interested to plan a Bali trip? Plan and book your dream Bali tour package with Pickyourtrail, India's leading customised international vacations planning company. Check out the top recommended Bali itineraries, choose the ideal one for you and customise to make it your ideal Bali itinerary and make your holiday a dream come true.