Thailand is a nation in Southeast Asia. It's famed for its tropical beaches, magnificent royal palaces, historic ruins, and beautiful Buddhist temples. Is there a good time to visit Thailand? Yes, it is best visited between November and early April. Moreover, It's the driest and hottest time of year in the Land of Smiles. Additionally, It Records temperatures hovering between 32 and 36 degrees and up to nine hours of sunshine every day. Just Sit Back and enjoy What PickYourTrail has in store for you – Top 10 Must See Hidden Gems in Thailand.
Also Read: Best Things to do in Chiang Mai
Top 10 Must See Hidden Gems in Thailand
Phi Phi Islands
Talu Island Sea Caves
Sukhothai Historical Park
White temple in Chiang Rai
Ayutthaya Historical Park
Mae Kampong Hill Tribe
Koh Panyee fishing village
Changchill Elephant Sanctuary
Wat doi Suthep in Chiang Mai
Damnoen Saduak Floating Market
Thailand Tour Package @ ₹ 20,990
1. Phi Phi Islands
The beautiful Phi Phi Islands, located about south west of Krabi, are part of a marine national park that is one of the world's most memorable places. Moreover, the bigger island of Phi Phi Don has high limestone cliffs, beautiful sand beaches, and secret coves. In Addition to that, Coral gardens and deeper reefs are not far away, and diving and snorkelling are fantastic. Because there are no vehicles on Phi Phi, only tiny paths that crisscross the island, getting about is simple: hire a native longtail boat or go for a stroll.
Also Read: Best Beaches to visit in Thailand
2. Talu Island Sea Caves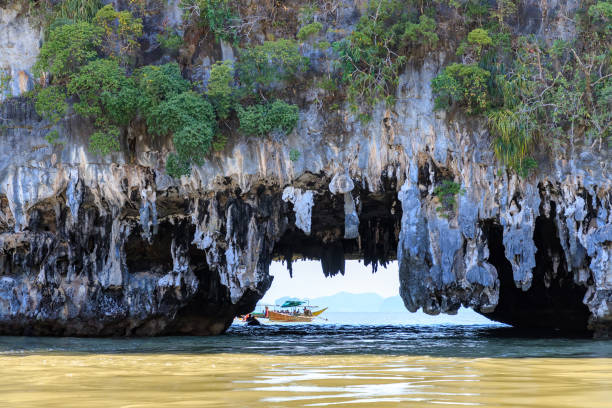 In the Gulf of Thailand, Talu Island (Koh Talu) is a privately owned island. It's about a 30-minute boat journey from Bangsaphan on the mainland, and around three hours from Hua Hin. Moreover, the island's beautiful beaches flanked with palm palms, crystal-clear seas, and tropical forests interior make it a popular day excursion. The shallow waters of Koh Talu are perfect for snorkelling. It is also the nearest scuba diving spot to Hua Hin, with acceptable depths and decent visibility. A vast tropical rainforest dominates the island's terrain further interior, providing some great trekking possibilities.
Also Read: Top things to do in Krabi, Thailand
3. Sukhothai Historical Park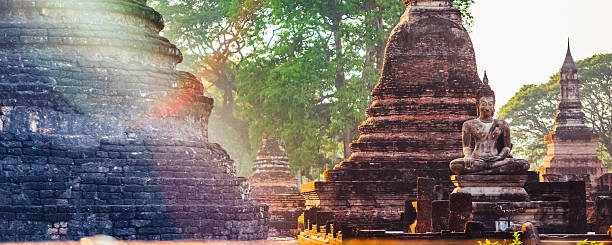 The remnants of royal palaces, Buddhist temples, city gates, walls, moats, and the water dike control system of ancient Sukhothai, the capital of the Sukhothai kingdom from the 14th century, are all included in the park. The old city's walls stretch about 2 kilometres east to west and 1.5 kilometres north to south, and there are 193 ruins within 70 kilometres of land. Moreover, the park is divided into five zones: the central zone is where the royal part of the city was located; the other parts of the city are large and ideal for vehicle travel; however, some zones, such as the south zone, are not worth the time to travel.
Also Read: Guide to Wat Arun Temple in Thailand
4. White temple in Chiang Rai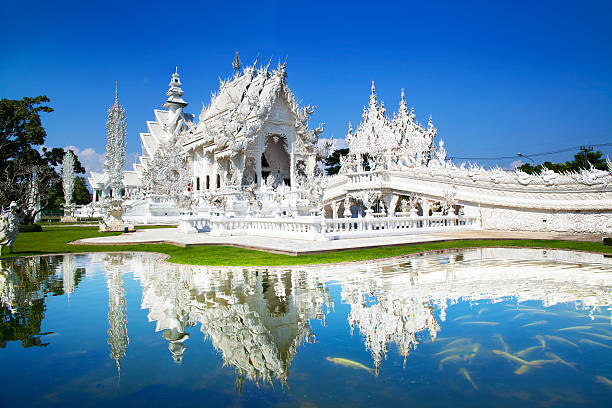 Wat Rong Khun, known as the White Temple by international visitors, is a privately owned art display in the manner of a Buddhist temple located in Chiang Rai Province, Thailand. Chalermchai Kositpipat, who planned, built, and opened it to the public in 1997, owns it. In Addition to that, the three-tiered roof was inspired by the traditional style of Buddhist temples in Thailand. It is adorned with extremely detailed Naga serpents and is a stunning sight from afar.
5. Ayutthaya Historical Park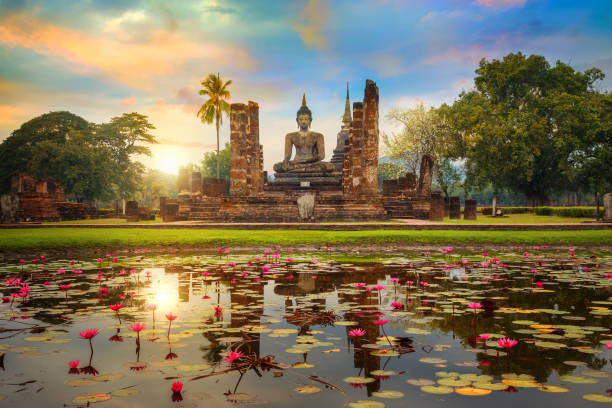 The ruins of Ayutthaya's ancient city are preserved at the Ayutthaya Historical Park in Thailand's Phra Nakhon Si Ayutthaya Region. In 1351, Lord Ramathibodi I founded the city of Ayutthaya. The city was a capture by the Burmese. Moreover, It will also lose a number of significant and masterful artefacts as a result of the looting. The city served as the nation's proud capital until the Burmese Armed Forces gained control of the country in 1767.
Thailand Honeymoon Package @ ₹ 23,100
6. Mae Kampong Hill Tribe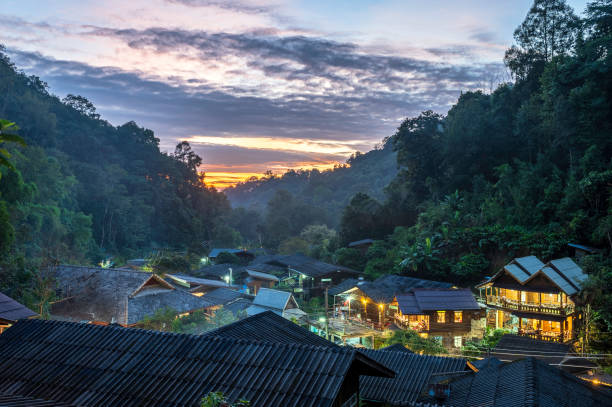 Mae Kampong, a tiny town in the highlands east of Chiang Mai, is the ideal spot to get a taste of rural life in northern Thailand. Moreover, the people here earn money by cultivating a number of crops, including tea and coffee, and they also host tourists in their houses as a homestay. You may not only dine with a family and sleep in a traditional hilltribe house, but you can also participate in everyday chores like farming and cooking. Mae Kampong is located in a magnificent location; a local guide would gladly accompany you on a simple trek to show you the mountainside crops and the surrounding natural beauty (there are lots of waterfalls and lily ponds).
Also Read: How to reach Thailand
7. Koh Panyee fishing village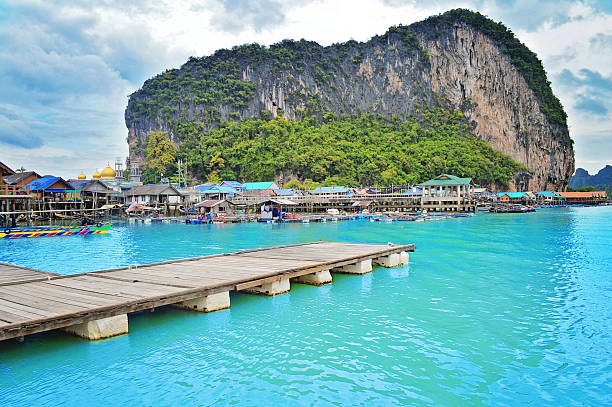 Koh Panyee is a tiny island hamlet in Phang Nga province, about 20 minutes via longtail boat from Surakul dock. On the island, around 1,600 individuals from 360 households live permanently. They are all direct or indirect descendants of Toh Baboo and his family and companions, who were the first to arrive to Koh Panyee 200 years ago.
8. Changchill Elephant Sanctuary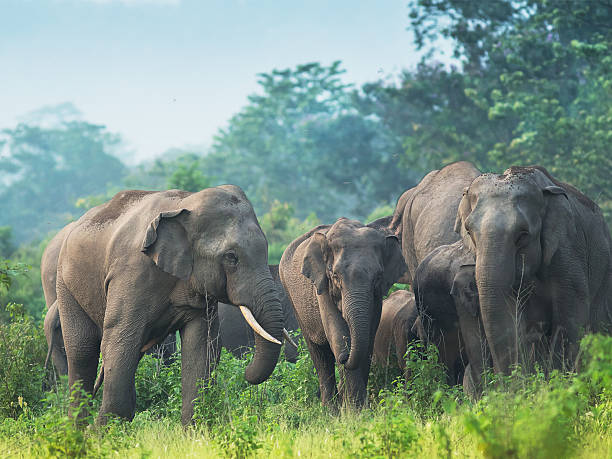 The six resident elephants at ChangChill (which means "relaxed elephants" in Thai) not only graze, bathe, and mingle in the Chiang Mai hills, but also symbolise what we think will be the future of elephant tourism. Visitors may learn about the elephants' history, view them in their natural environment, and meet the mahouts who are responsible for their care.
Also Read: Thailand in October
9. Wat doi Suthep in Chiang Mai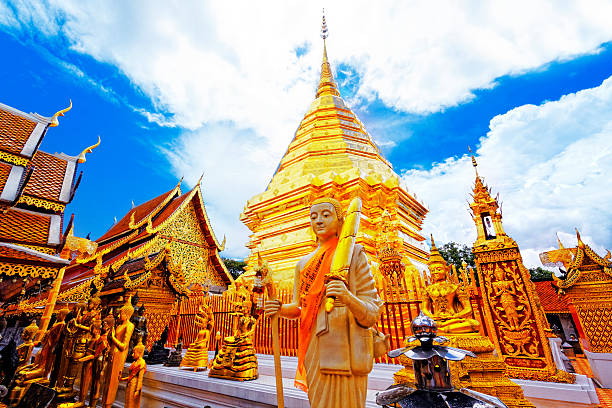 Chiang Mai is a temple-filled city. You can't go more than a few steps in the Old City without coming across one, and they're all well worth your time as a traveller. However, one of northern Thailand's most revered temples, the one sits atop the Doi Suthep mountain on the western suburbs of Chiang Mai, is not to be missed. It is quite simple to plan a journey up the mountain to view the temple from Chiang Mai, and there are several options. The views from the temple and the grandeur of the surrounding region make for a wonderful day excursion from the city, regardless of which option you select.
10. Damnoen Saduak Floating Market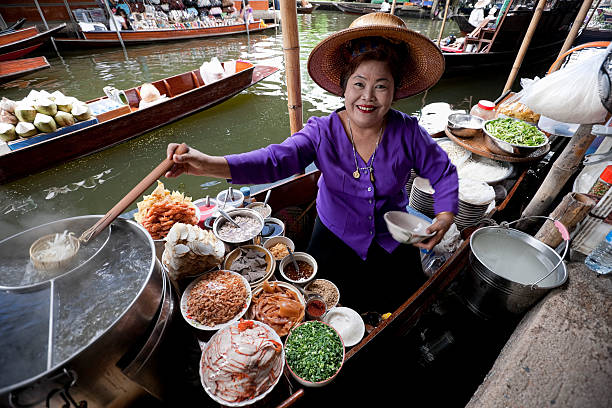 Damnoen saduak Floating Market in Ratchaburi is one of the most popular floating markets in Thailand. Every day many Thai and foreign tourists travel here to shop, eat, and absorb the atmosphere of Thailand water markets that have been like this for over a 100 years. Moreover, Klong Damnoen Saduak Damnoen Saduak is the straightest and longest canal in Thailand.
Thailand Tour Package @ ₹ 20,990
---
Alright! Hope you now know everything about Thailand's Hidden Gems. Looking for Amazing Thailand Packages or Thailand honeymoon packages? Let PickYourTrail help you plan your Vacation and get the best out of everything. Also do not forget to follow us on Instagram and Facebook for latest travel updates. Thats all Folks! See you soon. Stay tuned for more.
Note: The images that are being published here are the author's choice, and the organisation takes no responsibility for their usability.