Dehradun is settled in the midst of the Doon Valley in the state of Uttarakhand. Its city is a famous hill station. With loads of top attractions in Dehradun, it charms solo travellers, families and couples alike. This city is notable for its resources and for its lovely atmosphere. Also, it is the gateway to the core hill stations like Nainital, Mussoorie, etc. and pilgrim sites like Haridwar and Rishikesh.
The top attractions in Dehradun are not only famed for their natural beauty, but also for the history and architecture associated with them. A pleasant hill station with flawless lakes, enticing landscapes, and pleasant climate, Dehradun offers an ideal getaway for all exhausted souls. Here we have listed the top attractions that you shouldn't be missing on your vacation to Dehradun.
Also Read: 10 Amazing Offbeat places to visit in Uttarakhand
Top 10 attractions in Dehradun
The top attractions in Dehradun mirror the mystic character of this small-time lost city and here we present some all-time popular Dehradun tourist places.
Sahastradhara
Mindrolling Monastery
Lachhiwala
Robber's Cave
Malsi Deer Park
Tapovan Temple
Har Ki Dun
Forest Research Institute
Fun Valley
Tibetan Market
1. Sahastradhara
Sahastradhara is situated at a distance of around 14 km from the heart of the city. It is a well-known vacation spot of Dehradun. Tourists visit Sahastradhara in huge numbers to watch the fame of waterfalls and caves. Other than for the delightful view, it also has medical value. Water spouting from the sulfur-rich stone formations draws in local people as well as guests to take a dunk in these curative spring waters. This waterfalls will give you totally a marvellous and fresh experience.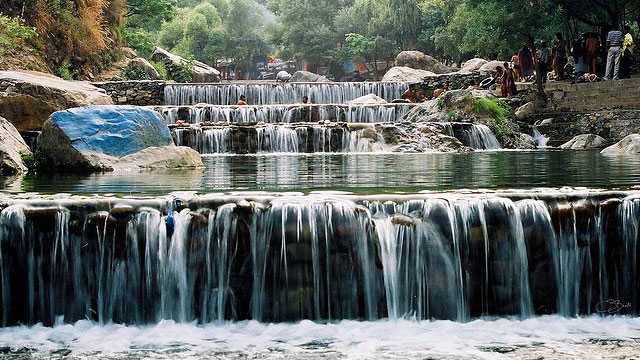 2. Mindrolling Monastery
One of the most famed spots to visit in Dehradun is Mindrolling Monastery. It is among the six major monasteries of Tibet's Nyingma School. It is one of the biggest Buddhist communities that offers vast gardens, a stupa and fine architecture to glorify. While in Mindrolling Monastery, escape from the city's clamour, find harmony and time to unwind and revive your senses. Home to perhaps the tallest stupa on the planet, the Mindrolling Monastery is an absolute must-visit place for anybody coming to Dehradun.
3. Lachhiwala
Lachhiwala is a famous picnic spot that is located along the Rishikesh – Haridwar Road in Uttarakhand. Encircled by thick backwoods, Lachhiwala draws in several nature lovers. It is known for the man-made pools fed by a stream of the Suswa River. This is famous with both locals and vacationers. Lachhiwala is also known for its sunset views, hiking trails, and bird watching. Relax in the healing man-made pool and enjoy the lavish greenery all around. With all this, Lachhiwala is one of the ideal spots for couples to visit in Dehradun.
4. Robber's Cave
Robber's Cave, also known as Guchhupani, is a fab cave in Dehradun. It is 600-meter long and is covered with slippery rocks and crystal-clear waters. It's a natural cave with water streaming inside. It is said that robbers used this spot as a hideout during the British rule, and hence the name. The place is famous for a strange marvel. The stream of water suddenly disappears from the sight and appears again barely any meters away. This place is a perfect picnic spot for family and friends.
5. Malsi Deer Park
Malsi Deer Park is a part of Malsi Reserve Forests. It is a well-known vacation spot close to Dehradun-Mussoorie road. It is a haven for nature lovers, for here's nature spread out like never before. Also, it is quite a comfort from the noise of city life. Moreover, it is home to two horned Deer, Tiger, Neelgai, Peacock and many other animals. 10 km away from Dehradun city, Malsi Deer Park owns a lot of creatures in their natural habitat. Malsi Deer Park is a paradise for all the nature lovers out there. The beauty of the place is worth spending time at.
6. Tapovan Temple
Tapovan is an ideal mix of nature and virtue. The Tapovan temple is one of the rarest and critical spots for Hindus as per Hindu folklore. This temple is situated on the banks of the River Ganges. Supposedly, Tapovan Temple is the place Guru Dronacharya remained for his penance. This temple draws in hundreds and thousands of devotees from all over the nation every year. Adventure lovers get the chance to hike among the forest engulfing the temple. Do not miss your chance.
7. Har Ki Dun
The divine, cradle shaped Har ki Dun valley is set away from the clamouring city. It is an absolute must-visit place for any nature lover coming to Dehradun. Go on a daring trek to Har ki Dun, a fab valley that is found 3,566 meters above ocean level. This for sure will be a rare encounter. You will be invited by rich pine woodlands and glorious mountain tops. This elite path will take you to the most novel areas of Garhwal Himalayan region.
8. Forest Research Institute
Set in the midst of the lavish green of the lush city of Dehradun, Forest Research Institute is an educational place of interest. Often called as FRI Dehradun is an architectural marvel with a huge variety of forestry-related things in its six museums. It is an queer spot for a family visit in Dehradun. You can also take a guided tour inside the galleries and walk around the Botanical Garden.
9. Fun Valley
The Fun Valley amusement park in Dehradun is one of the biggest in the district and has great time activities. The park offers exciting rides, deluxe rooms, multi-cuisine restaurants and motel. In case you need to go through over a day around the region, Fun Valley is apt for it. It is also probably the best spot to visit in Dehradun with kids.
10. Tibetan Market
Any vacation is not complete without some shopping. Grab some pocket-friendly souvenirs, handicrafts, art pieces, handbags, Garhwali jewellery pieces, and many more from this place. Apart from just shopping, Tibetan market is also famous for some lip-smacking snacks such as momos, noodles, hot noodles soup and many more! Okay, it's time to get the most out of retail therapy.
Want to explore family-friendly tourist spots? Eager to try adventure activities with your friends? Or just watch alluring sunset with your partner amidst the mountains? Dehradun is the perfect choice for you. Plan your vacation to Dehradun now with Pickyourtrail and be sure to make the best of your days here. Alternatively, choose from the exciting packages available online. Also, do ping us in Whatsapp for more options.