Maldives, the mesmerising land of Turquoise blue ocean, beautiful beach stretches, and luxury over-water villas have various Atolls to visit. These atolls are one of the best for scuba divers across the globe. True to its beauty, you will love reading about Faafu Atoll- one of the few places in the country to give the most authentic Maldivian experience on your vacation.
Faafu Atoll – A brief
A magical world with silence, breeze, and whisper of waves amidst the corn sand, Faafu Atoll is one of the natural atolls in the Maldives amongst other man-made islands. Nilandhoo, the capital of Faafu Atoll is the largest and most popular island in the region having over 5 inhabited islands. The atoll has a total population of about 4,119 people and also the less-populated atoll amongst others but unique in its way. The most interesting feature is that there is only one resort in this atoll – keep reading to find out more about this. Faafu atoll also has good and recommended guesthouses also known as hotels in the Nilandhoo island. It is abundant and rich with vibrant marine life and healthy corals.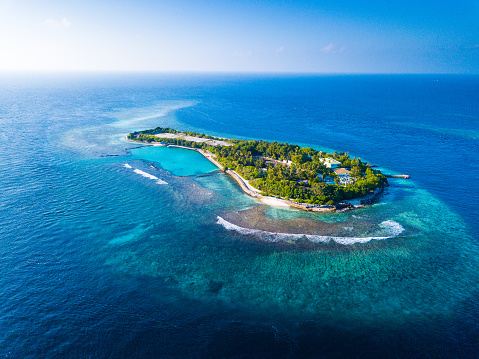 How to reach Faafu Atoll?
Faafu atoll is more than a hundred kilometres from the Male Airport. You can reach the accommodation at the atoll from Male in many ways:
Local Ferry Transfer (travel time – 6 hours)
Speedboat Transfer (travel time – 2 hours and 30 minutes)
Domestic flight Transfer + Speedboat – via Maamigili Airport (travel time – approx 30 minutes to 1 hour)
Seaplane (travel time – approx 30 mins to 1 hour)
The most recommended mode of transportation to reach the resort/guest house is Seaplane as not only is the travel-time less but it also gives a breath-taking aerial view of the island which in itself is an added experience that you should try.
Also read: Your go-to Guide to land of Atolls
Maldives Packages Starting @ ₹78,000
Only Resort at Faafu Atoll – Filitheyo Island Resort
One of the best hotels in the Maldives, as many visitors say, Filitheyo Island Resort is the emerald in the crown of Maldives. It is an undisputed winner among the many island resorts in the Maldives having visitors from various countries majority being Germans who are mostly divers and a mixture of British, Europeans, and Asians. Just a 35-40 minute Seaplane ride from the Male airport, Filitheyo Island Resort offers great value for money. You can walk around the island barefoot as there are wooden walkways in the public areas along with sandy paths with mature coconut palms and other local vegetation.
Also read: Travel to Laamu Atoll
Things to do at Filitheyo Island Resort
Maldivian-style Villas
Diving and Snorkelling
Food at its best
Activities for Relaxation
1. Maldivian-style Villas:
The only resort in Faafu Atoll is home to 125 villas built in Maldivian-style with thatched roof, light woof furniture and beautifully decorated rooms. It has over 94 Superior-Beach villas and 15 Deluxe-Beach villas being a cozy home away from home and offering a lot of space and privacy. It is also home to 16 Water villas having the best trio of sunset, reef and lagoon along with spacious bathrooms with Jacuzzi, pearl bath, Maldivian swings making it more room for privacy.
2. Diving and Snorkelling:
This Faafu Atoll resort offers you the traditional choices of activities like spectacular diving, excursions like snorkel-safaris with turtles, manta rays, and whale sharks and a range of water sports. It has a stunning house reef for snorkeling and being only a few meters from the beach, it has an amazing variety of the most exotic fish and corals of all colors and shapes. Snorkelling and Water sports, a must do!
3. Food at its best:
Resort has two restaurants and bars with variety of quality dishes from all over the world in the form of a buffet for breakfast, lunch and dinner along with the a la carte menu feast next to the infinity pool and facing to the wonderful sunset is a yes. You will also love the bar which has 2 hours of happy hours along with a wide range of good quality cocktails and drinks with indoor game rooms and outdoor tables that stretch up-to the edge of the ocean.
4. Activities for Relaxation:
Apart from water activities, the resort also offers recreational activities for relaxation and to have a leisure time on your vacation. The activities range from:
Table games and gym
Quiet library having a reading room and reflecting pond
Large spa treatment bungalows with private gardens
Large infinity pool with direct access to beach and bar
Indoor game rooms having billiards, table football, table tennis
Now that you know everything about the beautiful Faafu Atoll in Maldives, what are you waiting for? Get in touch with Pickyourtrail to customise your Maldives trip package or head over here to check out some of the already curated Maldives packages from India for couple. Happy travelling!
Note: The images that are being published here are the author's choice, and the organisation takes no responsibility for their usability.