Yes. You can now know a lot more about Maldives and its beautiful Atolls. For now, we just stick to Laamu Atoll. The Maldives is well-known for its luxury over-the-water bungalows. For scuba divers a live aboard dive safari is the best way to see the Maldives. The top diving spots in the country are scattered across several atolls. You might only visit one or two of the top locations if you're based on a single resort island. Interestingly a live aboard, gives a week's worth of entertainment to travellers like you. Now, Let's get started with Everything you must know about Travel to Laamu Atoll.
About Laamu Atoll – A Gist
Laamu Atoll consists of 12 inhabited islands with a population of about 12,600 people. Gan, the country's largest island at 8 kilometres long, is a part of it. Outside of Male and Addu Atoll, causeways connect Gan to its neighbours Kadhoo and Fonadhoo, forming the Maldives' largest populated area. The atoll's airport is on the island of Kadhoo, which operates flights to Male on a regular basis. One of the largest atolls in the Maldives is Laamu Atoll. It is one of the Maldives' longest islands, with four islands connected by road. In Addition to this, tourists can visit community areas and villages to learn about local culture and lifestyle.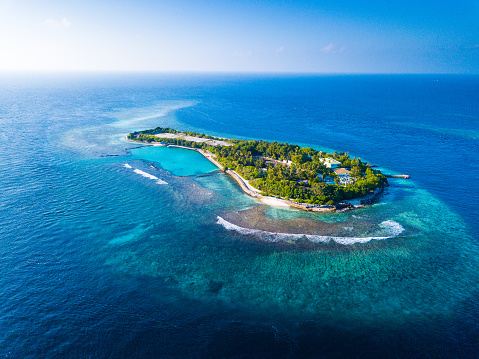 How to get to Laamu Atoll?
To Travel to Laamu Atoll. You have to take a Round-trip transfer between Male's International Airport and the resort by domestic commercial flight followed by a speed boat transfer to Resorts in Laamu Atoll. In Short you need not worry because this will be arranged and booked by the resort upon making a reservation.
Also Read: Go to Guide for Land of Atolls
Top 4 Resorts In Laamu Atoll to have a Luxurious Stay
Six Senses Laamu
Rahaa Resort
Reveries Diving Village
Nazaki Residences Beach Hotel
1. Six Senses Laamu
The Six Senses in Laamu Atoll is deep in the Indian Ocean and is home to the lone resort. A short speedboat journey from Malé International Airport and an inter-island flight south will transport you to an area of distinct, unspoilt, and interestingly uncomplicated beauty. The palm-fringed island paradise has 97 water and seaside houses built with ecological materials. Villa accommodations include an environmentally friendly interior design with breathtaking views of the sea. In addition to this, Each and Every component is being meticulously examined and are developed with minimalist aesthetic in mind.
Also Read: Addu Atoll
2. Rahaa Resort
On the Laamu Atoll, Rahaa Resort is a unique way to explore the Maldives. Interestingly, it is a luxurious experience at a reasonable price. Maldivian firm MO Hotels owns and operates the Resort. They want to make the Maldives more accessible to all types of tourists who want to see its stunning white sands and crystal clear waters. On the other hand, It is Maldives' longest stretch of islands connected by land and only the second resort to open. In Addition to this, the atoll's unique location is what makes the resort distinctive, as it provides a glimpse into the Maldives' history and tradition and its natural beauty. In Short the 4-star resort is ideal for all types of guests who want to have an unforgettable vacation.
Maldives Packages Starting @ ₹78,000
3. Reveries Diving Village
The lovely Reveries Diving Village is only a 35-minute domestic flight with magnificent scenery from Velana International Airport. It is just a ten-minute drive from Kadhoo Domestic Airport. It is the first and only full service resort hotel to open in the Maldives. In Particular it is located on the inhabited island of Gan in the Laamu Atoll. It provides a serene and relaxing holiday experience by its vivid, unspoilt coral reefs and immaculate white sand beaches. The Maldivian island life and tranquillity of Gan has unique features and they are mysterious freshwater lake and historic Buddhist temple ruins. In Addition to this, It also provides a special value to any visitor to the Reveries.
Also Read: 10 Best Atolls of Maldives
4. Nazaki Residences Beach Hotel
The Nazaki Residences Beach Hotel is a rare and exotic beauty overlooking the lagoon with crystal blue water. In Particular it has a white sand beach and a private own sunset beach vista in the Maldives. There is a restaurant and a private beach at the Nazaki Residence Beach Hotel. On the Other Hand you can eat at the restaurant and in the garden seating area or on the beach seating area and arrange a special sunset meal at the beach from the hotel reception.
---
Thats it! Now you are experts on Laamu Island. Wanna Discover more? Get in touch with PickYourTrail and help us Craft your Amazing Trail to Maldives. Here are some of the best Maldives tour packages that might motivate you enough to Pick your Trail. Keep Exploring more with us and Hope to see you soon!
Note: The images that are being published here are the author's choice, and the organisation takes no responsibility for their usability.