Talking about water sports, Rishikesh and Goa are the places that we are reminded off. These are indeed the most enthralling water sports destinations in India. However, little do we know that God's Own Country, Kerala overlooks most of the other destinations, when it comes to water sports. With exotic backwaters, lush green flora, peaceful lakes and coconut palm-fringed beaches, Kerala is incredibly blessed with incredible geographical features. The majestic art forms, lush landscapes and the best watersports tours add to its reputation as one of the most popular tourist destinations in India. Staying true to its location, this coastal state is home to an array of water sports that can make you forget about Rishikesh, Goa or other such destinations. From kayaking to scuba diving, to diving, here's a list of the top 5 water sports in Kerala. Take a quick glance and pick your ideal activity!
Kayaking
Canoeing
Scuba Diving
Catamaran Sailing
Snorkelling
Kayaking
One of the most popular water sports activity in Kerala is Kayaking. Done on a nano boat named Kayak, it holds the maximum capacity of two people. If you want to experience the recognized backwaters of Kerala, this is your ideal activity.
Best Time to Kayak: September to March.
Also Read: Houseboats in Alleppey
Canoeing
Canoeing in Kerala is treasured by many tourists all around the globe, as well as by the locals. It is one of the most recommended water sports in Kerala. Relish the mesmerizing coastlines and the wildlife of Kerala, through Canoeing nearby. Canoeing is affordable and is equally fun for all kinds of travellers.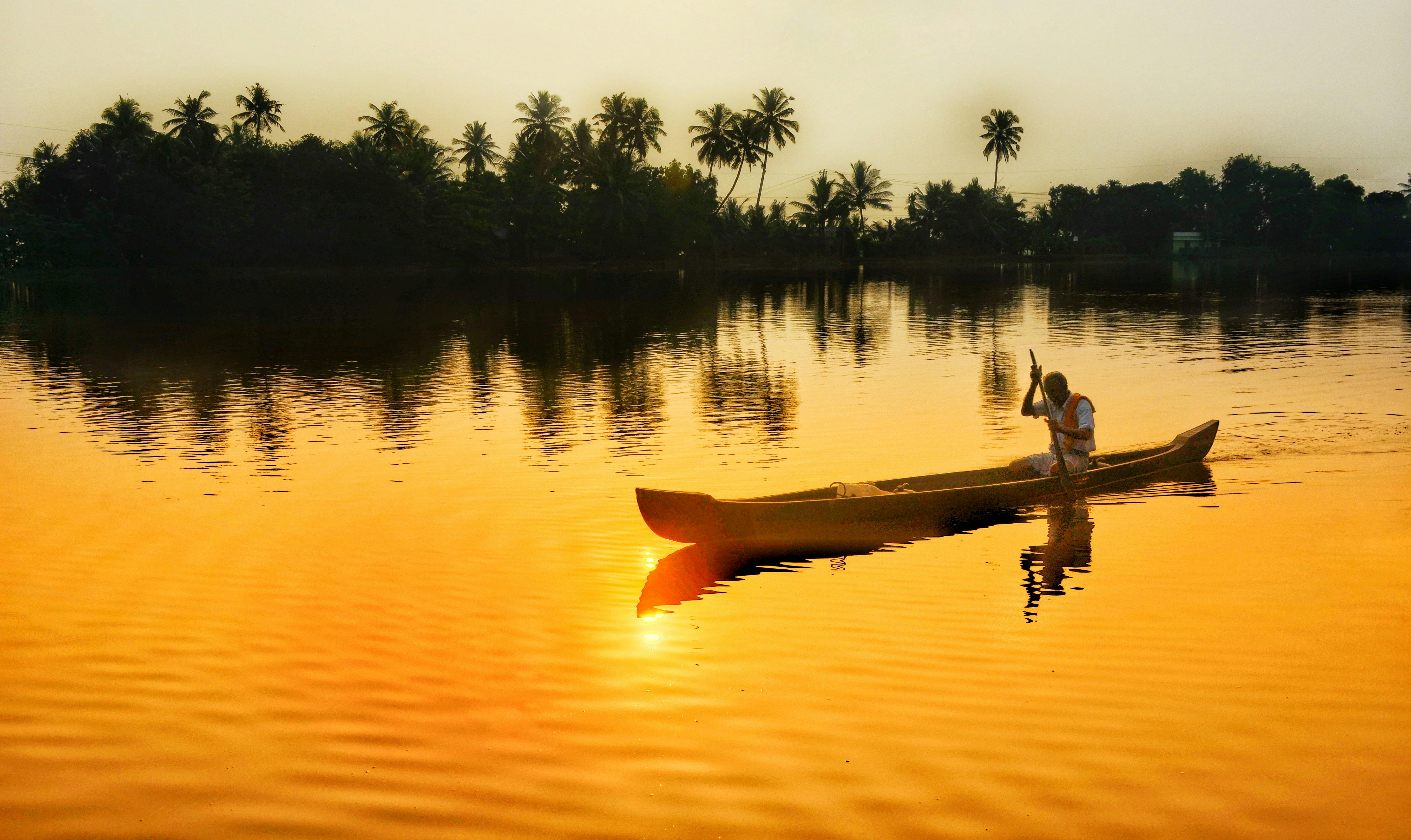 Best Time to Canoe: September to February.
Scuba Diving
For all those curious to explore the enthralling marine life of Kerala, Kovalam awaits you. Dive into the calm and alluring waters of Kovalam and relish the aquatic life, deep into the water. Scuba Diving in Kovalam is the most admired and sought after water sport in Kerala. It is a must-try activity for those who are curious to breathe inside the water hues.
Best Time to Dive: September to February.
Also Read: Kerala in November
Catamaran Sailing
The catamaran is a nano boat that resembles a yacht, a regular water boat that is used by the fishing community in Kerala. This popular water sports in Kerala serve as a major boost to Kerala Tourism. Some major destinations to experience and relish this water sport are Alappuzha, Varkala, and Kovalam.
Best Time to Sailing: September to March.
Also Read: 10 Best Kerala Backwaters
Snorkelling
Snorkelling has been and still remains to be one of the most loved activities by travellers of all age groups. This major recreational water activity is a complete extravaganza for those who wish to explore the marine life. Snorkelling is not just simple and easy but it also allows people of all age group to participate. There are pretty much very fewer activities, that you can participate as a family; i.e. from children to adults. Snorkelling is one of them.
Best Time to Snorkel: December to March.
Also Read: God's own country in December
Not just these, the other famous water sports in Kerala include Parasailing, Windsurfing, Water Skiing, River Crossing, Banana Ride, Knee Boarding, Bamboo Rafting, Sea Surfing, Boating and Wave Running. All these water sports in Kerala not just entertain the visitors but also the natives.
Now that you know what are the top 5 Water Sports in Kerala. What are you waiting for? Get ready to relish these fascinating water activities as you traverse this beautiful city, this holiday season. Check-out the bestselling packages to Kerala in Pickyourtrail and book your perfect vacation at the best price.
Note: The images that are being published here are the author's choice, and the organisation takes no responsibility for their usability.