Onam is a significant harvest festival celebrated by Keralites around the world. It is a festival that signifies peace and harmony among the people in the world. Though it is a Hindu festival, over time people from all religions celebrate Onam as their own. Onam Festival is a reminder for all humans to love and help their fellow beings. This is a global festival which is celebrated by Malayalees all over the world. A ten-day-long festival has a wide variety of cultural and physical rituals and practices. Furthermore, it brings everyone together in a joyful mood. Although major celebrations are happening in Kerala, this is a chance which brings all Malayalees together. This is your guide to enjoy the Onam Festival in Kerala. Here is everything you need to know about the festival of flowers.
History of Onam Festival
Curious to know the history of Onam Festival and the reason why it is such an important festival for Malayalees? Well, read on. . . The three worlds were once ruled by a noble king, Mahabali. In his time, these worlds were thriving and flourishing. The people had everything in terms of food, income and shelter, thus there was no place for greed and envy. All of his subjects lived together in peace and harmony. The Devas got jealous of this and asked help from Lord Vishnu, to put an end to this and get their worlds back. But, Mahabali was an ardent Lord Vishnu devotee and the Lord did not want to put his favourite in any sorrow.
Also Read: 3-week itinerary to Kerala – the most relaxing Kerala holiday plan
3 Paces of land and the devotion of Mahabali
Mahabali performed a ritual called "Yaga" as an offering to Lord Vishnu. To test his devotee, Lord Vishnu disguised and a young boy named Vamana. He approached Mahabali and asked for a wish. Do you know what the boy asked? All the 3 worlds. The King agreed and asked him to take 3 paces. Vaman started growing and became so big that his one pace covered the whole earth, the next one covered the heavens. There was no more space for him to place his foot next.

Being the nobleman, Mahabali asked him to place his feet on his head and send him beneath the earth to the Paatal Lok, the underground. Vishnu became so impressed by Mahabali's action, he granted him a wish that he can come and visit his subjects once a year for every year. And there you go! From then on, Mahabali visits his devotees every year on Onam.
Also Read: 7 Nights and 8 Days Kerala Itinerary
Atham to Thiruvonam, the 10 Days of Onam
The Onam festival is celebrated for a period of 10 days. The first day you make preparations for Mahabali's visit. A small Pookkalam (rangoli made of flowers) is made and as the days go by more flowers are added on the outer layer to make it big. This is also when they start making clay models of Mahabali and as the days progress the number of clay models increase. By the fourth day, it is time to start the cultural performances. And by the last day, everyone wears new clothes and get ready to welcome their King. On the Thiruvonam day, they welcome Mahabali with an elaborate feast. The ten days are in on the following order. This is very important to know in order to understand the purpose behind the Onam Festival.
Atham
Chithira
Chodhi
Visakham
Anizham
Thriketa
Moolam
Pooradam
Uthradam
Thiruvonam
4 Events during the Onam Festival
1. Onappookkalam
Onam Festival begins with Onappookkalam. Starting from Atham, Onappookkalam is a magnificently done floral arrangement. In the early days, kids would start collecting flowers to make the pookkalam. But now, they buy flowers from the market and make elaborate pookkalam with grand designs. People make pookkalams in front of their houses, temples and even public spaces as well. Even though it is a Hindu ritual, you can find people making pookkalams irrespective of their race or religion. Make your own pookkalam and enjoy! xD
2. Thiruvathirakkali
This is a type of group dance form performed by women wearing a traditional set mundu. The women dance around a lamp called "Nilavilakku" singing songs about deities and stories from Epics.
3. Boat Race
Commonly known as "Vallam kali", this is a traditional event during Onam Festival. Different kinds of boats are used for the race with the most prominent one being the long snake boats. The Nehru Trophy Vallamkali race is one of the most famous and busiest events during Onam time in Kerala. Teams practice for weeks and fight hard in this fierce competition. These traditional snake boats are a state icon for Kerala.
4. Pulikkali
On the fourth Onam Festival, people paint tigers and leopards on their body and raid the city streets. This is one of the most famous recreational forms of folk art related to Onam. The city of Thrissur is famous for its impressive collection of tigers, as they fill the city centre accompanied by drums called "Chenda" and "Thakil".
Onam Sadya – The Feast
The best part of Onam Festival is Sadya! On the day of Thiruvonam, you are blessed with the traditional Onam Sadya. This would have more than 25 different types of dishes which is served on a banana leaf. Sadya is one of the most important and anticipated elements of Onam. The lunch is the feast given to their beloved King. All the dishes have to be top-notch as the Sadya caps off the festivities. More than that, a proper Onam Sadya is essential for a proper Onam feel.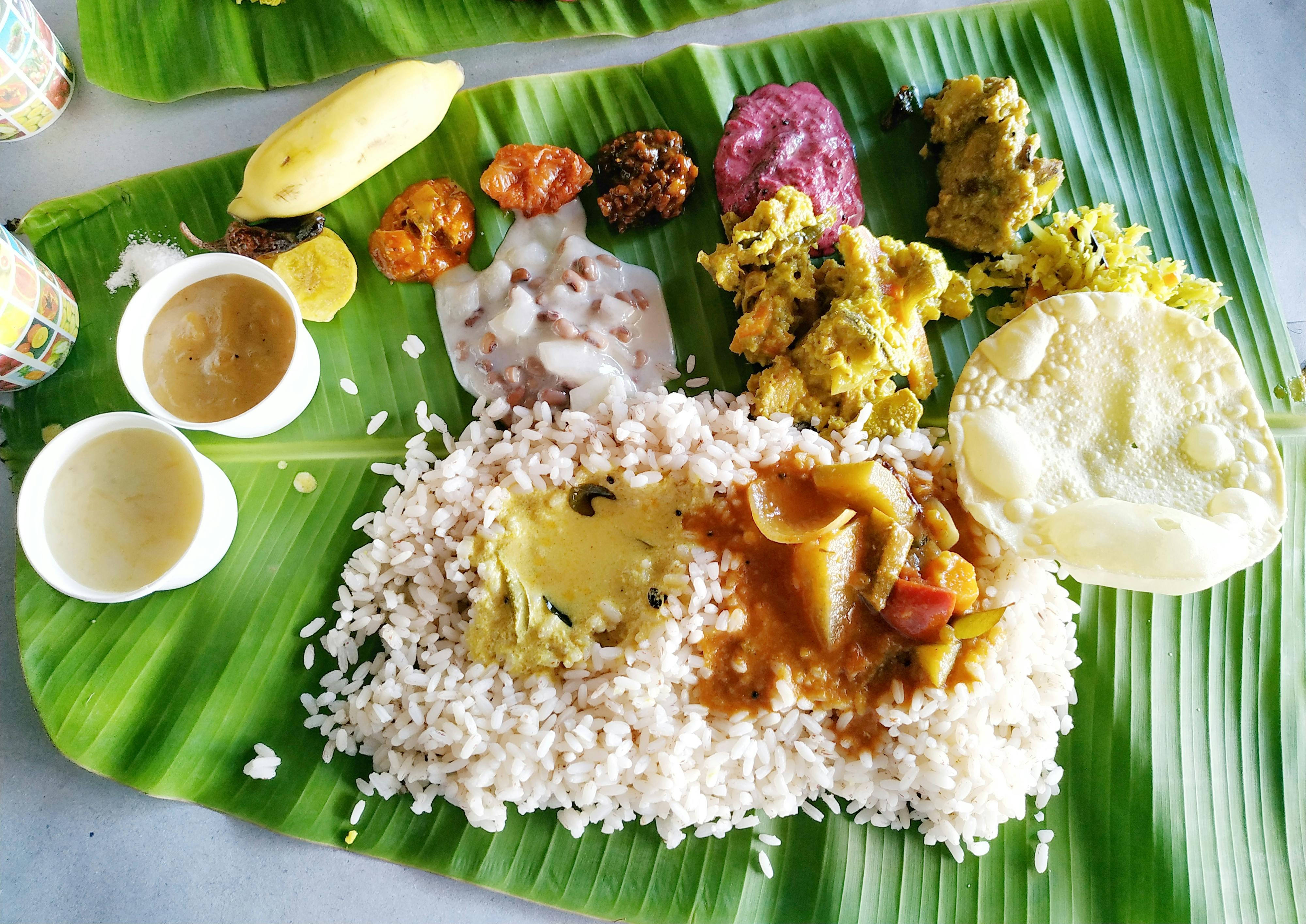 The Onam festival is close to every Malayali's heart. It takes them back to their childhood. It's the memories that make Onam more enjoyable. Onam normally falls in the month of August or September. The varieties of cultural, traditional rituals and art forms elevate the Onam experience. If you are planning to visit Kerala right at the time of Onam, you can't get luckier. You can enjoy the festivities, boat race and taste yummy food. Now that you know the story behind Onam, just dive right into the celebrations and have an amazing time.
Also Read: Kerala In October: Soothing Weather In God's Own Country!
Get Packing to Kerala and witness Onam
Experience Onam Festival it all of its glory in Kerala. Plan your trip to Kerala and be part of this festival of joy and togetherness. Check out the Pickyourtrail website and start planning your next trip and get packing to Kerala. Pickyourtrail provides amazing International tour packages made just for you! You can also customise your itinerary as you want and have a fun holiday! Download the Pickyourtrail App and get your travel queries answered on the go. Drop us a Whatsapp enquiry and let us help you craft a memorable vacation.
Note: The images that are being published here are the author's choice, and the organisation takes no responsibility for their usability.