Login
Manage your bookings and saved itineraries by logging in to your account.
Free sim card on arrival and mobile concierge
Why book on Pickyourtrail ?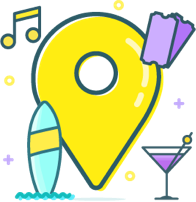 Personalised trips!
Everything on your itinerary is customizable. No more packaged trips!

Live travel concierge
Our experts will be there to assist you at every turn during trips

Unpackaged Itineraries
Unpackage your spends - choose where you want to spend between flights, hotels and activities.
Frequently asked questions
When is the best time to travel?
Although Bali is a perennial destination, the ideal time to head here is between February and October. Given it is the honeymooners' season, December & January attract the most crowd.
What are the best places to stay at?
That depends entirely on your itinerary. If you want to stay by the beach with access to the best restaurants, bars, and pubs, choose Kuta and Seminyak. If you want stay close to nature, choose Ubud. To stay by white-sand beaches, choose the motor-vehicle free Gili islands. If you want to try water sports, choose Nusa Dua.
Is Bali a good place for first time international travellers
Yes, it is completely safe. All transfers and activities are booked with reliable partners. And given that Bali is dependent on tourism for income, be rest assured that everyone will be hospitable.
Is Bali a family friendly destination?
Yes, it is. Even though it is renowned for its honeymoons, places like Ubud cater family villas making it a great destination for families.
What is Bali best known for? Are the watersports safe here?
Bali is best known for its temples, culture, watersports and scenic spots like Uluwatu and Tanah Lot temples, Kintamani volcano, and Mount Batur. Yes, the water sports are super safe and have an insurance coverage for everyone above 10 yrs of age. Prebooking is recommended for all watersports. The best place to try them is at Nusa Dua.
What is the best way to explore Bali?
We recommend you hire a car, with a driver-cum-guide. Given the roads are narrow and unrelenting for the first-timer, self drive is not very recommended.
Ideally how long should I plan my stay in Bali?
You should ideally plan a minimum of 4 nights and a maximum of 10 days to properly cover Bali.
Bali - Holiday on the Isle of Gods
Beautiful Bali is in every way the best ever holiday spot that you would find in South East Asia. With a landscape that includes mountains, beaches, green rice terraces and pristine beaches, Bali holidays are bound to be awesome. The island is Indonesia's most popular destination among travellers from all over the world. Bali is great for family holidays and honeymoons.
Top things to do in Bali
Bali offers something for the adventure traveller, leisure seeker and the honeymooner as well. Adventure buffs can engage themselves in adrenaline powering activities like the Mount Batur trek or the Ayung river rafting. Scuba diving in Bali is counted as one of the best in South East Asia. So ensure that if you are an adventure enthusiast, these activities are a part of your Bali package.
Families have plenty to do in Bali as well. The Safari and Marine Park is where Indonesian tropics meet the African jungles - more than 50 species of animals for your kids to spot! A must do on your Bali family holiday is the Ubud Monkey Forest - a nature reserve that has a sacred Hindu temple and is home to the Ubud monkeys.
Bali is a haven for leisure travellers with its beautiful beaches, fabulous sunsets at the famed Tanah Lot temple and the awe-inspiring Kecak dance performances. Cycling through the paddy fields of Ubud is something you could add to your Bali package tour.
Bali is mostly a year long holiday destination, which makes it even more perfect for family holiday tour packages and honeymoon trips. May to July is the ideal time while January might see a bit of rainy weather. If you are not one for crowds or expensive air tickets, then December is a time you would want to avoid a Bali vacation in.
Popular Cities in Bali
Interesting reads: Bali on Instagram | Bali Shopping Guide | Bali's best hotels