Login
Manage your bookings and saved itineraries by logging in to your account.
Free mobile concierge - On vacation support
Why book on Pickyourtrail ?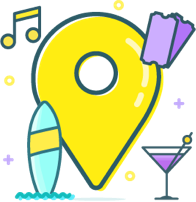 Personalised trips!
Everything on your itinerary is customizable. No more packaged trips!

Live travel concierge
Our experts will be there to assist you at every turn during trips

Unpackaged Itineraries
Unpackage your spends - choose where you want to spend between flights, hotels and activities.
Frequently asked questions
What is the best time to travel to Dubai? How is the weather then?
Any time between the months of November and March is a great time to travel. The weather is pleasant and doesn't cross the 27 degrees Celsius mark.
What is the ideal duration of stay here?
Dubai is not a large place, so it's possible to do a quick trip. While people do fly in and out for a weekend holiday, we'd recommend a minimum of 4 - 5 nights for exploring Dubai fully.
What is the Visa process for Indians?
Getting a visa to Dubai isn't a long process. The time taken to process a Visa for Indians is around 3-5 working days. Applying well in advance would of course help!
What are some of the must do activties in Dubai?
The Burj Khalifa, Dubai Mall, Dubai Creek cruise, Dubai fountains are some activities that you must do while in Dubai. A day trip to Abu Dhabi for its Ferrari World and other sights is highly recommended.
Which is the best mode of travel within Dubai?
The Dubai metro is quite reliable for travel within the city. Uber is also an option you could use for quick day trips.
What currency do I carry here?
Dirham (AED) is the official currency of Dubai. It is recommended you make the exchange before your departure.
Dazzling vacations in Dubai
Think luxury, think Dubai. From soaring skyscrapers to incredible hotels to spectacular malls, Dubai is simply irresistible and lures travellers like no other destination. Dubai is also where, innovation is at its peak and there is always something new for the adventurous traveller. Fashionistas can up their fashion game by shopping in one of Dubai's many dazzling malls. Did we give you enough reasons to take up a Dubai tour package?
What to do in Dubai
Seen the iconic Burj Khalifa? Get to the top of this landmark and be awed by the dazzling skyline of Dubai. Window shop at the huge shopping complex of Dubai Mall. Have fun with your family by riding the aquatic roller coasters in Wild Wadi Water Park. If waterparks are not to your taste, head to Ski Dubai. Enjoy the music and the water show on display at the Dubai Fountains. Drift away on a cruise with your loved one at Dubai Creek. Take a leisurely stroll along Palm Jumeirah. Make sure a desert safari is a must on your Dubai tour package.
Best time to go
Dubai has a desert climate with most part of the year experiencing summer. The best time to visit Dubai is during Winter (November - March) when the festivals and the attractions are in full swing. Alternatively, you can visit Dubai from June to September when the prices may be favourable but weather slightly hot.