Login
Manage your bookings and saved itineraries by logging in to your account.
Free mobile concierge - on vacation support
Why book on Pickyourtrail ?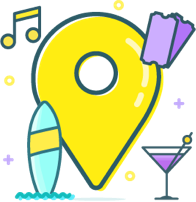 Personalised trips!
Everything on your itinerary is customizable. No more packaged trips!

Live travel concierge
Our experts will be there to assist you at every turn during trips

Unpackaged Itineraries
Unpackage your spends - choose where you want to spend between flights, hotels and activities.
Frequently asked questions
What is the best time to travel to Singapore?
February - April is a great time to travel to Singapore given the weather is pleasant and you can be outdoors more. November - January is good to go too, just that there may be chances of unpredictable rain. If you've got your rainwear ready, give it a go.
What is the ideal duration of stay here?
While Singapore is a small country, it is choc-o-bloc with things to do, see and eat! From amusement parks to awesome zoos and never-ending food streets, Singapore has loads to see. The reason why you should plan a minimum of 3 days on a trip to Singapore.
What is the Visa process for Indians?
A Singapore Visa generally requires 5 working days with all the necessary documents. We'd say you start your application a bit earlier though.
What is the local language spoken here? Can I survive with English?
Singapore's diverse culture can be most easily seen in its languages. A variety of languages like Mandarin Chinese, Malay and Tamil are spoken here. However, most Singaporeans are fluent in English.
How reliable is the public transport here?
All of Singapore survives on its efficient public transport. The country has the most reliable and well-connected public transport system of buses and MRT trains. For those who like to travel in comfort, metered taxis are also available.
What currency do I carry here?
Singapore runs on Singapore Dollars (SD). Get your wallet SD-ready and get set for your trip.
What places can Singapore be best combined with?
Singapore is set in a key location in South East Asia. The country is ideal to keep as a centre point to visit its neighbours like Malaysia, Bali or Thailand.
Meet the Merlion in Singapore
Highly influenced by Malay, Chinese, and Indian, Singapore is a fusion of charming cultures and a dramatic skyline. While one side of the city is overflowing with temples and historical attractions, the other side is known for its vibrant nightlife. There's plenty to do on a Singapore tour package. This diversity in the range of options to visit, culture and cuisine is what makes Singapore a popular destination for the travellers.
What to do in Singapore
Take a tour of the man-made paradise of the Gardens by the bay or take a picnic with your family to the Universal Studios Singapore and relive your childhood by hopping on the themed rides. Embark on an unforgettable journey into the world's first nocturnal zoo of Night Safari. Want more of the wildlife? Take a visit to the Singapore Zoo, River Safari, Jurong Bird Park, and Underwater World. Breakaway from Singapore for a while and explore Sentosa Island to the fullest. Make sure you include the awesome Flyer on your Singapore tour package, you'll enjoy the unparalleled views from the top as you go round and round in the Singapore Flyer. Unwind by the East Coast Park and shop for the souvenirs from one of the many shopping centres. More of a shopping person? Singapore has a sea of shopping malls where you can browse for hours. After all the shopping, settle down for delicious Singaporean food which will surprise you with hints of Chinese, Indian, Malay, and Western cuisine.
Best time to go
Singapore experiences a tropical rainforest climate with consistent rainfall throughout the year. The peak season for a Singapore tour package is from June to August when it is the driest. It is during this time, the city buzzes with tourists and the hotel prices are up as well. Singapore receives most of its rain between November and January. If you want to skip the crowd and get make the best of the lower prices, then try visiting Singapore between February and April.