Login
Manage your bookings and saved itineraries by logging in to your account.
Free mobile concierge - on vacation support
Why book on Pickyourtrail ?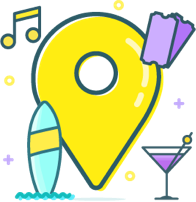 Personalised trips!
Everything on your itinerary is customizable. No more packaged trips!

Live travel concierge
Our experts will be there to assist you at every turn during trips

Unpackaged Itineraries
Unpackage your spends - choose where you want to spend between flights, hotels and activities.
Frequently asked questions
When is the best time to travel to Australia?
Australia is good to visit all year round, if you choose the cities well. Being a vast continent, different cities have varied weather conditions. June to August is when winter hits Australia, while the summer months are December to February. Some cities such as Adelaide are quite hot during summer, yet can be visited in the rest of the months.Melbourne experiences extreme cold weather during the winter months, so remember to take winter clothing along.
What is the ideal duration of stay here?
Australia is a vast continent that needs time to do justice to. A 9 day vacation would let you cover atleast 3 cities and is the minimum time you should spend on an Aussie vacation. A 12 day vacation would ideally be one that would let you explore a bit of the outbacks and maybe even the Great Barrier Reef. It's once in a lifetime, so go on and take that vacation!
What is the Visa process for Indians?
The best part of taking an Australia vacation? An easy online visa application! But do take care and keep aside a month, as the Visa processing time may vary anywhere between 16 - 30 working days.
What are the must visit places here?
Australia is huge. It has 8 capital cities, so you can imagine! While most of us would like to explore the entire country, time may permit you do only select places. We'd suggest you keep Sydney, Melbourne, Cairns, and Gold Coast on your plan. A mix of everything that Australia offers can be seen with this list.
What is the local language? Is English enough for me to survive here?
Australia speaks English, but a pretty much different one. The famous Aussie slang is something of a mystery to most. Speak slowly and try to train your ears to the slang, and you will have no problems.
How reliable is the public transport? What is the best mode of transport?
You may not have problems commuting in Australia. The country has a well-connected transport network of trains, metros, buses and trams. In fact, in Melbourne you can even access tram rides free of cost. Even better to explore the best of the country at a comfortable pace.
What currency is accepted in Australia?
Only Australian Dollars (AUD) are accepted in Australia. Get your exchange done before your departure so you would be vacation ready.
There's nothing like awesome Australia
The land of kangaroos and the vast outbacks, Australia has been romanticized by travellers across the world. Panned by the Indian ocean and the Pacific, Australia's iconic cities such as Sydney, Melbourne and Adelaide have set vivid images in the minds of travellers. The country's famed Great Barrier Reef and vast outbacks top the list of Australia's tourist attractions. Adventure, leisure, romantic spots - reason why that there's nothing like Australia. Time you take an awesome Australia tour package seriously!
What to do in Australia
Australia is the heartland of adventure and is a great place to explore nature, cuisine too. Watersports, drive through holidays, hikes, star-gazing, skiing, food and wine, you name it and Australia has it. It?s not surprising that this country is the most popular tourist destination. The country holds a wow factor for many things, to start with, did you know there are more than 10,000 beaches in Australia? Start with Bondi beach and go on to the 75 mile long beach, tick off leisure on your Australia tour package. The Sydney Opera House, Melbourne Cricket Stadium and The Sydney Harbour make for great iconic places to visit. A most popular to-do that is listed on Australia tour packages are the food and wine tours to renowned vineyards such as Barossa.
Best time to go in Australia
Australia is a huge country and the weather varies across different states. However on the whole, December to February is summer while June to August is Winter in Australia. Cities like Adelaide experience a spike in temperature in the summer months, but can be visited for most part of the year. Melbourne on the other hand experiences extreme cold weather, but can be visited if you are armed with winter clothing. Australia is a year long destination as long as you plan the right cities at the right time.