Login
Manage your bookings and saved itineraries by logging in to your account.
Free mobile concierge and Honeymoon special gift
Why book on Pickyourtrail ?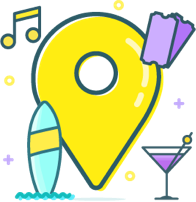 Personalised trips!
Everything on your itinerary is customizable. No more packaged trips!

Live travel concierge
Our experts will be there to assist you at every turn during trips

Unpackaged Itineraries
Unpackage your spends - choose where you want to spend between flights, hotels and activities.
Frequently asked questions
What are the activities we could do during our stay at Maldives?
Maldives being an island destination has plenty of water-sports to choose from. All non-motorised water-sports are given complimentary by the resort. Others can be booked at the resort using an international credit card or with US Dollars. These activities cannot be pre-booked and can be done only during the time of stay.
Do we get early check in / late check out options?
This facility is totally dependent on the availability of rooms. We would suggest that you drop your baggage at the counter, and enjoy the beauty of the beaches.
Is vegetarian food available?
Yes. While some resorts have an exclusive vegetarian menu, others are flexible with made-to-order vegetarian dishes.
Would speed boat transfers be included from airport to resort?
Yes, resort transfers will be included as part of your vacation. The time taken varies between 20 to 45 minutes, depending on the resort location.
Are there any other taxes I should pay directly?
All taxes such as green tax, environment tax are included when you book with us.
How does VISA on arrival process work?
Your VISA is granted to you on your arrival at Maldives. This does not require any payment. All you need is a printout of your final vouchers.
What currency do I carry?
The local currency is Maldivian Rufiyaa. However you need to carry only US Dollars for your trip as it is widely accepted.
Maldives - the perfect holiday destination
Maldives is a mesmerizing blend of colours with its pristine white beaches, emerald green waters and dazzling blue skies. The perfect holiday destination for a romantic honeymoon or a leisure getaway from work.
Must Do on a Maldives Package
Did you know that Maldives is the flattest country in the world? So while there are no mountains to trek on, you can be assured of plenty of sun, sand and sea on a holiday to Maldives. A Maldives holiday is a great choice for fun activities like scuba diving and island explorations. The island destination has something for everyone, making it great for a honeymoon package or a family holiday. Nature lovers can take a hike among the beaches and forests or go on a boating trip. Like some luxury? Relax with the best spa experiences in the world or just sunbathe. Maldives also boasts of the world's first undersea restaurant where you can dine with the sharks! Ensure you don't miss out on this opportunity to swim with the gentle whale sharks given Maldives is one of the few places where you can spot them.
Best time to go
The best time to take a Maldivian holiday package would be between November to April and December to March. So, what are you waiting for? Take your pick from a variety of Pickyourtrail's customized tour packages that bring together the best of Maldives! Get packing for a holiday to one of the most beautiful island destinations in the world!