Login
Manage your bookings and saved itineraries by logging in to your account.
Why book on Pickyourtrail ?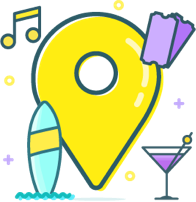 Personalised trips!
Everything on your itinerary is customizable. No more packaged trips!

Live travel concierge
Our experts will be there to assist you at every turn during trips

Unpackaged Itineraries
Unpackage your spends - choose where you want to spend between flights, hotels and activities.
Frequently asked questions
When is the best time to travel to Europe?
The best time to go to Europe would be from April to June when you can beat the crowds. June to August is also perfect weather for a trip. September to November is when the cold sets in but also when Europe gets ready for Christmas. Italy, France and Switzerland follow these weather trends.
What is the ideal duration of stay here?
Europe is vast and best suggested to take multiple trips to cover different parts of Europe extensively. An average of 7 days are required to cover at least two cities in this region properly.
What is the Visa process for Indians?
Indians can apply for a Schengen Visa that permits them to explore 26 countries in Europe within a period of 90 days. Applying in advance for this visa helps!
What currency should I carry?
Most of European countries use a single currency, the Euro. Some countries such as Bulgaria, Croatia, Poland and a few others have their own currency. In such cases, carrying the local currency is advisable or trade Euros for the local currency.
Which is the best mode of travel in Europe?
Travelling within Europe is pretty easy. Euro Rail passes are the best way to cover long distances between countries. Euroline buses also have good connectivity and are convenient to book and travel in.
What are the must visit countries in Europe?
All the countries in Europe is a must see! But if we had to really pick we would suggest France, Italy, UK, Austria, Greece & Portugal to be on your Europe bucketlist
Intriguing Europe Holidays
A Europe trip is on every traveller's wish list. With its history, beauty, culture and cuisine, this continent remains a favourite among travellers. Be it historical Athens or cultural Florence, scenic Spain or mysterious Turkey, the famed French cuisine or the buzzing cityscape of London - Europe is a happening destination. A Europe tour package is bound to captivate you with its splendour. A fun family vacation or a romantic honeymoon, a Europe tour package can give you a lifetime of memories.
What to do in Europe
Europe is vast, so a trip planner like us would help you get across this continent for the best Europe holiday ever. Western Europe consists of popular countries like France, UK, Spain to name a few while Eastern Europe has its share of countries like Austria, Romania, Poland, Finland that are fast gaining popularity. With just one Schengen visa, you can hop across more than 26 countries in Europe, making it one of the most preferred holiday packages ever. Start at Moscow's magnificent churches and palaces, then hop over to Prague for a romantic evening by the River Charles. Not a history buff? The Swiss Alps and chocolate factories will have you floored - making the perfect Europe honeymoon package.
Best time to go
Europe welcomes travellers all year long, there is always some part that you can visit! Peak season for most of Europe would be between June to August - great time for a Europe tour package, but you won't avoid the crowds. What we call the shoulder season is between April to June and September to October - this is when a Europe holiday would make great sense! Of course if you can stand some cold weather, the off season is when you get great rates for Europe travel packages. This falls between November to March, and is also a time when you see Europe decked up for Christmas.