Login
Manage your bookings and saved itineraries by logging in to your account.
Free Concierge service - On vacation support
Why book on Pickyourtrail ?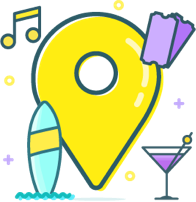 Personalised trips!
Everything on your itinerary is customizable. No more packaged trips!

Live travel concierge
Our experts will be there to assist you at every turn during trips

Unpackaged Itineraries
Unpackage your spends - choose where you want to spend between flights, hotels and activities.
Frequently asked questions
When is the best time to travel to New Zealand?
New Zealand is best visited in November to February when the weather is most pleasant. It is also the time when a lot of outdoor activities can be done and many events are held. Spring in New Zealand is from March to April and is a also a reasonable time to visit, but just make sure you are prepared for the occasional rains in this season.
What is the ideal duration of stay here?
New Zealand has plenty to see and do. With its rich tribal culture and being an adventure hotspot, we'd recommend that you spend atleast 12 days to experience the country. New Zealand is also best seen through a roadtrip, which again requires a minimum 10 day period. Plan well!
What is the Visa process for Indians?
The Visa process for New Zealand takes around 15 to 20 working days and allows travellers to stay on for a time period of 2 to 3 months. We'd recommend you to apply atleast a month in advance.
What are the must visit places here?
New Zealand is where culture meets adventure and nature. We love New Zealand, but we do have a soft corner for Auckland, Rotorua, Queenstown, Franz Josef and Christchurch. We'd suggest you add these for an awesome trip to New Zealand
What is the best way to travel within New Zealand?
Self-drive is the best way to travel in New Zealand, both within cities and between cities. Public transport is available only for travel between cities. If you do not want to self-drive within cities, you could rent a car or book an Uber. Between North island and South Island, taking a flight is the best way to travel.
What are some things to know before you go on a self drive here?
Happy days for Indians, as an Indian driving license is valid for self-driving a car in New Zealand! Carry a valid Indian driving licence that is in English along with a credit card holding a minimum balance of 1L - 1.5L, and you are good to go.
What currency should I carry?
New Zealand's currency is the New Zealand Dollars (NZD). It's a better bet to be wallet-ready with the NZD before you hit the country.
Journey to the Middle Earth: New Zealand
Characterized by glacial fjords, jagged mountains, rolling hills, and ancient rock formations, New Zealand is best known for its diverse landscape. The country's incredible beauty has made it one of the most popular destinations for travellers. New Zealand Tour packages offer people a chance to witness the verdant green landscapes and try out several adventure experiences as well. From bungee jumping to skydiving to caving to skiing, New Zealand is where adventure meets nature. A New Zealand tour package is sure to give city slickers the best vacation.
What to do in New Zealand
Go hiking along the winding trails of Abel Tasman National Park through scenic coasts, cliffs, sandy beaches and experience the wilderness for yourself. New Zealand is one of the few places where you can see the beautiful glow worms at the Waitomo Caves, a must add to your New Zealand tour package. Another must see are the panoramic views from atop the Sky Tower and if you are daring enough, suit up and try bungee jumping. A popular part of honeymoon tour packages to New Zealand include the Milford Sound Cruise that takes one through a romantic journey in pristine waters of the Te Anau Lake. Dive into the steaming, natural geothermal pool of Waiotapu and take home beautiful memories of your honeymoon in New Zealand. New Zealand is also great for culture buffs, given it is the land of the Maoris so enjoying a Maori cultural show is a must.
Best time to go
The best time to take up a New Zealand tour package would be between November and February when the weather's great and it is not the peak season yet. March to April is spring in New Zealand and makes for a good time to visit too. Just carry your raingear for the occasional rain. December to February is when New Zealand is buzzing with tourists and plenty of outdoor activities, festivals are going on. Winter in New Zealand is from June to August and is completely off season. This is not a great time to visit considering the cold weather.