Login
Manage your bookings and saved itineraries by logging in to your account.
Free mobile concierge - On vacation support
Why book on Pickyourtrail ?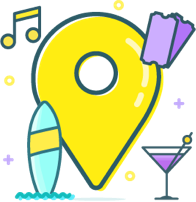 Personalised trips!
Everything on your itinerary is customizable. No more packaged trips!

Live travel concierge
Our experts will be there to assist you at every turn during trips

Unpackaged Itineraries
Unpackage your spends - choose where you want to spend between flights, hotels and activities.
Frequently asked questions
What is the best time to travel to Thailand?
November to end of February is the best time for a Thailand holiday as the weather is cool. While March to June is when it may be a little hot, if you are a beach person this time may suit you. Want to avoid crowds? Choose July to October, but take along rain gear too, for this is when it rains occasionally.
What is the ideal duration of stay here?
Thailand is very versatile. It lends itself for a quick weekend trip where you could limit yourself to just one city like Bangkok. However if you want to experience the culture of the country to its fullest, we's suggest you take a minimum break of 4-5 days.
What is the Visa process for Indians?
Indians can avail Visa on arrival in Thailand. But if you want to avoid long queues at the airport, you can apply for the Visa in advance. The processing takes about 3 - 5 working days.
What is the local language spoken here? Can I survive with English?
Thai is spoken here. While you can survive with just English, any interactions with local shopkeepers may require you to carry either install a translating app or use a dictionary.
What are the must visit cities here?
Thailand's cities are a colourful lot. Bangkok is a must for shopping and the high city life, so also is Phuket. Culture vultures can head to Chiang Mai, while nature lovers should check out Krabi and Phi Phi islands. Our favourite? All of the above!
How reliable is the public transport here?
Thailand has a well-connected public transport system of bus, train, sky train, subway and - in some provinces - tuk tuks. Bangkok and few other provinces also have metered taxis at your disposal.
What currency do I carry here?
You should carry Thai Baht while here. It is recommended you make the exchange before your departure.
Tripping through Thailand
Thailand is called the 'Land of Smiles' because of the warm welcoming people out there. Thailand is one of the most popular destinations for travellers across the world, thanks to this welcoming culture. Most travellers take up a Thailand tour package to explore the Buddhist culture or hit the beaches and explore islands. Thailand's islands are famous for their underwater adventures, watersports and unique cuisine. A great country to head for a honeymoon package or a family tour destination.
What to do in Thailand
You will most probably land in Bangkok while on your Thailand tour package. This is the mecca of shopping in Thailand, with a good mix of shopping malls and street shopping as well. The gleaming Golden Mount Temple and the royal Wat Suthat are some of the major tourist attractions in Bangkok. The essence of Thai cuisine lies in its fantastic and diverse street food, so make this a must do on your Thailand tour package. A train trip into the heart of Bangkok will take you through the most charming village scenery that you may have ever seen. Stop by the many weekend markets to grab some artistic handicrafts made by the locals. Chiang Mai is the city of temples, where you can get to see the cultural side of Thailand. Get adventurous and climb rocks at Railey beach, where the jungles overlap the pristine white sand.
Best time to go
The best time to take a Thailand tour package would be anywhere between November and the end of February, when the weather is cooler. Holidays like New Year and Christmas would bring in the crowds, so remember to book well in advance. March to June is ideal if you are a beach person, also being just the time before the rains begin. If you avoid crowds and occasional rains do not bother you, you could probably choose the July to October period.