Universal studios Singapore | Book a visit to cherish 2023 Vacation

Visit the phenomenal Singapore Universal Studio if you're seeking a location that not only makes children happy but also makes adults happy. This location brings happiness, delight, and amusement to people of all ages. Universal Studios Singapore is a 49-acre theme park on Sentosa Island situated within the Resorts World Sentosa. This massive theme park on Singapore's Sentosa Island is your one-stop destination for excitement and enjoyment. Leave this place with a heart full of wonderful memories and a bucket full of joy. There is so much you can do at a one-of-a-kind theme park, from meeting your favorite Hollywood stars to seeing sci-fi performances, going on a treasure hunt, and enjoying delectable food. After having so much fun here, you definitely won't wish to leave this place anytime soon!
In what way Universal Studios Singapore stands unique?
Universal Studios Singapore has 7 themed zones each based on blockbuster movies and your favorite television shows starring unique characters surrounded by a lagoon. Universal Studios has also been the production house of many movies like Jurassic Park, Jaws, The Mummy, and many more.
Experience the best in Universal Studios Singapore
This enormous theme park is divided into six zones: Hollywood, New York, Sci-Fi City, Ancient Egypt, The Lost World, and Far Far Away. Choosing from so many options might be challenging, but to make it simpler for you, consider these 5 things to do at Singapore Universal Studios for the finest experiences.
Sesame Street Spaghetti Space Chase Show – New York

Battlestar Galactica: Human vs. Cylon – Sci-fi City

Treasure Hunters – Ancient Egypt

Canopy Flyer – The Lost World

Puss In Boots' Giant Journey Ride – Far Far Away
Sesame Street Spaghetti Space Chase Show – New York

Are you prepared to join the incredible Sesame Street superheroes on a space mission by taking part in Sesame Street Spaghetti Space Chase? To stop Macaroni the Merciless and his minions from taking all the spaghetti from Earth, the Sesame Street superheroes need your help. Spend some time with your kids watching this amazing movie special effects show and have fun. Enjoy the awe-inspiring special effects which are used throughout this action-packed show. It is a popular indoor activity that everyone enjoys.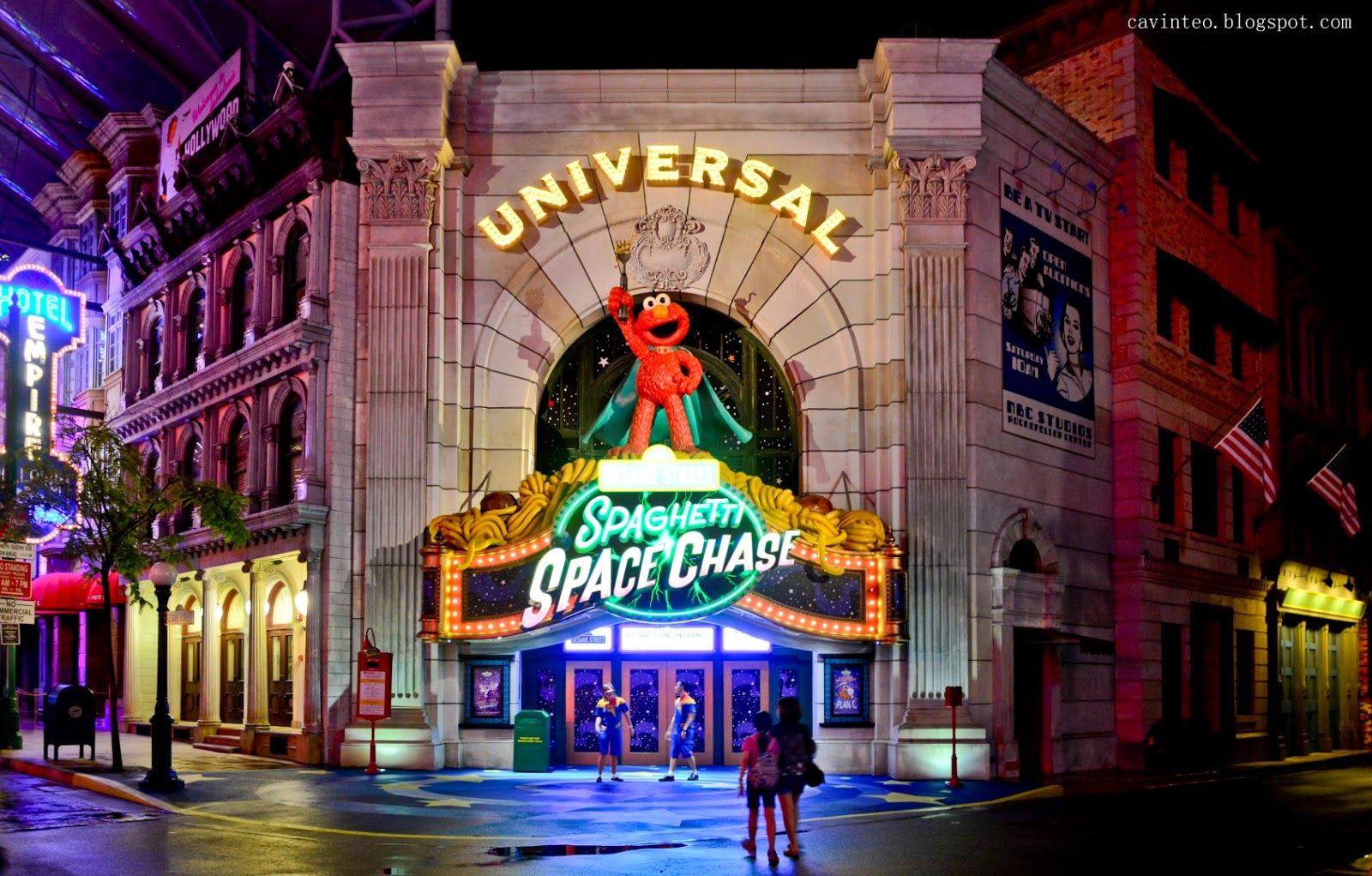 Battlestar Galactica: Human vs. Cylon – Sci-fi City
This attraction at Singapore's Universal Studio is a must-try for every adrenaline enthusiast. Are you all set to participate in a cosmic battle between good and evil on one of the fast, choppy roller coasters? You'll go mad just by staring at the enormous metal structure; just picture yourself riding this unbelievable thrill! Brace yourself for a thrilling journey as you speed, twist, and turn toward your sworn opponent. It is a wonderful outdoor amusement ride to engage in and take pleasure in.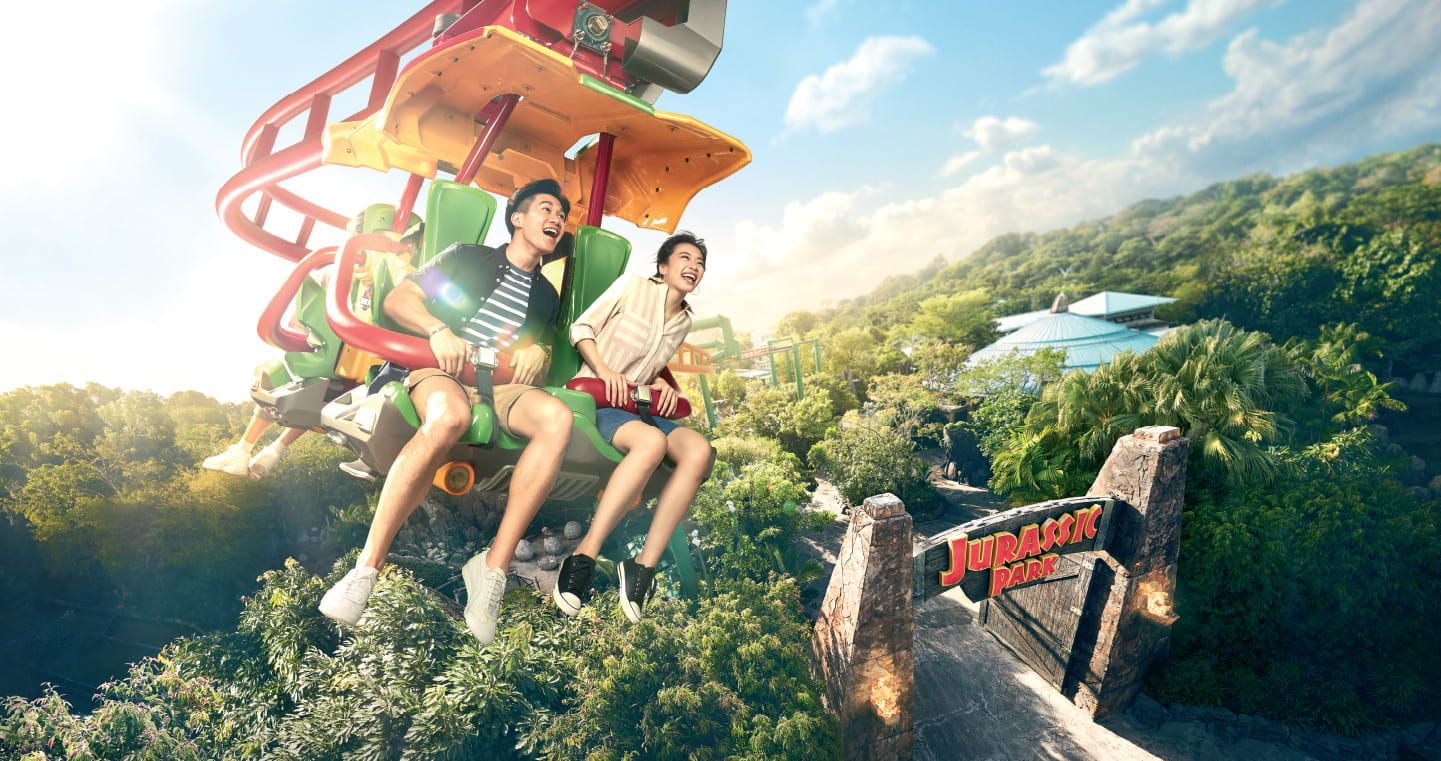 Treasure Hunters – Ancient Egypt
Take part in a brand-new version of the treasure hunt at Universal Studio Singapore available in Ancient Egypt zone and enjoy the treasure hunt with your kids. Fulfil your archaeology fantasies and feel like you're in a fascinating movie. It is an exhilarating outdoor motor car ride that is ready to provide you with experiences unlike any other. Going into the wilderness will be a fabulous way to strengthen your relationship with your kids.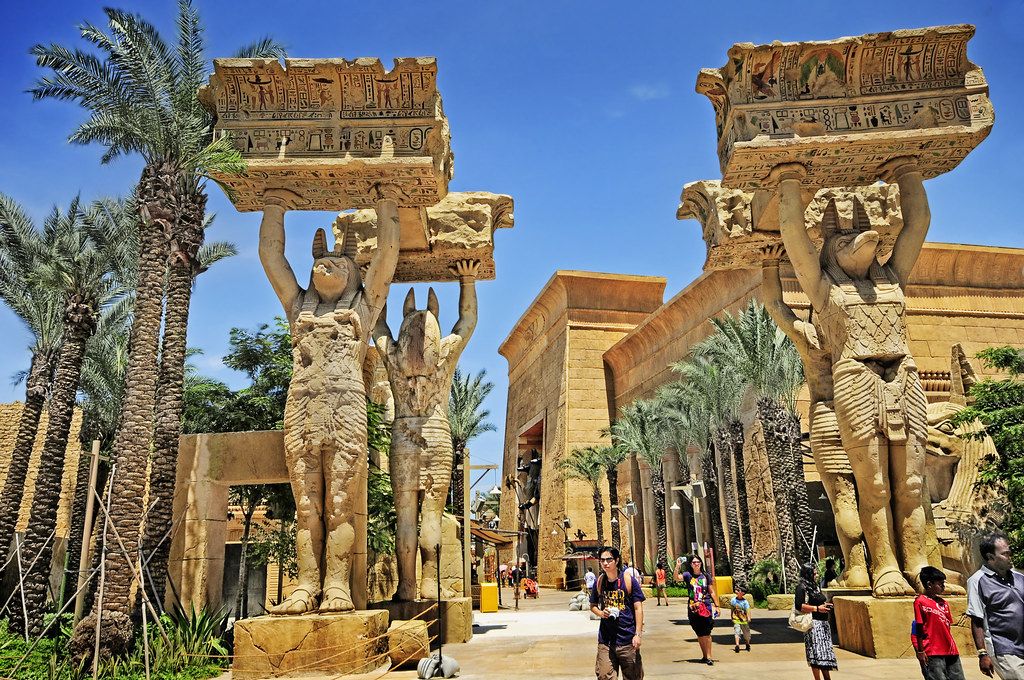 Canopy Flyer – The Lost World
There is not a single person alive who has not heard about Jurassic World and its huge dinosaurs. To get a prehistoric birds-eye view of Jurassic Park's lost world, soar high in the air. Prepare to swing and glide side to side when riding the Canopy Flyer aerial ride. The Canopy Flyer is a fantastic amusement ride that should not be missed. Enjoy this opportunity to spend time with your loved ones along with dinosaurs.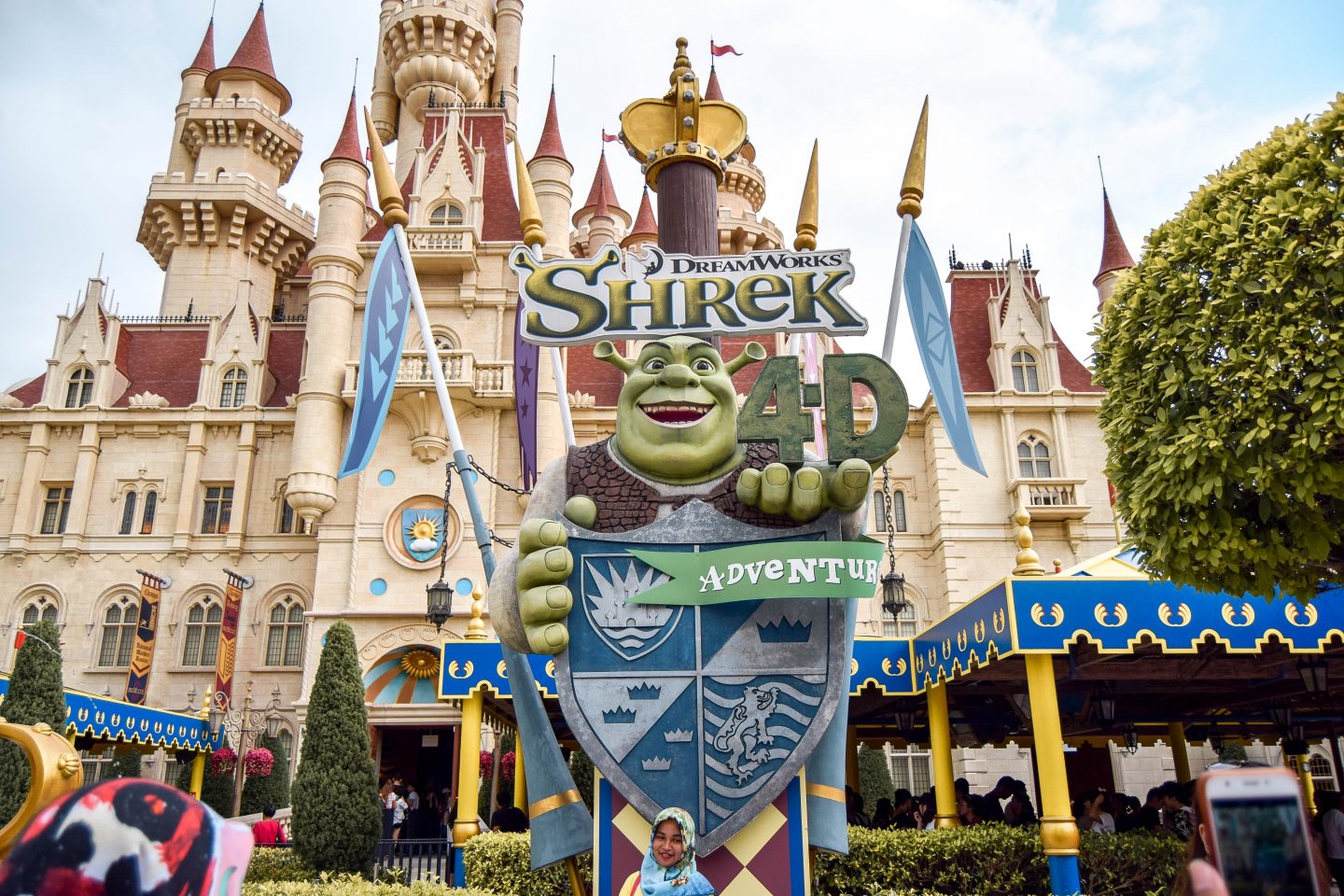 Puss In Boots Giant Journey Ride– Far Far Away
Are you prepared to ride the amazing Puss in Boots' Giant Journey roller coaster and travel against gravity with Puss and Kitty while perched on a massive beanstalk? Set off in pursuit of the priceless golden eggs, but remember that there will be many obstacles in your way. This is a well-liked activity for families to enjoy at Universal Studios Singapore, so don't pass it up.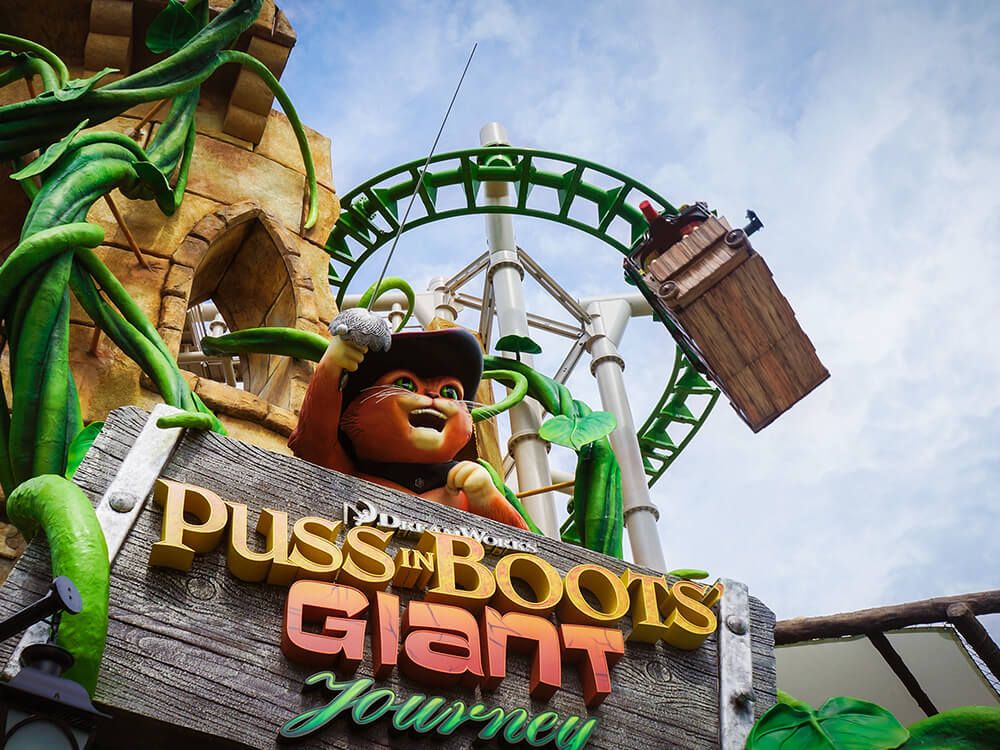 If you're wondering if this is the end? You are wrong my friend. Universal Studios has a lot more to offer than one can ever imagine. This is the perfect vacation for your family and friends
The Shows and the Entertainment in Universal Studios Sentosa

Overall of 6 shows are being presented in a day. These 6 fabulous shows includes, Donkey live, Lights Camera Action by Steven Spielberg, Water world, and a few more.
Lake Hollywood Spectacular
The show begins at 8.30 PM or occasionally at 09.30 PM depending upon the Crowd. This is a magical show which will leave you awestruck with its fireworks and fabulous music.
Elmo's TV time
This show is a mixture of Comedy and action alongside conducting reality talent competitions by Elmo himself. Buckle up to get swayed by Join Jim the magician and Sesame Street friends as they sweep the floor beneath you. The Red Monster awaits you!
Shrek 4-D Adventure
This show about Princess Fiona & Shrek is a must-watch. Your kids are going to love this fairy tale experience as it feels surreal.
The best way to end your fun day here is by watching the Street Entertainment programs such as Hollywood Dreams Light-Up Parade, Rhythm Truck, Turntables, The Dance For The Magic Beans, and my favorite of all Madagascar Boogie.
Things to know about Universal Studios in Sentosa
Timings: 11A.M. ~ 08.00 P.M.
Working Days: Sunday - Saturday
Location: Resorts World Sentosa, 8 Sentosa Gateway, Singapore 098269
How to reach?
Buses, the MRT train system, taxis, and autos can all be used to travel to Universal Studios, which is located at Resorts World Sentosa. The Central Business District of Singapore is just 10 minutes away from Resorts World Sentosa. You have three options to travel: the RWS8 Bus, the Sentosa Express, or the Sentosa Boardwalk. If you want to take an express train, HarbourFront Station is the closest MRT; however, if you're taking a taxi, stop at the casino, go up the escalators, and you'll be able to see the Universal Globe.
Universal Studios Singapore Ticket Pricing
Universal Studios Singapore One-Day Ticket

Adult (Ages 13 and above) - Rs.5,500 /- (Approx)

Child (Ages 4 to 12) - Rs.4,300 /- (Approx)
Restrictions:
One guest can enter with one coupon

There is a strict ban on bringing in outside food or drinks.

Tickets are non-transferable.

Tickets are not for sale or trade.

Even in the event of bad weather, there is no refund available.

Promotional uses are prohibited unless specifically authorised in writing by Resorts World Sentosa.

For the same day re-entry, you will need a hand stamp and a ticket.

Inapplicable at special occasions.
General amenities within Universal Studios Singapore
Drinking water is accessible at the park's water fountains.

Wheelchairs are provided at the Beverly Hills Garage.

Free Wi-Fi is available for everyone.

A prayer room for the Muslim community is located next to Battlestar Galactica.

Lockers are available on rent.

Emergency assistance and first-aid equipments are all time available.

Park staff can assist with taking pictures and locating rides, eateries, and more.
Facilities for Toddlers
Parents travelling to Universal Studios with children need not worry about anything because the park has many amenities to keep you and your children entertained. Strollers can be rented in the Beverly Hills Garage, and there are specific stroller parking areas outside most of Universal Studios' rides and restaurants.
In the park, there is a baby centre as well. This centre has a microwave, coin-operated diaper and bedlinen dispensers, and a free play area for older children, while mothers tend to look out for the younger ones. On some rides, there is a Baby Swap option that allows parents to alternately try the rides that aren't suitable for children.
Universal Studios Singapore offers much more than you could imagine, which will undoubtedly enhance your vacation. Don't wait any longer; reserve your Singapore tour package right away, thanks to Pickyourtrail because it has some of the greatest offers. Even better, you can customize your trip to Singapore to your specific needs and make it just how you want to spend your time there. Get in touch with our travel experts right away to start planning your vacation. Catch up soon