Road trip in Ireland is one of the best experience anyone can have in their whole lifetime. Not only you get to witness the breathtaking coast line of this country but also you pass through beautiful villages and castles straight out of a storybook. Get into your car and start your journey through this overwhelming nation. Here are some favourite driving routes across Ireland. If you are a hodophile, that is if you love to travel, you shouldn't miss the experience of a road trip through Ireland. 
Also read : Best places to visit Cork
Sheep's Head to Mizen Head
Sheep's Head drive is about 43miles long, you can spend a full day exploring and clicking pictures around this circuit. The journey through small villages, cottages and herds of sheep will make you forget city life for a while. As you navigate through the coast, the contrast between the greenery and the pacifying sea will keep you mesmerised. You can stop by at the seaside town of Schull for lunch.
The Sally Gap
You will come across scenic beauties along the way composed of high raised mountains and dazzling lakes. Now that you are here, also discover an ancient monastery in the Glendalough Valley. If explored well you can find a perfect picnic spot along this trail.
Connemara's Sky Road
Known for its rough and bumpy coastlines, the Sky Road will offer you panoramic views and will leave you with an awe. This sky route is about 12 miles long from where you can head towards the town of Clifden.This scenic drive is among one of the major tourist attractions in the Connemara region. This place also offers you a glimpse at rich heritage of this region with ancient Megalithic Tombs, Standing Stone, Promontory Forts, distributed along its length  You can also do it by cycle but driving allows you to pace up to north and join onto N59.
Also read : Plan your trip to County Clare
The Ring of Kerry
It is the 'must do' drive if you are in Ireland for a road trip. Ring of Kerry consists of 180-200kms of driving and cycling loop.This route touch bases Valentia Island Kenmare and Derrynane. Discover the picturesque countryside, seascapes and historical spots along this route. You can stop by Molly's Gap, Muckross House, Torc Waterfall, Ross Castle and Killarney National Park, whichever interests you. Don't forget to add Ladies View, a scenic spot along the N71 to click beautiful pictures.
The Causeway Coastal Route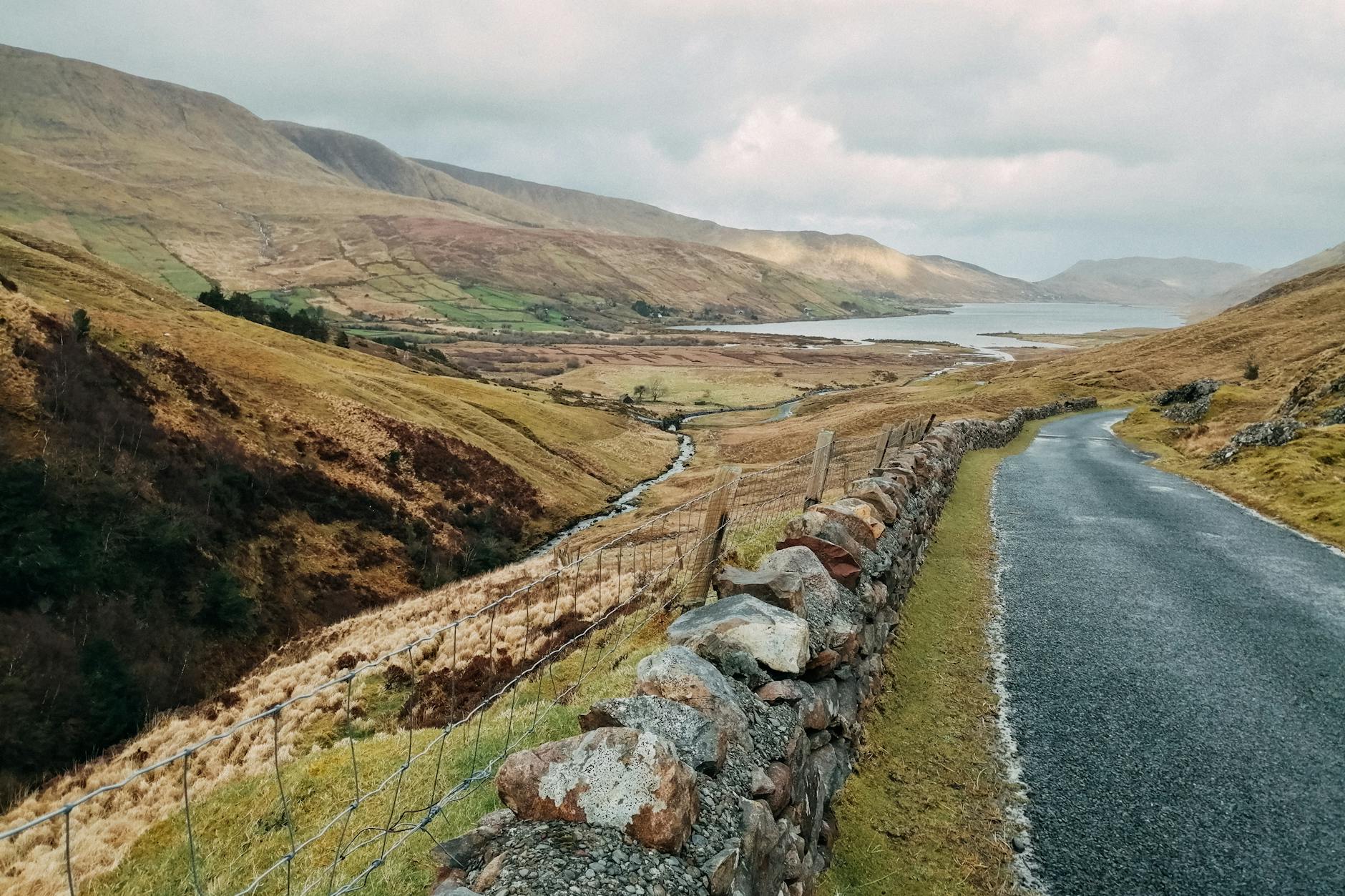 Travel up to Northern Ireland for an exhilarating road trip and absorb yourself in the natural beauty.This stretch is about 130 miles long and filled with tourist spots like Carrick a Rede Rope Bridge and the Giants Causeway. Explore the legendary Giant's Causeway and get captivated in the history of this area. You can locate restful pubs in the nearby towns to sip a drink. Starting from Belfast to Derry this is truly an Irish dream come true. You can stop at various cozy town and have a drink or two at their cozy pubs. Driving on this coastal route will definitely give you feeling of being the lead actor in a movie !
Inishowen 100
This is a 100 mile stretch located on the northern tip of the Wild Atlantic Way, adjacent to Northern Ireland. It is filled with stunning views composed of beaches, rugged coastlines and expansive green hills. This route is adjacent to Northern Ireland which is filled with beautiful castles and untouched forest areas. This stretch can satisfy to your other interest as well such as whale watching, hiking, cycling, golf and fishing.
Slea Head Drive
From Tralee to Dingle scenic drive is about 84 miles which passes through the ancient sites, hills, and Gaelic speaking villages. You will perceive that image of Ireland which generally comes to our minds when we think of Ireland, grazing sheep, small cottages and mini pubs. This drive has featured on shows like BBC's Top Gear and response was overwhelming.
Boyne Valley Scenic Loop Drive
Get a chance to witness 9,000 years of rich history of the Kings by taking a drive though about 190 miles via this route. This region have been the royal seat since 2nd century A.D. You can start your journey through any point though it it recommended to begin from the historic town of Drogheda, where a real head of Olive Plunket is kept at St. Peter's Church. He was an Irish saint back in 1600s. Being in this region you can visit some of the oldest man made structures such as he Newgrange, Knowth and Dowth burial mounds.
Also read : All about Castles of Ireland
Cooley Peninsula Scenic Drive
This drive is small but worth experiencing since the road passes through very remote villages and towns. Cooley peninsula consist of ancient sites including the Proleek Dolmen which has a capstone weighing 35 tons and views of the Mourne Mountains which can be a great picninc spot for a family. This road trip also takes you to smaller places such as Greenore, Carlingford, Omeath and many more. All you need is just to explore.
Note: The images that are being published here are the author's choice, and the organisation takes no responsibility for their usability.