Looking for some real adventure in Bhutan? Then Paragliding is the best choice for you! Set high in the Himalayas, Bhutan is a little paradise. There is something mystical about Bhutan, that pulls in tourists from all over the world. The simple yet hypnotizing land is waiting to amaze you. Also, when you are here you can get close to the ancient monasteries, fortresses (called Dzongs), antiquated sanctuaries with prayer flags fluttering high. In spite of the fact that there are many activities in Bhutan, paragliding is one epic adventure to do here. The following is the step by step guide that will assist you in planning your paragliding experience in Bhutan.
Also Read: Live life the Bhutanese way
Also Read: Honeymoon in Bhutan
Top Destinations to Paraglide in Bhutan
Buckle up and get ready for an enthralling paragliding experience! A visit to Bhutan will not be complete without paragliding. Listed below are the best of the best destinations for paragliding in Bhutan.
Phobjikha Valley
Haa Valley
Ura Valley
Paro Valley
Bumthang Valley
Also Read: Hiking in Bhutan – Explore the Hills and Valleys in the Land of Thunder Dragon
1. Phobjikha Valley
The bowl-shaped Phobjikha valley offers an amazing view of the lustrous green fields. Located against a backdrop of the Black Mountains, the valley is a treat for those with a deep affection for nature. Phobjikha valley is also called Gangtey and it is one of few glacial valleys in the kingdom of Bhutan. Also, there are numerous launch options for paragliders in this place. More than that, check on weather condition before paragliding.
2. Haa Valley
Known as the smallest Dzongkhag (district) of Bhutan, Haa Valley is one of the fine spots situated at the south-west of Paro. Also, this valley is enhanced with the views of flawless high and epic mountain peaks. Also, the Haa Valley is for people who love to admire the natural beauty. The beautiful views combined with the climate here make its perfect for paragliding. Above all, it is the best spot for beginners to pick up paragliding.
Also Read: Visa For Bhutan – Do Indians Need To Get Bhutanese Visa?
3. Ura Valley
The most elevated valley of Bumthang locale is Ura Valley. The valley is very unique from other regions. It is home to Ura town which has clustered houses far from cobblestone back streets. Above all, the valley is filled with green terraced fields and tall hills dotted with alpine trees. In the event that you need to get a great experience of rural Bhutanese life along with striking paragliding, Ura valley of Bumthang with its traditional set up is an absolute must-visit for you.
4. Paro Valley
Paro, a wonderful valley in Bhutan, is one of the most alluring tourist spots in this mountainous country. This pleasant district is perhaps the most extensive valleys in the kingdom. Also, it is shrouded in fertile rice fields and has a wonderful, glasslike stream wandering down the valley. For the thrill-seekers, Paro is the ideal goal! Paraglide here to encounter the staggering views of the landscapes on the backdrop of the white bright Himalayas.
Also Read: Top attractions in Paro
5. Bumthang Valley
Bumthang is commonly referred to as the "Switzerland of the East". It is the religious heartland of the country. The fertile valleys of Bumthang are shrouded in fields of buckwheat, rice and potatoes. Apple plantations and dairy farms are normal sights here. Being a blend of four valleys: Ura, Tang, Choekhor and Chumey, Bumthang offers stunning views. This district is one of the quietest places in the kingdom. The area has world-class paragliding facilities for both beginners and experts.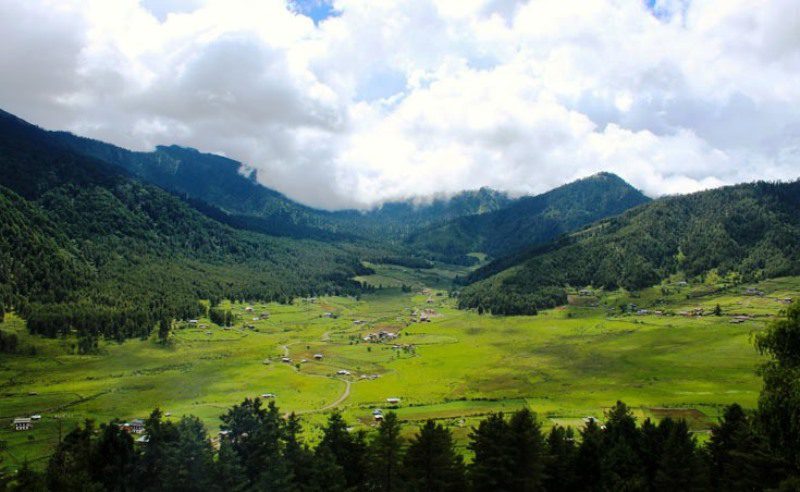 Get to know the perfect time for paragliding in Bhutan
Between the long stretches of October and December is the perfect opportunity to go paragliding in Bhutan. January and February are relatively colder, however, from these months till April the climate remains pleasant. Having said that, the best and ideal opportunity for mountain paragliding in Bhutan is from October to December as the climate is clear and not breezy at all. Also, a temperature of 25 degrees can be expected during this time. In case you're searching for a low turbulence flight, this is the most appropriate season to enjoy one of the most famous adventure sports in Bhutan.
Also Read: The best time to visit Bhutan
Cost of paragliding in Bhutan
For thrill-seekers, paragliding in Bhutan is a genuinely satisfying adventure and this fact can't be denied. As you share the airspace with other exquisite winged creatures, you get the chance to encounter the tempting views in the town. Gliding in a lovely atmosphere with a wonderful view is obviously not to be missed. Truly, satisfaction can't be purchased however with paragliding you can get closer!
Also Read: Bhutan Travel Tips – Make your vacation seamless with these essential tips
Cost for Indians
For Indians, a short flight of about 25 minutes, costs INR 7000 per person. Whereas for a long flight of about 50 minutes, INR 10000 per person is charged approximately.
Cost for Foreigners
For foreigners, a short flight of about 25 minutes, costs about INR 10000 per person. Whereas for a long flight of about 50 minutes, INR 15000 per person is charged approximately.
Also Read: Bhutan Currency – A Guide to Know About Ngultrum And More!
Safety measures for hassle-free paragliding
While paragliding is the most daring activity in Bhutan, it is equally dangerous as well. Get to know about the safety measures for a fear-free experience.
Make sure you examine the paragliding equipment. Ensure that it is in proper working condition.
Get to know a few tips on launching and landing from your guide. Practise it twice so that you are sure about what to do when.
Most importantly, weather check is a must. Inappropriate weather will spoil the fun.
Dress suitably in order that your outfit does not cause any hindrance while enjoying the experience.
Above all, do not speed up as you launch, get yourself used to the wind before you fly high.
Slow and steady movements are recommended rather than any sharp turns.
Also Read: #WhereNext—Follow the footsteps of Virushka in Bhutan!
From the best spots to paraglide to the best time to engage in this adventure sport, this guide has it all. Having said that, what more are you waiting for? Get yourself soaked up in the pleasant and scenic views of Bhutan. Know what is waiting for you in Bhutan. Plan your vacation with Pickyourtrail now! From customised itineraries to readily available tour packages, Pickyourtrail masters it all. Above all, you can also Whatsapp us, for our travel experts are at our service!