Welcome to a complete guide to flights from Mumbai to Dubai!
Dubai, located in Western Asia, is the most populous city in the United Arab Emirates (UAE). Dubai has a subtropical desert climate with relatively moderate to pleasantly warm winters and blazing hot summers. The average temperature varies from 19.5°C in January to 36.5°C in August. The sun shines brightly in Dubai all year, and the azure sky is a common sight.
It has grown to become one of the world's most renowned tourist destinations, luring visitors of all ages to its shores to explore what the "must-see" destination has to offer. From culture to adventure to shopping and food, Dubai has something to offer to everyone, as it is a city that's made for bucket lists. From sky-high attractions like the Burj Khalifa to adrenaline-pumping activities like skydiving, strolling through all the peaceful sightseeing spots, taking road trips to other emirates, swimming with dolphins, riding a camel in the desert, and relaxing in some of Dubai's top hotels, your trip will be nothing short of thrilling. When visitors come to Dubai, they are spoiled for choice, and they may have a list of things they want to do, but it is impossible to do everything on their list.
The City of Gold –
Dubai takes pride in holding the label "City of Gold," which it earned as a result of its dramatic transformation from a modest gulf port to a global business magnet in just a few years. The city is known for its extravagant lifestyle, high-end hotels, high street malls, contemporary buildings, and vibrant nightlife. Every year, tens of thousands of people fly to Dubai to experience its world-class facilities and lavish culture.
Also Read : Dubai – Travel restrictions, COVID travel requirement
Mumbai International Airport
The Chhatrapati Shivaji International (CSI) Airport, which is located in Mumbai, India's financial center, is one of the country's main aviation hubs. It is India's second busiest airport, attracting a huge number of travelers from all over the world. The domestic and international terminals of the airport are located in the western districts of Santacruz and Andheri, respectively. It was originally named Sahar International Airport until being renamed Chhatrapati Shivaji International Airport in 1999, after the great Maratha ruler. The Mumbai airport's IATA (International Air Transport Association) code is BOM.
International Flights at Terminal 2
International flight arrivals and departures are handled at Terminal 2 in Andheri. Terminal 2 at CSI Airport is India's first vertical passenger terminal and is known for its stunning, cutting-edge architectural design. The airport serves 43 international destinations, including London, Abu Dhabi, Dubai, Cairo, Singapore, and Paris, among others. Mumbai to Dubai and Mumbai to Singapore are two popular international routes.
Traveling to and from the CSI Airport is easy and simple thanks to a variety of accessible transportation options. At the international terminal, the airport has several lounges, including the Pranaam GVK Lounge, the CIP Lounge, and the Loyalty Lounge, where passengers can relax and enjoy leisure services. At all terminals, there are specific daycare areas and baby strollers. Medical emergencies can be met with effective care and paramedic assistance. Unaccompanied children receive staff supervision and support, while passengers with special requirements can benefit from free wheelchair services. Other amenities include prayer rooms, mail and communications facilities, baggage trolleys and wrapping services, ATMs, free Wi-Fi, and foreign currency counters for overseas tourists. A number of information desks staffed by airport employees are located throughout the airport to assist passengers.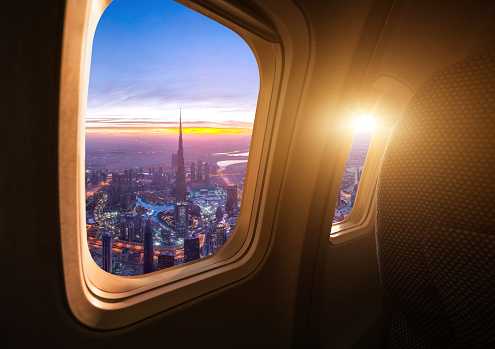 Also Read: How to reach Dubai from Mumbai- Your best travel guide!
Dubai Airport
DXB vs. DWC
When flying to Dubai, there are two airports to choose from: Dubai International Airport (DXB) and Dubai World Central Airport (DWC).
You'll most probably want to fly to Dubai International Airport if you're going to central Dubai, particularly the vicinity around the Burj Khalifa. It's in the city, about 10 kilometers from the Dubai Mall. The airport has a direct connection to the red metro line, which passes through the city's center. This is fantastic for everyone except those arriving late at night or early in the morning when the metro line is closed. Taxis and Uber are readily available in these situations, with an Uber to the Marina being particularly convenient (the far end of the city).
Dubai World Central, on the other hand, is located in the desert to the southeast of the city. There is no connection between the airport and the city's metro system. UAE Exchange, at the end of the city's red line, is the closest metro stop. In the meanwhile, an Uber to the Marina might just be pretty pricey.
Dubai International Airport (DXB) –
Dubai International Airport, which measures 7,200 acres of land, is a global pioneer of extraordinary services and world records. The DXB is the Middle East's largest airport and the world's busiest airport in terms of international passenger traffic. The Dubai Airport is located in the geographic center of the world and acts as an aviation link between the East and the West, winning it the tag line "Gate of Peace." This central location has aided global connections and allowed Emirates Airlines to expand its mastery across six continents.
Terminals –
The airport has four terminals, three main terminals, and the Dubai World Central. Each terminal caters to a different set of flights and airlines. The following listicle depicts how different airlines use the terminals at Dubai International Airport. Terminal 1 is used for all international flights except for Qantas and Emirates, whereas Terminal 2 is used for all the regional and low-cost carriers such as Fly Dubai. The 3rd Terminal is used for Qatar Airways International, Emirates, Qantas, and Gulf Air flights. Terminal 4 is the Dubai World Central where Gulf Air, Wizz Air, and Qatar Airway operate.
Facilities –
The airport's three terminals are home to a variety of shopping and dining options. The largest retail space is in Terminal 3. At Terminal 2, banking services are available. Passengers' immediate choices are usually duty-free shopping, perfumes, watches, alcohol, and cigarettes. The Airport's duty-free shopping options also include designer clothing, sports equipment, luxury items, technology, jewelry, cosmetics, and fresh chocolates. Inside, there are numerous cafes, restaurants, lounges, and hotels. Food Court, McDonald's, Le Martin Francais, Round Table Pizza, and many others are among the choices. Business centers, internet, gaming facilities, health clubs, swimming pools, spas, showers, children's play spaces, women's and mother's lounges, prayer rooms, and two open-air gardens are also available at the airport.
Also Read : Bangalore to Dubai flights
Airlines operating from Mumbai to Dubai
Air India
IndiGo
SpiceJet
Emirates
Flydubai
Flights from India will cost you between INR 30,000 and 40,000 for a round-trip ticket, per person. Air India and Indigo are the finest and cheapest flight options available. It's also a good idea to start planning 4 months ahead of time because the visa process for Indians takes about 7 working days. In addition, flight tickets are less expensive when planned ahead of time.
Also Read : Dubai 7 Days Itinerary – A Week In The City Of Gold!
So buckle up and prepare your luggage for a trip from Mumbai to Dubai with your loved ones. With a plethora of flights departing from Mumbai, as well as the option to choose from various class tickets to customize your trip, Dubai is providing such a delight for travelers who are willing to travel at any time, and flights to Dubai from Mumbai are not being halted, despite the Covid-19 scenario, in which most countries have imposed travel bans. Dubai is a terrific holiday location that is much sought after. Pickyourtrail assists you in planning your Dubai packages, and our team of travel specialists is ready to assist you with any questions you may have. You can find customizable packages to France from Pickyourtrail.
Note: The images that are being published here are the author's choice, and the organisation takes no responsibility for their usability.