The region of North Wales is considered as Britain's most classic tourist spot. It offers plenty of astounding attractions within its little territory. North Wales is noted as a hotspot for thrill-seekers. The region also has numerous attractions which allow you to cherish both history and natural beauty in its best form. There are activities in North Wales for all ages, tastes and seasons. With top attractions here, you'll find gardens, museums, zoos, aquariums and farm parks to stroll and enjoy. We bring you the Top things to do in North Wales, Read on. . .
Also Read: Top 10 attractions in Wales to know the beauty secret of the country
Also Read:15 unique places to visit in the UK
Top 5 things to do in North Wales
Snowdonia National Park
Caernarfon Castle
Conwy Castle
Portmeirion
Bodnant Garden
1. Snowdonia National Park
Snowdonia National Park is the main attraction in North Wales. It extends from the Welsh midlands till its northern coast. This delightful park is probably the best spot for climbing and hiking in Britain. Also, it has incredibly rough mountain landscapes and sandy seashores. With truly amazing Welsh valleys, more than 50 lakes and smaller pools of water you can soak in the beauty of the region. Its most popular charm, by far, is the towering peak of Mt. Snowdon. The view from the top is stunning. Snowdonia is indeed one of Wales' supreme fortunes.
2. Caernarfon Castle
Caernarfon Castle is among the area's most visited attractions. It is recognised by the world as perhaps the best structure of the Middle Ages. This thirteenth-century building is an excellent world heritage site which you must not miss. It is often referred to as the 'legend of the sky'. While you're here, make sure you visit the glorious Queen's Tower, which is the home of the Royal Welch Fusiliers Regimental Museum.
3. Conwy Castle
Conwy Castle is probably the best things to do in Wales on your next vacation. This beautiful structure is a UNESCO World Heritage Site. Conwy Castle has plenty of things to see and do, particularly if you love the ravishing Welsh Castles. It is a picturesque stone fortress with an authentic medieval atmosphere. The 8 gigantic round towers give the castle a terrifying experience. Also, it's well noticed for the Conwy railroad station that is near the castle.
4. Portmeirion
On the north-west shoreline of Wales, Portmeirion is a really excellent Italian/Welsh hotel resort. The resort is too dazzling that you cannot even think about missing. Overlooking the Dwyryd Estuary, Portmeirion is an interesting resort built in the Italian style. It is notable for being the setting of the 1960's cult television series. Series like The Prisoner, as well as other popular music events like Festival No.6, belong here. Also, this town is incredibly famous for its pottery and designs, which are genuinely staggering.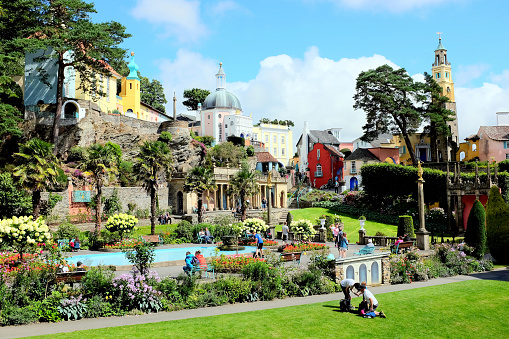 5. Bodnant Garden
Bodnant Garden is one of the most established and visited gardens in Wales. This epic garden is a well known Welsh gem which draws heaps of travellers consistently. The garden is loaded with lovely spots all around. From cosy corners to forests, clear lawns and terrific terraces, undoubtedly this garden is waiting to please you. Bodnant Garden also hosts family-friendly activities throughout the year.
Thus, there are loads to do in North Wales! The above rundown provides you with the best of the best. Whilst planning a visit to North Wales, make sure this rundown tops your list for an amazing experience. Make it even more simple by planning your vacation with Pickyourtrail. From customised itineraries to readily available tour packages, Pickyourtrail masters it all. For queries, you can also Whatsapp us, for our travel experts are at our service! Read more travel stories from the UK and get inspired.
Note: The images that are being published here are the author's choice, and the organisation takes no responsibility for their usability.