Lavasa, India's largest hill city, is located near Pune on the shore of Warasagon Lake. The city, though under-construction, is one of the famous tourist destinations in our country. It is a private-owned city, with a lot of places to visit. It is modelled based on the Italian town, with a unique architectural team. The city has several luxurious resorts, restaurants, and amusement parks. Lavasa has many entertaining activities and amusing places to visit for every type of tourist. Be it a family with kids, newly-wed couples, or a gang of adventure seekers, Lavasa is an ideal option. How curious are you to know about this city? Here are the top places to visit in Lavasa.
Also Read: What are all the top places to visit near Pune? Things you should know
Places to Visit in Lavasa
Lavasa has rich greenery with magnificent architecture that never ceases to amaze tourists from all over the world. However, it is not advisable to visit the city from April to June because of the scorching heat. Get packing a plan a short vacation to this gorgeous city. Here are the top Places to Visit in Lavasa.
1. Panshet Dam
The Panshet dam, located across the Ambi river, is a perfect location for a romantic getaway with your loved one. It is also known as the Tanajisagar Dam and offers several fun activities like boating, water scooting, and kayaking. You can also engage in camping and trekking activities here. Overall, the Panshet dam is a perfect getaway location with a delightful climate and pristine landscape. You will have to pay an entry fee to experience all this – INR 230 and INR 300 for children and adults, respectively, during the weekend. The price of the tickets is comparatively lesser during weekdays.
Also Read: Pune Itinerary For 2-days – A Weekend Getaway with Your Loved One!
2. Varasagon Dam
The Varasagon dam is another dam that tourists love. It is located on the banks of the Mosel river and offers various water sports too. Additionally, there are several luxurious resorts and restaurants in proximity to this dam, making it an ideal spot to spend your evenings before heading to dinner. The Varasgaon dam is famous for its boating rides across the tranquil river set against a lush green landscape.
3. Temghar Dam
The Temghar Dam is yet another famous tourist spot in Lavasa, known for its luring vista. Make sure you visit the dam during the late afternoon, as you will get a chance to savour the buttery, roasted Butta along with a cup of flavorful, steaming hot tea. You will find many resorts and restaurants around this dam too. The dam is open from 10 AM to 6 PM and doesn't have any entry fee.
4. Ghangad Fort:
The Ghangad fort is the place for both history lovers and trekking enthusiasts. The fort has witnessed many wars in the pre-historical era and therefore has a rich history. Adventure seekers can go on small hikes up the fort. Overall, the place is very interesting and a perfect spot to hang out with your friends. Make sure you take enough food and drinks with you as you wouldn't feel like leaving the place once you get there!
5. Lakeshore Watersports
The Lakeshore watersports are located on the banks of Varasgaon lake and offer various exciting water sporting activities like Jetskiing, kayaking, boating, and cruising. So, this is another perfect spot to enjoy with your friends and family when in Lavasa. You will have to pay an entry fee based on the type of activity you wish to indulge in.
6. Tikona Fort
Adventure seekers, are you ready? This is the perfect spot for you! Muster up all your energy and take a challenging trekking trip to the fort of Tikona, at an altitude of 3500 feet above sea level. The fort is also known as the Vitandgad Fort and has a rich history. You can make short stops at the Satvahan caves, Trimbakeshwar Mahadev Temple, and a tranquil lake flowing en route!
7. The Devkund Waterfall
The Devkund waterfall is a must-see spot, especially if you are visiting Lavasa post-monsoon season. You can indulge in fun activities like camping and trekking while relishing the goodness of home-cooked local cuisine. Enjoy yourselves by drenching in refreshing water gushing out from a height of 220 feet at the Devkund waterfall! The entry fee per person is INR 10, and the experience is worth the cost!
Suggested Read: Things That Make You Love And Hate Places To Visit In Lonavala
8. The Tamhini Ghat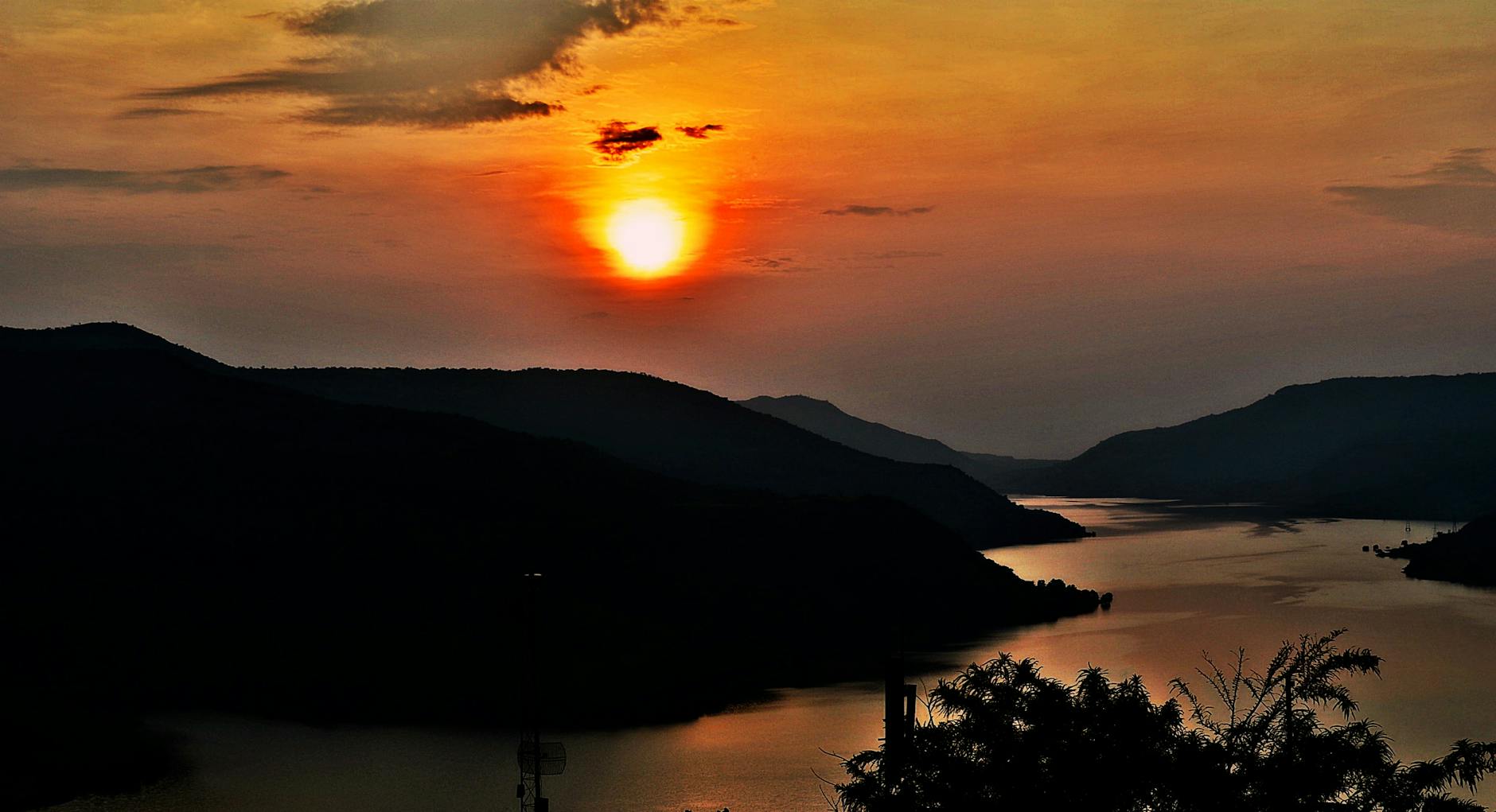 The Tamhini Ghat is located on the crest of Sahyadris and is the perfect route to go on along drive. Set against a landscape of majestic mountains, gushing waterfalls, tranquil lakes, dense forests, and lush greenery, the Tamhini Ghats have everything you need to go on a long romantic drive! The monsoon season is the best time to visit the Tamhini Ghats because of the romantic mist, cloudy sky, and chilling winds!
9. Torna Fort
The Torna Fort is yet another historical site near Lavasa that attracts both adventure seekers and history enthusiasts. The Budha Machi and Zunjar Machi cliffs are two famous sight-seeing locations in the Torna Fort that attracts tourists. You can go on treks at the Torna Fort too!
10. The Mulshi Dam
The Mulshi Dam is an eco-tourism hotspot whose name is derived from a village of the same name located in the middle of the Mulshi Valley. You can indulge in fun activities like birdwatching, trekking, and camping at the dam.
Things to do in Lavasa
Lavasa is primarily a recreation spot where people come from all over the world to relax and refresh themselves. So, most of the activities the city offers are those that try to relax you and make you forget the stress of your everyday life. However, if you are looking forward to indulging in some adventurous sports, here are a few places that offer you that:
1. Adventure Sports at Xthrill Adventure Academy
This adventure academy is quite far away from Lavasa but is worth travelling the distance. At the academy, you get to camp amidst the Sahyadri hills' natural surroundings in an air-conditioned tent with all the luxuries of a resort! The adventure academy also offers many fun activities, like Paint Ball, Team Building Games, Treasure Hunt, Raft Building, Backpacking and Camping, Rappelling, Rock Climbing, Valley Crossing, Waterfall Rappelling and Rock Climbing, Cave Waterfall Trek, Cycling, Archery, Rifle Shooting, ATV, and Hiking.
Also Read: Top Weekend Getaways from Mumbai for all Mumbaikars!
2. Indoor Golf Recreational and Learning Center
The Indoor Golf Recreational and Learning Center is one of the best places to visit during your trip to Lavasa. The centre also has a virtual simulator of a golf course where you can train and improve your golfing skills. This is a perfect place to hang out with your family as there is no age bar!
The city has a wonderful architecture that was built inspired by Italian cities. It will sure make you feel like you are in heaven!  The best time to visit the Lavasa city is from September to March, most preferably during their monsoon season. So why wait? Start planning your trip with Pickyourtrail. Check out our packages page or drop us a Whatsapp message and we will get back to you with best deals!!
Note: The images that are being published here are the author's choice, and the organisation takes no responsibility for their usability.