Tourist locations in Karnataka spell allure and sedation. Some of these are well-known, while others are not appreciated. The geographical location of the state ensures a variety of tourist spots in Karnataka that are captivating enough to knock you out. Here's a list of the Top adventurous things to do in Karnataka.
The historic and essential state of Karnataka is at the heart of the tourism map of India. Located between Kannad Coast, Western Ghats, and Deccan Plateau, the state boasts of forests, hills, temples, cave beaches, riversides, lakes, coffee estates, waterfalls, ruins, and so much more interesting tourist attractions.
9 Adventurous Things to do in Karnataka
Trekking
River rafting
Surfing in Mulki
Reach dizzying heights in Bengaluru
Cycling Tours
Motorcycling Excursions
Scuba diving off Murudeshwar
Camping at Harangi Dam backwaters
Spot Wildlife off Kabini River Lodge
1. Trekking – Top adventurous things to do in Karnataka
Treks Galore – Whether you're an expert, a beginner, or something in between, Karnataka is sure to have the right trek for you. The Mullayanagiri trek to the highest peak of the state (1930 m) offers spectacular views in Chikkamaguluru. While the Kudremukh trek through forests and grasslands is a test of your power and agility. Another exciting trekking experience, more suitable for beginners. It is the Tadiandamol trek, which starts in dense coffee plantations and takes you to the highest peak in Kodagu.
The Karnataka Eco-Tourism Development Board and the Karnataka Forest Department have launched a helpful website called My Eco Trip. Where you can book guided eco-centric treks across Bengaluru and Chikkamaguluru.
2. River rafting is an adrenaline-pumping sport
Rafting on the Kali River at the forested Dandeli is as soul-satisfying as it is intestinal. Stretch houses Grade 2 and 3 rapids, which graduate even more during the monsoons (the best avoided at this time for safety reasons). Professional guides and outfits. Which provide workshops that allow you to book a full day, where you are moved to a camping spot, organized and guided. Then head down the frothy rapids for an exciting ride.
3. Surfing in Mulki – Top adventurous things to do in Karnataka
Catch a wave away from the often-trodden waters of the Ashram Surf Retreat. Located in the bucolic village of Mulki, it doubles as a yoga getaway. With great access to the point that breaks away from the village. Although you may need to take care, the place is relatively secure with no dangerous rip currents.
4. Reach dizzying heights in Bengaluru
Go up and down and enjoy the wind and spectacular views of the city below by taking a microlight ride to the Jakkur Flying Club. If you like your views with something to cook, then imagine Fly Dining, where gourmet cooking meets intense adventures.
Enjoy a meal suspended 160 ft from the ground on an open-air deck with 22 guests around the table, three chefs, a waiter, a safety inspector and a safety harness. At the highest point, the individual seats can be rotated 360 degrees for full view.
Also Read: What Makes Homestays In Chikmagalur Better Than Any Other?
5. Cycling Tours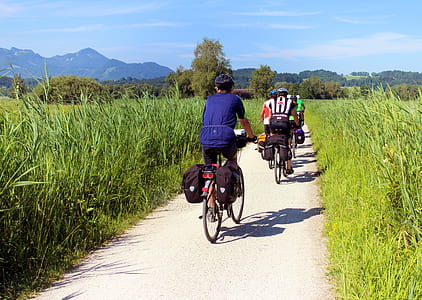 Karnataka is a riding paradise with diverse geography characterized by green emerald valleys, dark rainforests and stunning coastlines. Cyclists will match their fitness test with views of clean hedges surrounding rural homes. With stunning views of rolling hills, or experience the sea breezes caressing their hair as they cycle down the coastline.
Curated trips, such as those offered by Unventured, driving out of Bengaluru to meet the countryside. And routes that include skirting the Arabian Sea, strolling around the rainforest patches of Agumbe, and seeing local life in the immediate vicinity and other historic pit stops, as well as immersive local experiences.
6. Motorcycling Excursions
Biking culture in Karnataka, particularly in Bengaluru, is in full swing, with a variety of active bike groups and clubs. Bangalore Motorcycle Club, R15 Riders Club, Bikerni (for women) and Bangalore Jawa Yezdi Motorcycle Club are just some of the many common names. Also, sharing camaraderie, skills and fun, the communities promote bike runs and long trips to the capital. You can even choose to hire a motorcycle and head out with a group or on your own.
Also Read: The Shocking Revelation of Bangalore To Wayanad.
7. Scuba diving off Murudeshwar
The northern edge of Karnataka is home to Murudeshwar, where the huge Shiva statue, installed in an impressive shrine, shadows the fishing village below. The spiritual joy comes from visiting the heart-shaped Netrani Island about 20 km off the shore to explore the aquatic animals.
Visibility is much better than most other destinations in India, so recreation dives with PADI-certified instructors offer a chance to spot many exotic creatures.
8. Camping at Harangi Dam backwaters
The loneliness of the outdoors, the crisp clean air, and the chance to wake up to the calming sight of the forest and the water. In fact, these are the antidotes to the life of the city in the backwaters of the Harangi Dam, just off Kushalnagar in Kodagu.
The little-known 3-acre personal camping spot is part of the Eco Habitat Homestay. And it is the perfect way to get back to the basics. Coffee estate, bamboo thickets, and calm waters surround the property, which is well off the main road.
9. Spot Wildlife off Kabini River Lodge
Spot Wildlife off the Kabini River Lodge at Nagarhole National Park charms with its old-world appeal. Also, it offers a range of authentic wildlife and natural experiences. A short ride on a coracle, a round basket-like boat, is included in the list of activities.
Also Read: 3-Day Trips From Bangalore- 5 places for an Easy Getaway
Your boatman will point out resident birds of the region (and maybe a crocodile or two). As you rock and roll along with the rhythms of the river in your seemingly precarious vessel. Otherwise, take a safari to the Nagarhole Forest, the former hunting grounds of the Maharaja of Mysore, where you might even find a tiger.
Can't you wait for us to plan your next Karnataka vacation? Pickyourtrail is committed to providing customers with the best vacation by offering on-trip support and customizable itineraries. Choose the best places to stay in Munnar and Happy Travel!