Are you interested in visiting the Maldives? But you think it's a bit pricey? I understand what you're thinking. That you have not saved enough money to go and stay in luxury in the world's flattest island nation. But believe me when I say that you can have an incredible stay at one of the Best Resorts in the Maldives for under $200 per night. Here is what Pickyourtrail recommends for you: the top 10 best Maldives resorts under $200 per night that are both affordable and luxurious.
10 Best Cheapest Luxury Resorts
Reethi Faru Bio Luxury Resort
Centara ras Fushi
Nakai Alimatha Resort
Villa Park Resort & Spa
Thulhagiri Island Resort
Reethi Beach Resort
Adaaran Club Rannalhi
Angaga Island Resort & Spa
Embudu Village Maldives

Eriyadu Island Resort
Also Read: How to plan a Budget trip to Maldives.
1. Reethi Faru Bio Luxury Resort
One of the 10 Best Resorts in Maldives under $200, Reethi Faru is classified as a Stunning Tropical Bio Luxury 4 Star Resort. It is known for its white sand beaches and coral reefs that are submerged in an endless blue ocean. It is also noted for its efforts to preserve natural beauty and ecosystems. You may enjoy the wonderful lodgings, which range from family-friendly to perfectly located romantic hideaways, as well as the facilities, both on the island and across the lake. With a choice of restaurants to pick from, a spa, and a large selection of water sports, your vacation will be spectacular!
Also Read: 4-star resorts in the maldives
2. Centara Ras Fushi
One of the 10 Best Resorts in Maldives under $200, Centara Ras Fushi is a 4 star adult-only resort that provides a calm and lovely vacation for adults. It also offers a fantastic opportunity to relax and unwind at the resort's top facilities, which include a spa and a variety of restaurants and bars. Not to forget the top-notch dive centre available to guests at this resort. Also, the magnificent lighting by the poolside provides a nighttime Pool Scene. Because this is one of the most affordable places for adults to have a nice time, many Young Couples visit this resort to spend quality time together.
3. Nakai Alimatha Resort
One of the 10 Best Resorts in Maldives under $200, Nakai Alimatha is a paradise dream come true in real life because it has more than a km of white beaches and beautiful aquamarine lagoons. At this resort, you can see a lot of colourful coral reefs and many inhabited by hundreds of species of fish and corals. Also Popular for Spectacular dive sites, dreamy beaches and crystal clear waters. The island if seen from above is spectacular as it has a shape of a heart in todays date. If you are an Aqua Life fan, this place is built just for you!
Also Read: Full Board Vs All Inclusive – Maldives
4. Villa Park Resort & Spa
One of the 10 Best Resorts in Maldives under $200, Villa Park Resort & Spa is the Maldives' largest four-star resort. It's famous for its stunning beach and lagoon. This resort features big bungalow-style rooms and a wide range of activities such as water sports, land sports, spas, and pool bars. Not only do you enjoy the leisure activities, but you also participate in the recreational activities such as Steam Bath, Sauna, Jacuzzi, and Gym. Overall, it is a budget-friendly resort with a variety of activities.
5. Thulhagiri Island Resort
One of the 10 Best Resorts in Maldives under $200, Thulhagiri Island Resort is a modest, rustic four-star island resort with a stunning beach that faces the sunset. Beach and Water Bungalows are available. The majority of Water Bungalows offer canopy beds and direct access to the lagoons. This resort also boasts a fantastic scuba diving centre and a variety of water sports. Unlike other resorts in this category, this one offers Happy Hour specials as well as nightly entertainment events for your enjoyment.
6. Reethi Beach Resort
One of the 10 Best Resorts in Maldives under $200, Reethi Beach Resort is an excellent 4 Star Resort that offers courteous service, amazing cuisine, and a calm ambience. It also hosts a variety of entertainment events, such as Cultural Evenings on the Beach and Disco Nights. Choose from catamaran sailing, canoeing, kitesurfing, and waterskiing on the water. The house reef offers excellent snorkelling, with the chance to see a variety of fish, turtles, and octopus — even dolphins have been known to approach this close. Diving is another feature, with daily house reef dives as well as various expeditions further afield.
Maldives Packages Starting @ ₹78,000
7. Adaaran Club Rannalhi
One of the 10 Best Resorts in Maldives under $200, Adaaran Club Rannalhi is a 4 star resort with beautiful white sand beaches and crystal-clear turquoise Ocean. Glass porthole floors are available in some water bungalows. The majority of the accommodations have private balconies and are located near the beach or over the water. Although the resort is technically child-friendly and offers a playground, couples and honeymooners make up the vast majority of visitors. The majority of visitors are from Europe, South Asia, and the Middle East.
8. Angaga Island Resort & Spa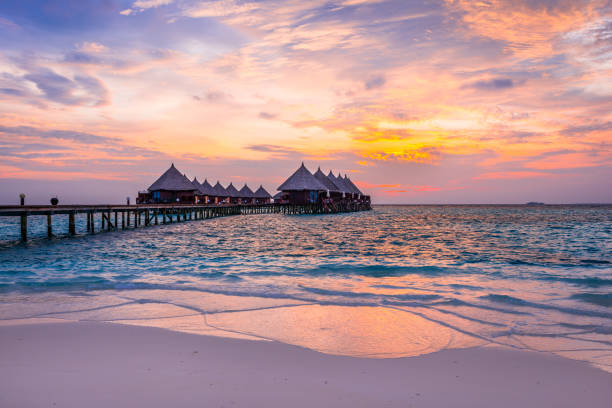 One of the 10 Best Resorts in Maldives under $200, The Angaga Island Resort & Spa is one of the Maldives' most gorgeous four-star resorts. The pristine white sand of its beach and the crystal-clear lagoon that surrounds it add to its distinct natural beauty. From the moment you step out of your room, the tall coconut trees that crown the island's vegetation provide shade. The island's house reef is home to a plethora of colourful marine life and provides spectacular snorkelling.
9. Embudu Village Maldives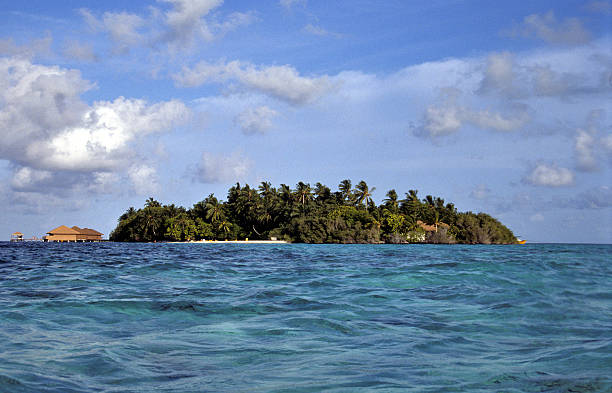 One of the 10 Best Resorts in Maldives under $200, Embudu Village Maldives has a magnificent white sand beach, and the island is an enchanting natural refuge with rich tropical flora and opal white beaches. This makes it one of the most affordable resorts to enjoy the Maldives' natural beauty. It is one of the first resorts in the Maldives, is known for its beautiful house reef and amazing world-class dive spots and 35 of which are within walking distance. The house reef alone is home to rays, sharks, turtles, morays, and a plethora of other fascinating wildlife.
Also Read: Night Life in Maldives
10. Eriyadu Island Resort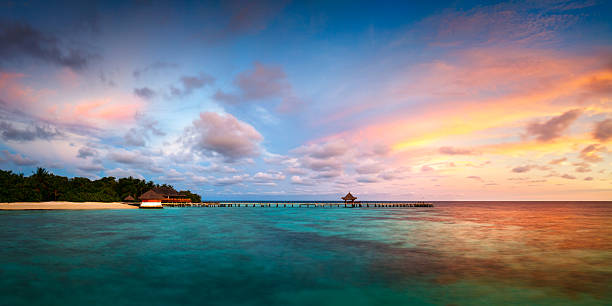 One of the 10 Best Resorts in Maldives under $200, The Eriyadu Island Resort is a quiet luxury resort on eriyadu island in the North Malé Atoll. The Resort is the only one on the island, and it reflects the bamboo and tropical palm trees that surround it. The lagoon at Eriyadu has a natural coral reef that can be explored by snorkelling or diving with the hotel's professional dive facility. Evening entertainment at Eriyadu Island Resort includes a disco and live music. The beach bar on the island's eastern side conducts themed nights and events as well.
---
This brings us to the end! I am sure you can't wait to plan your Vacation. But do you still think it's a bit pricey? No right. Here is what PickYourTrail can do for you, Craft an amazing vacation to Maldives. You can find here a few Maldives tour packages or maldives packages for couple to understand What works well for you. Hope to see you again. Have a good Vacation!
Also Read: Best Maldives Resorts
Note: The images that are being published here are the author's choice, and the organisation takes no responsibility for their usability.