Azerbaijan, the nation has a unique location as it belongs to both Asia and Europe. While Caspian borders the east corridor, the rest of Azerbaijan is a landlocked region. Azerbaijan shares its borders with Iran, Armenia, Georgia and Russia. In this article, we will explore 5 most charming destinations in Azerbaijan that will leave you spellbound.
Azerbaijan has everything a tourist can ask for, rich cultural heritage, hospitality, stunning natural landscapes, delicious cuisines and a favourable climate. But the highlight of Azerbaijan is it's unique natural wonders. You can find the most beautiful landscapes, waterfalls, Moutain rivers, water springs with crystal clear waters and whatnot. While Western and central territory covers beautiful scenarios and nature, the eastern territory is famous for beaches, parties and water sports.
Mud volcanoes are yet another unique attraction in Azerbaijan. More than 40% of mud volcanoes are found in Azerbaijan. Millions of tourists travel across the globe travel to Azerbaijan just to visit to mud volcanoes.
5 Most Charming destinations
Baku
Sheki
Quba
Astara
Lake Goygol
Baku
Baku is one of the most charming destinations in Azerbaijan. This is also the capital city and is the entry and exit city in most of Azerbaijan itineraries. It lies on the coastline of Capsian sea and tourist can get a glimpse of the European lifestyle in this city. For Indian travellers, you can consider a Baku a glorified and much-organised version of Mumbai.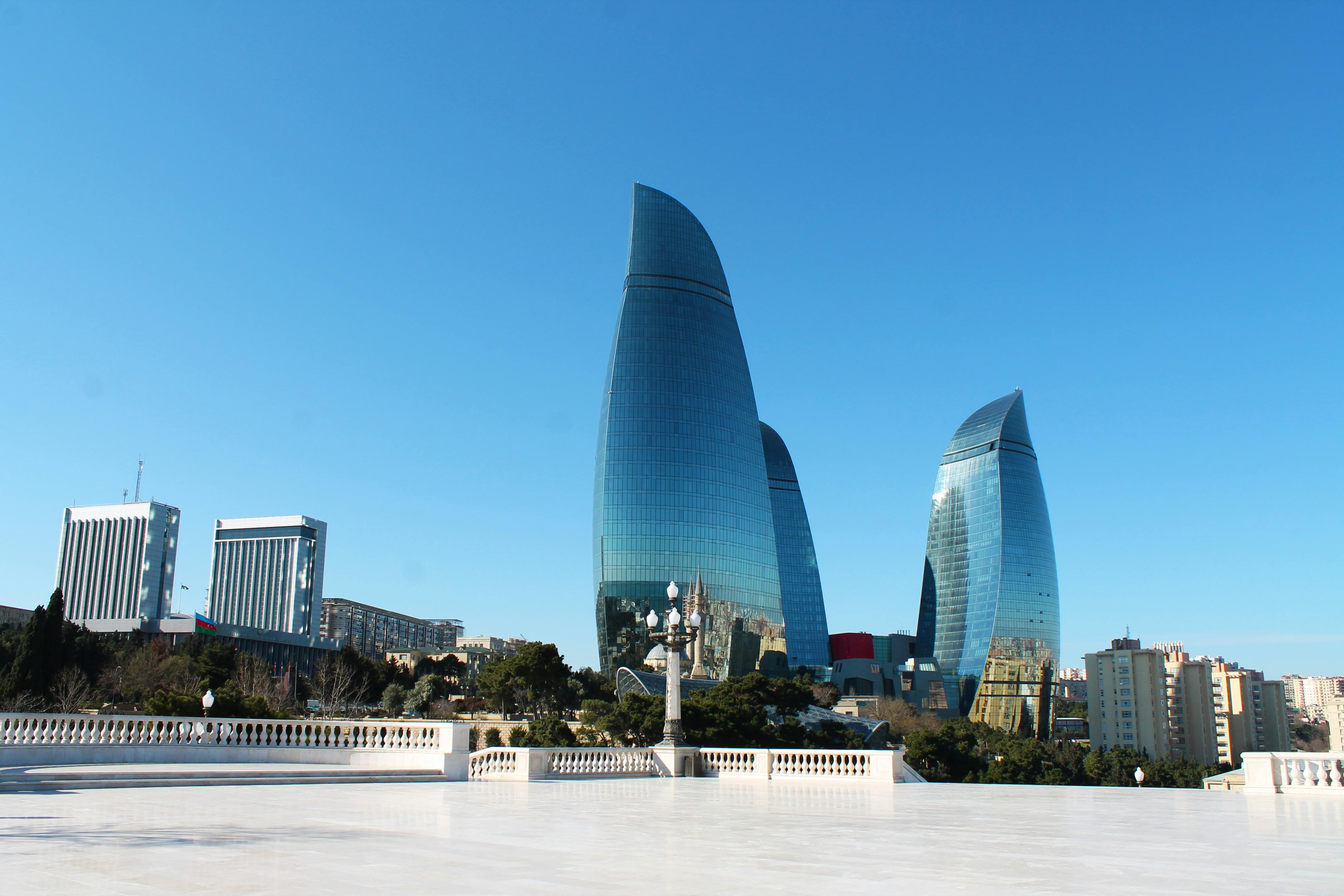 Baku is famous for the old city that has the iconic Maiden Tower, a royal complex, Palace of the Shirvanshahs and contemporary architecture like the Flame towers, skyscrapers clad with LED screens.
The fountain street is the main pedestrian area in the city and houses some of the best restaurants in the town. It would be a perfect place to start your Azerbaijan Vacation and to let the city vibes sink in. Nizam street is one place you wouldn't want to miss out in Baku. The 2-mile long street is home to many shopping outlets, cafes, restaurants and churches. Let's make your dream trip a memorable one with Baku tour packages!
Sheki
Sheki is in the northwestern region of Azerbaijan and on the foothills of Caucasus Mountain. It is one of the oldest towns in the country and dates 60,000 years back. The town scarcely populated with 63,000 people. It is at a distance of 240 kilometres from Baku and can be accessed through private taxis as well as public transportation.
Also check: Reasons to visit Azerbaijan
The town is famous for silk and textiles. This small settlement was a major landmark in the once-prosperous silk route. Apart from the textiles and embroidery, the town is famous for its sweets and local cuisines.
The historic town also showcases the architecture brilliance in the form Mosques, palaces and castles of Sheki Khans. In addition, All these architecture marvels with green mountains in the backdrop make a perfect picturesque setting. Sheki is also listed as part of UNESCO heritage sites from Azerbaijan.
Quba
Quba is a city in the Quba Rayon Region of Azerbaijan. The city lies on the slopes and shadows of Shahdag mountain. Due to its geographical location that is at an elevation of 600 feet above sea level, it offers spectacular views of valleys and towns. Also, the city is on the banks of the river Kudyal hence the greenery all around.
Quba is one of the Most Charming destinations in Azerbaijan and would be a place of interest for people wanting to stay away from the crowd. The city has a population of just 38,000 people and a peaceful destination for a vacation.
Quba is 170 Kilometer from Baku and has regular taxis as well as public buses at a reasonable cost.
Astara
Astara is the southernmost city in Azerbaijan and shares its border with Iran. The town is one of the oldest and yet so advanced. The city can be easily accessed by public buses and trains from other major cities. The trains station is just 3 kilometres away from the city centre.
Astara has two rivers originating from the mountains and finds its way to Capsian sea. The two rivers being Tengerud and Astarcay rivers. Astarcay divides the city into Azeri and Iranian parts. The town is famous for its mountains, springs and lush green forests. However, the one thing not to miss out in Astara is the tea.
Other highlights of the town include Yanar Bulag, the burning springs. It is found in Archivan village and is a few kilometres from Astara. The water from burning springs has higher methane content and is flammable. Despite the methane content locals believe water is remedial in nature and people come from all parts of the country to get a sip.
Lake Goygol
Set on the laps of Caucasus mountains, Lake Goygol is a lovely landscape and one of the most charming destinations in Azerbaijan. Lake is at an elevation of 1500 feet and also famous for its pellucid waters.
Goygol national park is 30 kilometres from the city of Goygol. The national park is home to name such stunning lakes. However, The largest and most beautiful lake is lake Goygol.
A 12th-century earthquake led to the formation of this mountain lake. Also, The lake and surroundings are home to many endangered species of flora and fauna. Lake was recently opened to tourist and hence you will able to feel the freshness in the ambience.
You can do a day trip lake Goygol from Ganja. The lake is 45 kilometres away, you can board a marshrutka or hire your own private taxi. Both have their own merits and demerits. But if you are on a bag packing trip and want to explore and get the hang of the city dynamics, you can consider minibus which is a far more economical option. The downside being minibuses are not regular and don't have a fixed schedule. The road en route to the lake full of incredible scenery, hence having a private taxi would make it convenient to stop by and capture the moment.
Azerbaijan is a nation filled with charming experiences and is nothing short a Euro vacation. You find the glimpse of European culture in cities like Baku and Astara. Hence, this is an ideal alternative for a Euro trip if you a tight budget.
If you feel the article was comprehensive and useful. Log on to Pickyourtrail and reach out to travel consultant to know about Azerbaijan and plan a completely customisable itinerary and also check our guides page . You can also check-out Azerbaijan packages for exciting deals and unbeatable price. You can also ping us on WhatsApp.
Note: The images that are being published here are the author's choice, and the organisation takes no responsibility for their usability.