Iceland, as they refer, is a "Land of Ice and Fire". Even though ice comprises just 10 % of the land, it still has the largest glaciers in Europe. These glaciers melt during summers and have given rise to some amazing waterfalls in Iceland.
A vacation to Iceland is never complete without visiting a couple of these waterfalls. Each waterfall has its own tales, myth and folklore. Every waterfall is distinctly unique and equally impressive. For a nation with plenty of waterfalls, it is quite a task to narrow down as to which one to visit and which one to skip. In this article, we present you a chosen set of amazing waterfalls in Iceland, and we recommend you to cover at least 3 – 4 on the list.
Amazing Waterfalls in Iceland
Gullfoss, Hvítá River
Skógafoss, Skogá River
Bruarfoss, Gimsnes
Seljalandsfoss
Kirkjufellsfoss
Godafoss
Dettifoss
Also Read: The beginner's travel guide to explore Iceland in 7 days
1. Gullfoss
Gullfoss is one of the major attractions in Iceland. The phrase literally translates to Golden falls. The waterfall is 32 metres high and cascades over two slopes into a narrow river gorge. There is no entry fee to visit the waterfalls and you can walk close enough to feel the water sprays. You can visit waterfalls throughout the year, as it is equally impressive in summers as well as winters.
It is generally combined with other two attractions of the golden circle, Geysir and Þingvellir National Park. The falls is 90 kilometres away from Reyjavik and easily one of the amazing waterfalls in Iceland.
2. Skógafoss, Skogá River
Skogafoss is in the premises of Skoga village and easily accessible via the famous Iceland ring road. The waterfall is roughly 160 kilometre from Reyjavik and a good destination for a peaceful drive and day trip. The falls is a 5 mins walk from the parking area.
The waterfall is truly majestic with a fall height of 200 feet and 80 meters wide. The waterfalls naturally set on a verdant cliff with water sprays dispersing into a bright rainbow. In addition, You can hike up to the top for a panorama view of the entire region. This amazing waterfall in Iceland is one of the most visited sites owing to its accessibility and enchanting views.
3.Bruarfoss, Gimsnes
Bruarfoss is a hidden gem in the southwest region of Iceland. Not many visit these waterfalls, however, people who visit this waterfall are awestruck and vouch for this waterfall as one of the amazing waterfalls in Iceland.
The distinct feature of this waterfall being, its not just one stream that cascades but multiple small streams gushing into a wider gorge. Although relatively small compared to Iceland standards, tourists nicknamed this as the bluest waterfall in Iceland. The Waterfall is 90 kilometres from the capital city and recommended for people who enjoy hiking and adventure.
Also read: Best Things to do in South Iceland – A Dream Destination
4.Seljalandsfoss
Though geographically similar to Skogafoss, people still enjoy visiting Seljalandsfoss as you can walk behind the waterfall for some spectacular views and photos. Ensure you carry an extra set of clothing as you can get drenched by water sprays in an attempt to get behind the waterfall.
The Seljalandsá River descends from 200 metres height and is one the tallest waterfalls in this region. The trail to get behind waterfalls is closed during winters as it can be risky and dangerous owing to the slippery surface.
Seljalandsfoss is 130 Kilometers away from Reykjavik. People can visit this waterfall through a public bus that operates once every day to experience and get the colloquial feel or they can rent a vehicle which is the convenient and preferred mode to travel.
5.Kirkjufellsfoss, Snæfellsnes Peninsula
Not as majestic as other waterfalls in Iceland, Kirkjufellsfoss has its own charm and appeal. The waterfall is just 20 feet high but what separates the waterfall from the rest is the enchanting views with Mount Kirkjufell in the backdrop.
The best time to visit would be at times of the midnight sun during midsummers or the winters under the northern lights. Photographers all across over the globe travel here to capture this spectacular sight of Kirkjufellsfoss under the northern lights.
Kirkjufellsfoss is a two-hour drive from Reykjavik and hands down one of the amazing falls in Iceland. Few scenes of the iconic game of thrones series were shot in this waterfalls.
Also Read: My Honeymoon To Europe – Quenched The Thirst Of Having A Dream Vacation to Iceland and Paris
6.Godafoss
The Godafoss, also known as the "Waterfalls of the Gods" is located in north Iceland. The waterfall is 39 feet high and almost 100 feet wide. There are three viewpoints around waterfalls to capture this imposing beauty. Also, from one of the viewpoints, you can descent down the trail to experience the feel of freezing glacier water.
There are many interesting tales related to falls. The most intriguing one being, chieftain Þorgeir Ljósvetningagoði letting idols of the Old Norse Gods flow into the falls to symbolise an act of conversion of the nation to Christianity. Hence the name developed as "Waterfalls of the Gods."
A day trip from Reykjavik is not possible as the falls lies in the north-eastern part and 430 kilometres away from Reykjavik. The best way to explore the falls is by staying overnight in Akureyri and exploring the falls next morning post which you can continue your journey on the ring road.
Also read: Best Things to Do in North Iceland – Unexplored Gems
7.Dettifoss
Dettifoss is situated in the northeast part of Iceland and commonly known as "The Beast". The water is lordly and stunning. The waterfall is 300 meters wide and 150 deep and is surges water at 200 cubic meters every second. The best time to visit the falls is during summers when discharge is at the maximum point. Winters are not recommended as roads might not be accessible due to heavy snowing.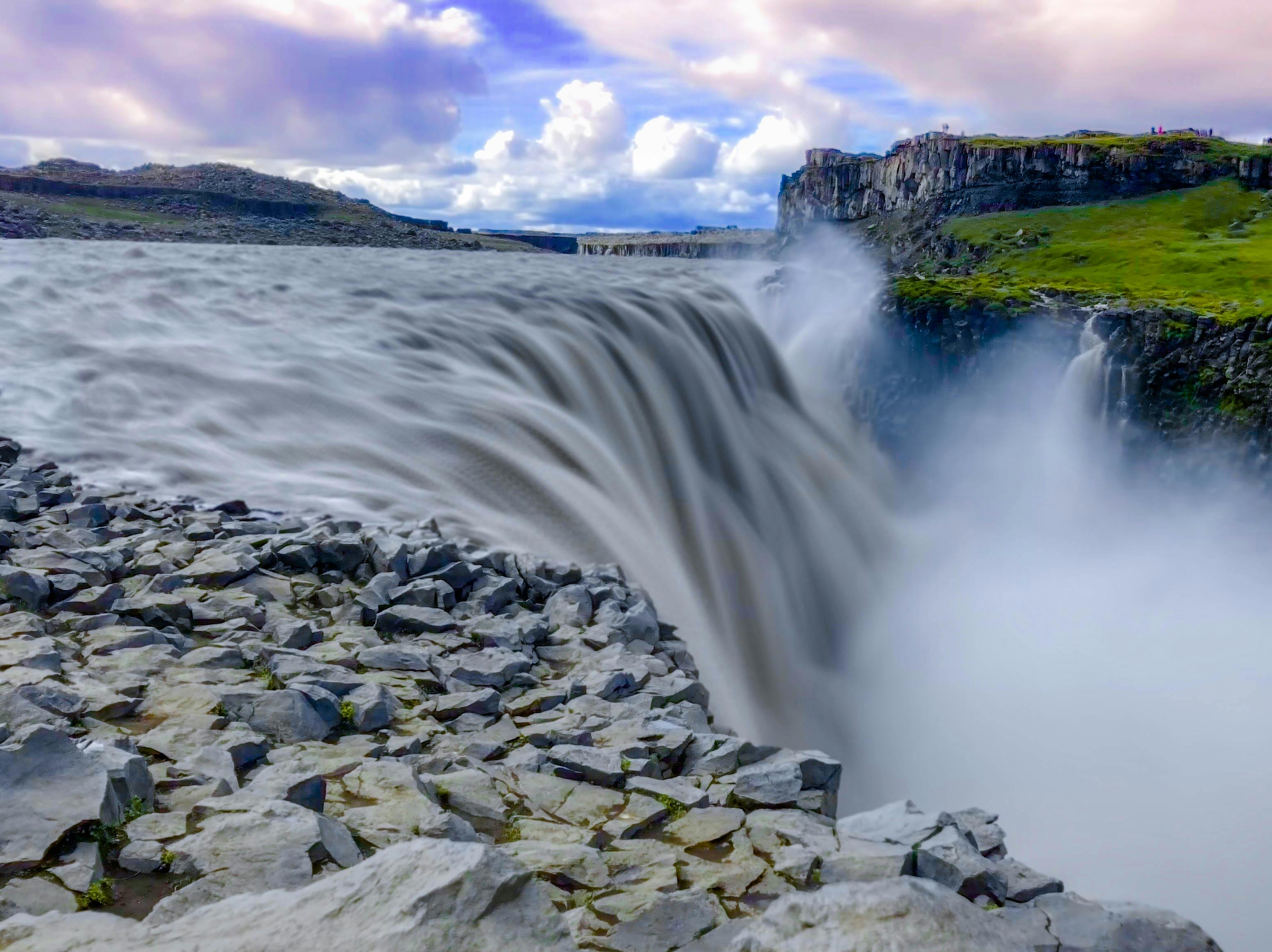 Defifoss is 330 miles away from Reykjavik and might take up to 7-8 hours. Hence, the ideal way to explore the Detifoss and surrounding is by basing your stay in the northern town of Akureyri and planning day trips.
Iceland is truly an amazing destination to spend a holiday with your loved ones. These are just a set of hand-picked amazing waterfalls in Iceland that you should visit. Iceland has numerous other waterfalls apart the ones listed. If you find the article useful, reach out to Pickyourtrail and get expert travel assistance in planning a customised Iceland tour package. You can also get in touch through WhatsApp for a quick response. Make sure you download our best travel app on Android and IOS as well.
Note: The images that are being published here are the author's choice, and the organisation takes no responsibility for their usability.