Are you Looking to Travel to Amsterdam? But you don't know where to begin? Well, PickYourTrail is here with Everything you need to know about Amsterdam. Let's get Started by getting to know more about the City. It boasts more canals (165 to be exact) than Venice, with a total length of almost 60 miles. On the river, there are over 2500 houseboats. As well as a few stores like Bloemenmarkt, a floating flower market where you may browse bulbs and bouquets. In Amsterdam, as a city with a rich cultural past, you're never far from a museum. The Rijksmuseum is Amsterdam's primary museum of history and art, with awe-inspiring works by many well-known Dutch masters.
Also Read: More About Amsterdam
Quick Navigation
When to Travel to Amsterdam?
The optimum time to visit Amsterdam is between April and May, or between September and November, either before or after the peak tourist season in the summer. You'll have less tourists to deal with, and the weather will be milder. You'll discover that the city has a full social calendar no matter what time of year you come (it hosts more than 300 festivals a year).
April to May – With temperatures on the rise and tulips in bloom, spring is a nice time to visit.

National Restaurant Week
Tulp Festival
King's Day

Sept to Nov – Fewer crowds and relatively mild weather makes fall a pleasant season for travel.

UNESCO World Heritage Weekend
Amsterdam Fringe Festival
Amsterdam Light Festival
Also Read: Dam Square in Amsterdam
How to Get around Amsterdam?
Amsterdam, like many other European cities, is a transportation hub having connections both inside the city and to distant locations. Amsterdam, with its diverse transportation options, can get you where you need to go by boat, bike, rail, tram, or bus. Everything you need to know about Amsterdam – Travel Guide
The Amsterdam Travel Card (OV chip card)
Walking is the cheapest mode of transportation in Amsterdam, but if you need to get there quickly, an OV chip card is the way to go. The OV chip card (OV-chipkaart), which can be used on trams, buses, and metros, is the most convenient method to pay for all of your city transport.

A Hop on Hop off Boat trip is the greatest way to see the city from the sea. As you float by some of the city's greatest Golden-Age structures, the tours will discuss the history of the canals, their purpose, and other intriguing local facts. The 100 Highlights trip, which lasts about an hour and carries passengers around the city's canals while highlighting major sites, is a good choice if you're searching for a complete tour by boat. If you're feeling adventurous, you may hire a pedal boat and enjoy the freedom of the rivers. They are a fantastic method for families or friends to get around Amsterdam while avoiding motorcycles, buses, and trams. They usually seat up to four people.
Also Read: Cycling Tour in Amsterdam
What to Pack for Amsterdam?
An umbrella – In Amsterdam, it rains 270 days a year, so bringing an umbrella is a necessity if you want to make the most of your stay there.
A Pair of walking shoes – Walking is the greatest way to get about Amsterdam, and some of the older streets are still cobblestone-paved.
A light jacket – We recommend bringing easy-to-throw-on layers in case you're sitting outside as the sun sets and the temperature lowers.
Also Read: Fun Unlimited in Amsterdam
Top 3 Things to Explore in Amsterdam
The greatest things to do in Amsterdam include everything from top sights to traveler-favorite activities. Here are the top 3 best things to explore in Amsterdam. Everything you need to know about Amsterdam – Places to Explore
1. Van Gogh Museum
The Van Gogh Museum in Amsterdam is home to the world's greatest collection of Vincent van Gogh (1853-1890) paintings. Vincent van Gogh's permanent collection comprises approximately 200 paintings, 500 sketches, and over 750 letters. The museum also hosts exhibitions on a variety of 19th-century art history topics.
2. Anne Frank House
The Anne Frank House is a charitable organisation. Its major goals are to run the Anne Frank House museum and to disseminate Anne Frank's message and values. The Anne Frank House is a non-profit organisation that is not affiliated with any political party or ideology.
3. Canal Cruise
The Dutch capital is famed for its gorgeous canals, and seeing the canals by boat is one of our favourite things to do in Amsterdam. After all of the walking, you'll be able to relax your feet while learning about the importance of the canals to the city's layout from your captain.
Experience
By night, cruise Amsterdam's beautiful waterways.
See the beautiful bridges and merchant homes that have been lighted for the evening.
Discover the most prominent sites along Amsterdam's Canal Belt.
Also Read: Not to Miss Madame Tussads in Amsterdam
Best Food to Eat When in Amsterdam
Everything you need to know about Amsterdam – Food
1. Poffertjes
These are tiny pancakes with a Dutch twist. They're a nice treat to pick up and munch on while exploring Amsterdam. Typically served with butter and powdered sugar (but a little Nutella won't hurt! ), they're a sweet treat to pick up and snack on while exploring Amsterdam.
2. Stroopwafels
These are arguably one of the most famous dishes in Amsterdam, since they are prepared with caramel and served between two thin and crispy waffles. Many airlines have begun to include them in their itineraries for flights to the Netherlands.
3. Cookies
If you only do one thing while in Amsterdam, make it one of them. Just be prepared for a lengthy wait, as these delicious cookies are well-known among the locals!
Also Read: Food in Amsterdam
What to shop in Amsterdam?
Everything you need to know about Amsterdam – Shopping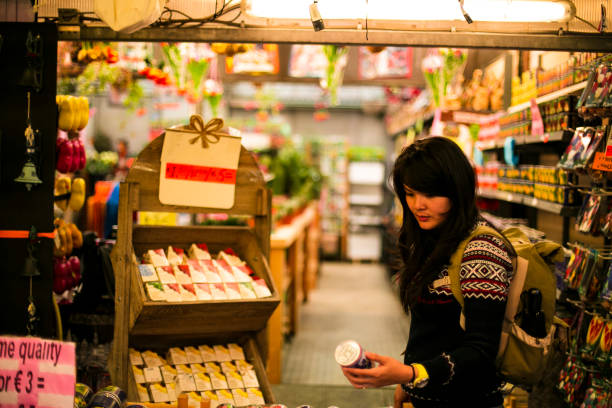 1. All the cheese
If you're wondering what to do in Amsterdam, sampling cheese from one of the numerous cheese stores is one of the most delightful ways to spend a day. Gouda is the most popular cheese among locals, but there are plenty of others to sample!
2. Tulip bulbs
You have to buy some tulips while you're at the world's tulip capital! When buying tulip bulbs, make sure to look at the packaging to verify whether it has the export mark of approval.
3. Delftware pottery
These pieces have become famous in the Netherlands. You may also add a day trip to Delft, the birthplace of ceramics, to your itinerary. It was created as a knockoff of Chinese porcelain, but it is now well-known all over the world.
---
All Right Folks! Time to get going. Pack Your Bags and get ready to visit Amsterdam. Visit PickYourTrail to find out the best Amsterdam Tour Packages and experience the best Trip Ever. Find out more about Us by following on Instagram and Facebook. See you soon. Stay tuned for more.
Note: The images that are being published here are the author's choice, and the organisation takes no responsibility for their usability.