A group of quaint little islands in South East Asia, the Philippines is the best spot for your next vacation. Be it mountaineering, island hopping, or experiencing the best nightlife, the Philippines has it all for you. A new age water sport, canyoneering is also gaining popularity in the world and the Philippines is no different. To start with, what exactly is canyoneering? It basically involves walking and rock climbing with a bit of swimming over rocky terrains in the midst of waterfalls. Until a while back, canyoneering was a sport for professionals, but with the increase in popularity, every other adventure seeker wants to indulge in this unique sport. Well, some good news for you while planning your vacation to the Philippines is that you have some great spots to take up canyoneering. Read on to find out more!
Ternate
A municipality belonging to the province of Cavite in the Philippines, Ternate offers some great canyoneering options, especially for beginners. The human-made islands of Ternate enable you to do some safe canyoneering. If you prefer, you could also take the help of some experienced trainers in the vicinity. The adjoining Mangrove Forests are also worth visiting to unwind after a tiresome round of canyoneering.
Clark
Clark is located in the "Culinary Capital of the Philippines" Pampanga and this place is interestingly not known for only its food. It is known for some stunning waterfalls which are hubs of canyoneering. Areas enclosed by waterfalls are by themselves scenic and peaceful. Breathe in the fresh air of nature and feel refreshed as the water splashes across your face while canyoneering. The best part is the water doesn't become too rough and even beginners can indulge in canyoneering here. These places are mostly situated in close proximity to the city and are accessible in case any assistance is required.
El Nido
The charming El Nido located in the Palawan province of the Philippines is one of the ideal places to go canyoneering. Some of the best islands and rivulets exist at El Nido, making it conducive for canyoneering. If you'd like to explore anything else here, you could always indulge in some classic scuba diving and have a glimpse of the marine life here. The stay and accommodation are also very nominal in this star attraction of the Palawan province.
Suggested Read: Best Things to do in the Philippines! The Ultimate Guide
San Jose
San Jose, also called "Marine Wonderland" is located on the outskirts of the Capital City of Manila. Given that it is an offbeat location, nature will be at its best, and canyoneering here for beginners is probably not the best option. The waters of the Balsa river constantly change its course, which might prove to be difficult for beginners. But for the experienced folk, this place is where you can show off some of your best canyoneering skills. Make sure you click some Instagram perfect pictures here!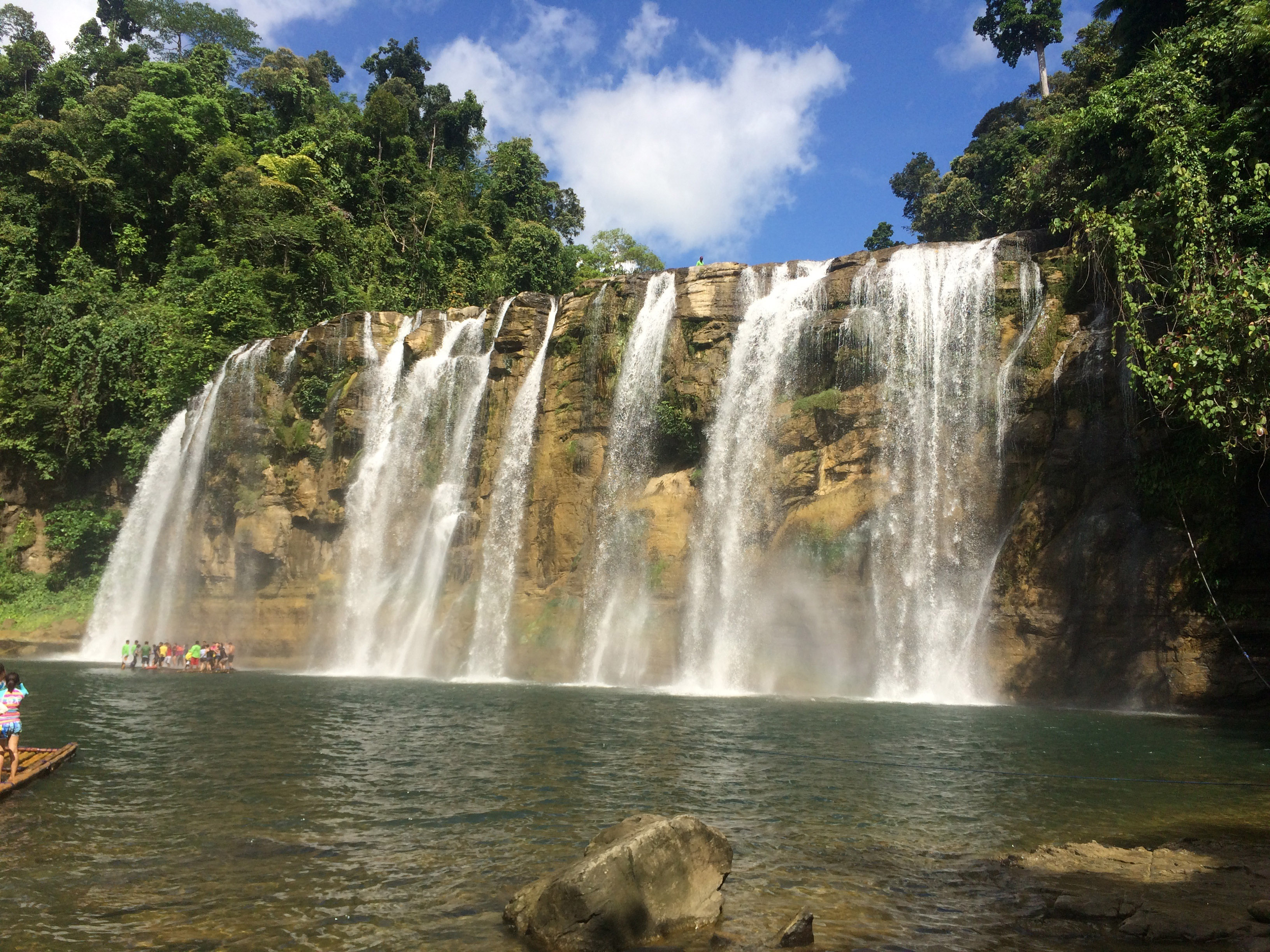 Surigao Del Norte
This is typically an island destination which is a paradise for beach lovers. The small tributaries and rivulets present in secluded corners of the island are great options for canyoneering, kayaking, zip-lining, and white water rafting. Most of these islands are accessible and ideal for beginners to indulge in water sports. You can also take the help of some guides on the island and do the scuba diving or canyoneering that you've always wanted to do.
Moalboal
Moalboal in the town of Cebu, by itself, has an exotic ecosystem and is an ideal place for swimming with the whale sharks. Canyoneering options are also available, but if you also like to indulge in some fun-filled water sports, then Moalboal is just the place for you. You can go around snorkeling on the beaches and discover the unexplored parts of the surrounding islands. Moalboal defines a complete adventure package and provides what you deem the perfect vacation.
Hundred Islands
If you are a born explorer and love doing something offbeat, then the Hundred Islands are your calling. Apart from exploring the treasures of the island, make sure you also indulge in some canyoneering, so that you can say hello to some of the most exotic species of water creatures and animals. The exploration is not for the faint-hearted, only if you are a lover of hardcore adventure sports, this exploration might interest you. Nevertheless, the thrill of exploring an unknown place is at another level by itself and is definitely something you should indulge in at least once in your lifetime.
Useful tips
Canyoneering will interest you only if you are a hardcore lover of trying an out of the box kind of experience. Canyoneering requires good stamina, presence of mind, and self-control. Make sure you wear a helmet and a life jacket at all times and carry a rope that can withstand your weight and provides grip. Take an experienced guide along with you for assistance.
The Philippines has a hoard of experiences that it can offer to you and you should definitely add it as part of your bucket list. In the words of Helen Keller, 'Life is either a daring adventure or nothing', so make the most of it! Feel like packing your bags right away and whisking off to the Philippines, don't you? Well, then go ahead and book your Philippines travel package. You can also log onto pickyourtrail.com for further details or drop into our office so that we can help with planning your vacation in great detail. Until then, start planning and happy canyoneering!