Dubai's success story is what all tourist destinations strive for. The city grew from a desert to a full-fledged metropolis and created record-breaking man-made structures catapulting it to one of the best tourist destinations to visit. Dubai's a perfect destination for families and couples alike. You can get a taste of world-class luxury here with its skyscrapers, serene deserts, extravagant dining experiences, vibrant nightlife and swanky malls. Dubai Aquarium & Underwater Zoo is one of the captivating attractions in Dubai which lets you get up close and personal with marine life. Here's all the information you require before visiting one of the best attractions in Dubai:
About :
Dubai Aquarium & Underwater Zoo is one the largest aquariums in the world housing over 140 species of aquatic life and highest number of sand tiger sharks. Located over 3 levels of Dubai mall, there are numerous ways to experience the underwater world which has 3 main sections with each having its own unique adventures.
1. Aquarium Tank
The aquarium tank is the largest indoor suspended aquarium located in the ground floor of Dubai mall housing more than 33,000 marine creatures. Observe the largest collection of sand tiger sharks, stingrays, etc. in contained habitats here.
2. Aquarium Tunnel
Located on the ground floor of Dubai Mall, this 48-metre walk-through Tunnel presents a 270-degree panoramic view while being 11 metres below the surface of the tank. It is perfect for clicking pictures as the aquatic creatures will be swimming right overhead.
3. Underwater Zoo
Located on level two of the mall, the underwater zoo is divided into three zones – Rainforest, Rocky Shore and Living Ocean. You get to view a diverse number of aquatic life such as penguins, piranhas, African dwarf crocodiles, giant spider crabs, otters and much more in about 40 different display tanks The highlight is the viewing of King Crocodile which is 750 kgs and covering over 5m in length. This gigantic reptile is a native of Queensland, Australia.
Things To Do:
Dubai Aquarium & Underwater Zoo lets you enjoy the thrills of aquatic life with several activities that let you acquaint yourself with over 40 species of marine beings inside the three zones. Some of the best activities to do in Dubai Aquarium & Underwater Zoo are as below:
1. Shark Feeding
From the safety of inside a cage, you will be just centimetres away watching certified trained divers feed the deadly predators of the sea with buckets of fish. This 30-minute adventure will surely have your heart beating fast with fear and excitement as you watch closely to see the divers navigate their way to feed the sharks giving you a glimpse into the shark feeding programmes in the zoo.

2. Shark Cage Diving
You do not require swimming skills or for you to be a certified diver to dive into the depths of this 10-million litre tank to face the largest population of tiger sharks in the zoo. This is an extremely exciting adventure activity for the thrill-seekers that is done under expert supervision.
3.Cage Snorkelling
Put on your snorkelling gear and get immersed into waters of the aquatic tank while being trapped inside the safety of a cage to watch the marine life come to life around you. Watch turtles, stingrays, all kinds of colourful fish you might even recognize from the movie Nemo.
4. Scuba Diving
You can easily earn yourself an internationally recognized certificate and become a certified PADI diver with the 2 day PADI course offered here where you will be deep-diving into the tanks and learning through an expert diver. If you're already a PADI certified diver, you can opt for the 3-day course where you will receive a card that adds to your PADI rating.

5. Underwater Zoo wonders
Meeting the King Croc has to be one of the highlights of the zoo which weights 750Kgs covering over 5m in length which has been brought in from Queensland, Australia to Dubai. Watch this gigantic predator in its habitat which will surely give you chills.
UAE's Night Creatures is a 200 sq-metre attraction that is an educational tour of the creatures native to UAE. Observe desert creatures such as giant camel spiders, bats, toads etc.

6. VRZOO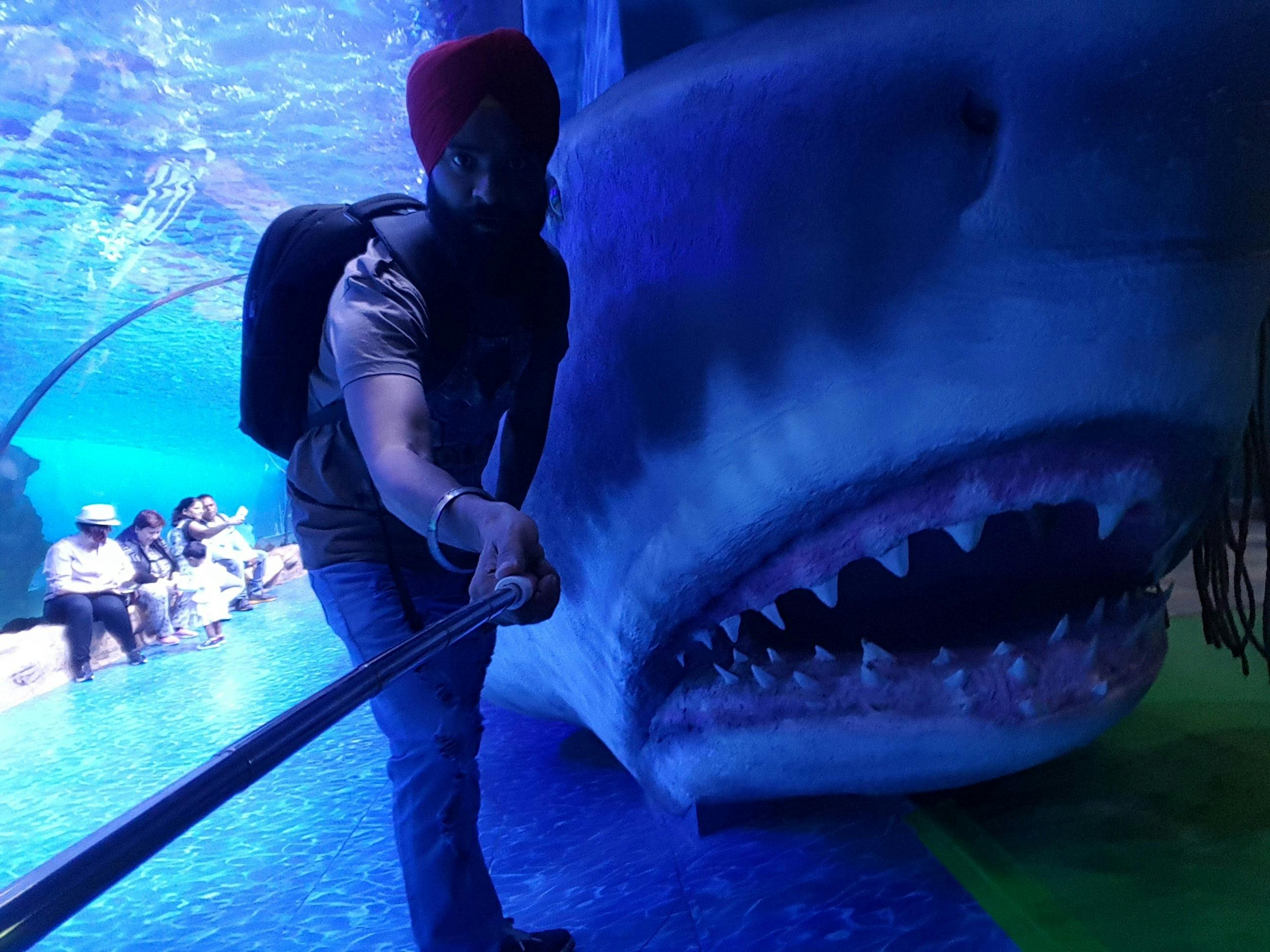 Enter the world of virtual reality which will transport you to view the whale sharks in the Maldives, natural forests of Africa or the tigers of India without having to move a muscle. You will be able to witness the world of animals in their natural habitats in this highly enriching and educational experience exclusively available to Dubai Aquarium & Underwater Zoo
Opportunities for kids:
An interesting opportunity for junior and senior kids is available at the aquarium for them to take an interest in marine biology.
Junior Aquarist suited for 5-15-year-olds: This program allows kids to experience what being a professional at the aquarium requires and what he does on a daily basis. They get to participate and witness behind the scenes such as feeding marine animals and the food provided to each animal. They also get to ride the glass bottom boat tour.
Cost :AED 157.50/child
Senior Aquarists suited for 8-15-year-olds: This program includes all the activities of a junior aquarist including cake snorkelling. Both programmes are meant to create awareness and learn about marine biology and improve understanding of aquatic life. One of the must-dos for kids at the Dubai aquarium and underwater zoo.
Cost : Price: AED 262.50/child.
Location:
Dubai Aquarium and underwater zoo is located on the ground and Level 1 and 2, Dubai Mall, Financial Center Road, Dubai, UAE
https://www.google.co.in/maps/place/Dubai+Aquarium+%26+Underwater+Zoo/@25.1973877,55.2768

Do not worry! The PickYourTrail app will give you complete guidance as to how to get there and its timings before your activity.
Timings:
Dubai Aquarium and underwater zoo functions 10:00 am – 2:00 pm daily. Aquarist programmes are from 1-5 from Sundays to Thursdays. The counter closes at 1 pm.
Zoo Ticket Price:
Dubai Aquarium and underwater zoo cost is 120 AED per person for the basic ticket which covers the aquarium and tunnel and underwater zoo experience. Children below three are admitted free of cost.
You also have other popular options such as VIP explorer experience which covers
Skip the Queue line
Aquarium Tunnel
Underwater Zoo
Behind the Scenes tour
Underwater Observatory
Submersible Simulator
Glass Bottom Boat Ride
Guidebook & Map
Shark Exhibit
Or the Explorer experience which covers
Aquarium Tunnel
Underwater Zoo
Behind the Scenes tour
Underwater Observatory
Submersible Simulator
Glass Bottom Boat Ride
Shark Exhibit

Excited about creating memories in Dubai by visiting this stunning attraction? Allow PickYourTrail to plan out your Dubai vacation with a well-planned itinerary suiting your needs. Plan your Dubai trip soon for an experience like no other.

Note: The images that are being published here are the author's choice, and the organisation takes no responsibility for their usability.