The Maldives is a tropical haven very popular for its magnificent coral reefs, white sand beaches, and crystal clear waters. But for those looking for an adrenaline rush, the Maldives has something special to offer: Flyboarding! Flyboarding is a water sport that involves doing acrobatic feats while being lifted into the air by a jetpack. It combines snowboarding, wakeboarding, and jet skiing into one sport. Enjoy the warm waters and calm flow in the Maldives on your Maldives resort package and get set for flyboarding and its unique experiences.
What is Flyboarding?
Flyboarding is a thrilling water activity that allows you to dive like a dolphin and fly through the air like a bird. It's a jetpack attached to a personal watercraft that can lift you up to a height of up to 50 feet in the air and give you the flexibility to conduct aerial manoeuvres. Imagine yourself standing on a board hooked to a strong water jet, feeling the rush as you soar over the Maldives' pristine waters, sounds so fun!
Flyboarding is a sport for those who live an adventurous lifestyle and enjoy thrills and excitement. It is an opportunity to test your limitations, enjoy the freedom of flying, and gain a new perspective over the Maldives. Whether you're seeking an adrenaline rush or a fresh and exciting way to discover the Maldives, flyboarding is an experience you will not want to miss.
Also read: Water Sports in The Maldives
Where is Flyboarding available in the Maldives?
A lot of the resorts in the Maldives such as Sun Siyam Iru Fushi, Holiday Inn Kandooma, Kuredu, LUX* and many more offer flyboarding, and it can be scheduled through the resort's water sports facility. It is best to inquire about flyboarding and make the necessary bookings with the resort in advance of your vacation. Flyboarding is a relatively new water activity in the Maldives, and is becoming highly popular day by day. The Maldives is the ideal location to experience flyboarding because of its warm waters, pristine surroundings and breathtaking natural beauty. It's an unforgettable experience to try on your Maldives vacation and create memories forever.
Also read: Sun Siyam Olhuveli Resort, Maldives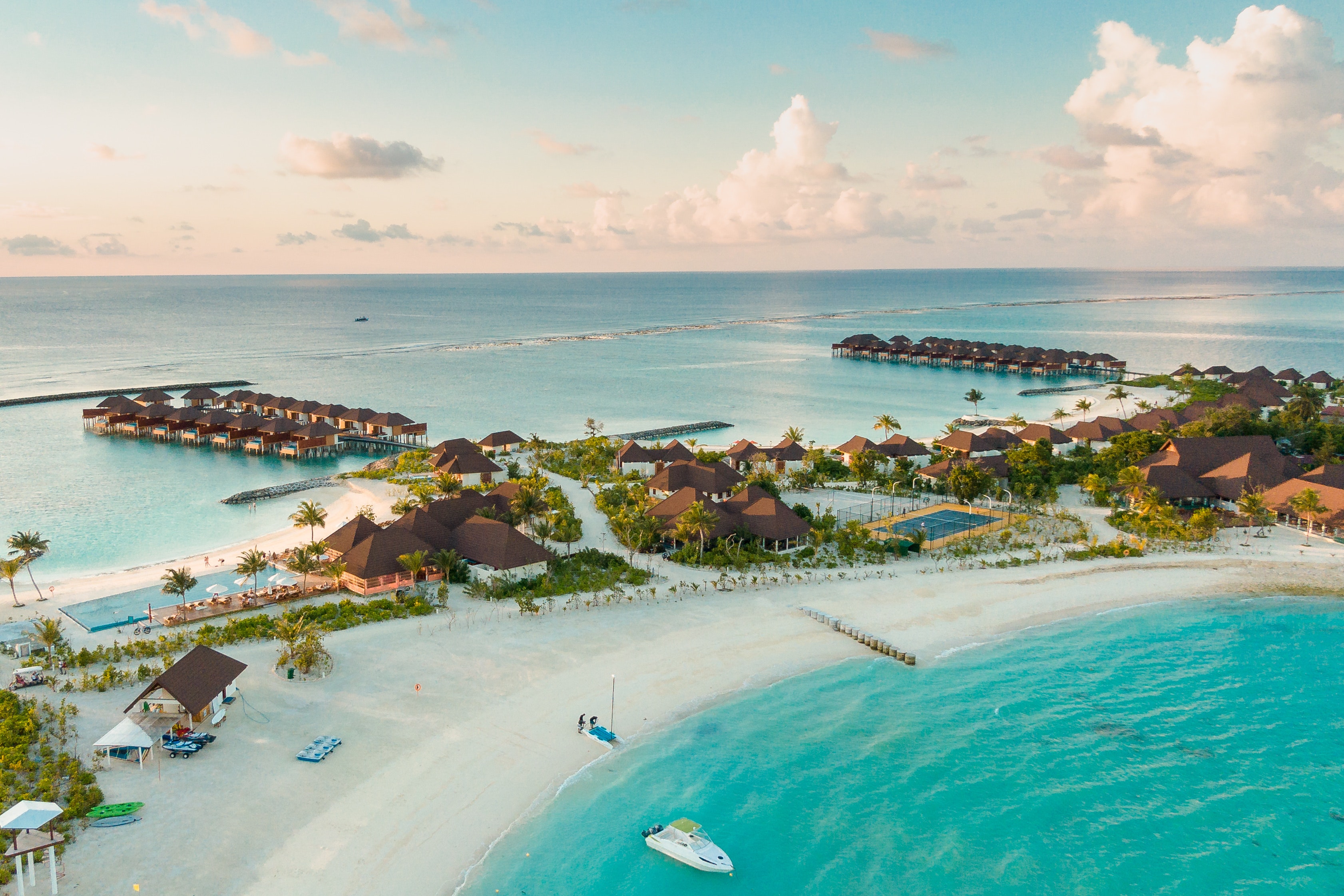 Best Time for Flyboarding in the Maldives
The ideal time to try flyboarding in the Maldives is during the dry season, which lasts from December to April. This is the time of year when the weather is warm and dry, making it ideal for participating in water sports like flyboarding. It is simple to see the coral reefs and marine life below because of the clean, calm seas and excellent visibility.
Also read: Dhiggiri Nakai Resort Maldives
Safety Measures while Flyboarding
As long as you stick to the instructions and regulations given by the instructor, flyboarding is a risk-free water activity. Always follow the instructor's directions and wear the required safety equipment, such as life jackets. Flyboarding is not recommended for pregnant women, anyone with back or neck injuries, or those with heart disorders.
Also read: 25 Best Resorts in the Maldives: Which One is Right for You?
It would be a mistake to miss the opportunity to go flyboarding in the Maldives! So, don't make one and explore the Maldives at its best. Get the finest deals on a Maldives honeymoon package at Pickyourtrail and enjoy unique tropical adventures! You can also customise your Maldives itinerary and plan your trip as you like. Don't hesitate—visit this incredible country right away and make memories forever!