Bali, the Island of Gods, has pretty much everything from lush green forests to mountains to white-sand beaches. While most people are captivated by spirituality, kind locals, a variety of landscapes and hip beach bars. Out of the 17000 islands in Bali, 922 are inhabited. A vacation to Bali doesn't mean that you don't have to miss the undeniable beauty of the Islands nearby. They are just as exciting as the main Island, Bali. Here we go down on the list of best islands near Bali with the speciality of their own.
Top 6 Stunning Islands Near Bali
Nusa Lembongan – For A Romantic Getaway
Nusa Penida – Birdwatcher's Paradise
Lombok – A Kaleidoscopic Beauty
Gili Trawangan – For A Hippie Experience
Komodo Island – For Wildlife Enthusiasts
Java – Experience Mini Indonesia
1. Nusa Lembongan – for a Romantic Getaway
Nusa Lembongan located to the south-east of the mainland, Bali is one of the best islands near Bali. The 55Kms of the sea in between the mainland and this Island can be covered by a fast boat from Benao Harbour. If not then you can take the local slow boats but it takes 90 mins to reach the Island. Anytime between May to September would be ideal to visit this Island. The uniqueness of this Island is that it doesn't allow any four-wheeler movement, thus making it completely free of traffic to add to its calm nature. You can either take a walk or cycle around. 
In terms of activities much like the other parts of Bali, this has pretty much all that you might need. This has everything to offer for a romantic vacation from picturesque villages to some unreal aquamarine life. This is one of the most beautiful Islands around Bali that you shouldn't miss. The notable ones are Paddleboarding, surfing, snorkelling with mantas, cliff jumping, diving, & romantic walks through the villages.
2. Nusa Penida – Birdwatcher's Paradise
Nusa Penida is another member of the Nusa family of islands and the biggest one of the family too. This is very well connected with Bali and the other Islands in the Nusa group. This can be done as a day trip from Bali. Again the ideal time to visit remains the same as the previous one as they are very close to each other. You can either spend a day or two to cover this one extensively.
In terms of stay, you can get beachside stays at a pretty reasonable price and people here are very welcoming making it one of the best islands near Bali. Renting a scooter or a car wouldn't be a problem. The notable sights include the famous Kelingking beach and the Blue lagoon cliff, which is a jumping point at a height of 12 metres from the water. And for all the daredevils out there this will get you covered.
3. Gili Trawangan – for A Hippie Experience
Gilli Trawangan is the most developed and tourist-friendly Island of the Gilli Island archipelago comprising Gili Trawangan, Gili Meno, and Gili Air and more than 20 other smaller islands. Located 45 Minutes away from Bali and reachable through ferries and planes as well, it is one of the best islands near Bali. It is blessed with such a rich marine life so that even a snorkel will help you see turtles and the shades of corals. The other activities are free diving, Scuba diving and snorkelling.
Best time for you to visit this is between September to November. The Island has got a numerous number of bars that throw out late-night parties by the beach.
4. Lombok – A Kaleidoscopic Beauty
This is a huge landmass situated at a distance of 212kms from the Bali port. Most of you would have known the beach town, Kuta, in Bali. Would you be shocked if I say that this Island has got a beach town called Kuta? Yes, make no mistake about it. But this is not as crowded as the other one. Apart from this, it is the home for Indonesia's highest mountain, Mount Rinjani making it one of the best islands near Bali to visit.
And the Mount is engulfed by scenic waterfalls and active volcanoes. The peak will offer you a stunning view of the island. The only slight hiccup that few of you might feel is that it's 212Kms away from Bali and the bat ride might be little tiring. Apart from that, this is a gem of a place for you to enjoy and definitely one of the best islands around Bali. The best time to set foot is between July and August.
5. Java – Experience Mini Indonesia
Java, unlike the other Islands on this list, lies to the west of Bali and this is known as the cultural hub of Indonesia. This is located at a distance of 613 kms from Bali and can be reached by ferry. This place can be done along with Bali or else you can do this island separately as well. This is also called as mini Indonesia. Rightly so this has everything from the architectural temples to a handful of volcanoes making it one of the best islands near Bali to holiday in. The culture there is a mix of Ancient Indian and Indonesian a bit resulting in Indo-Javanese culture. Anytime between May to September would be ideal for you to visit this Island.
6. Komodo Island – For Wildlife Enthusiasts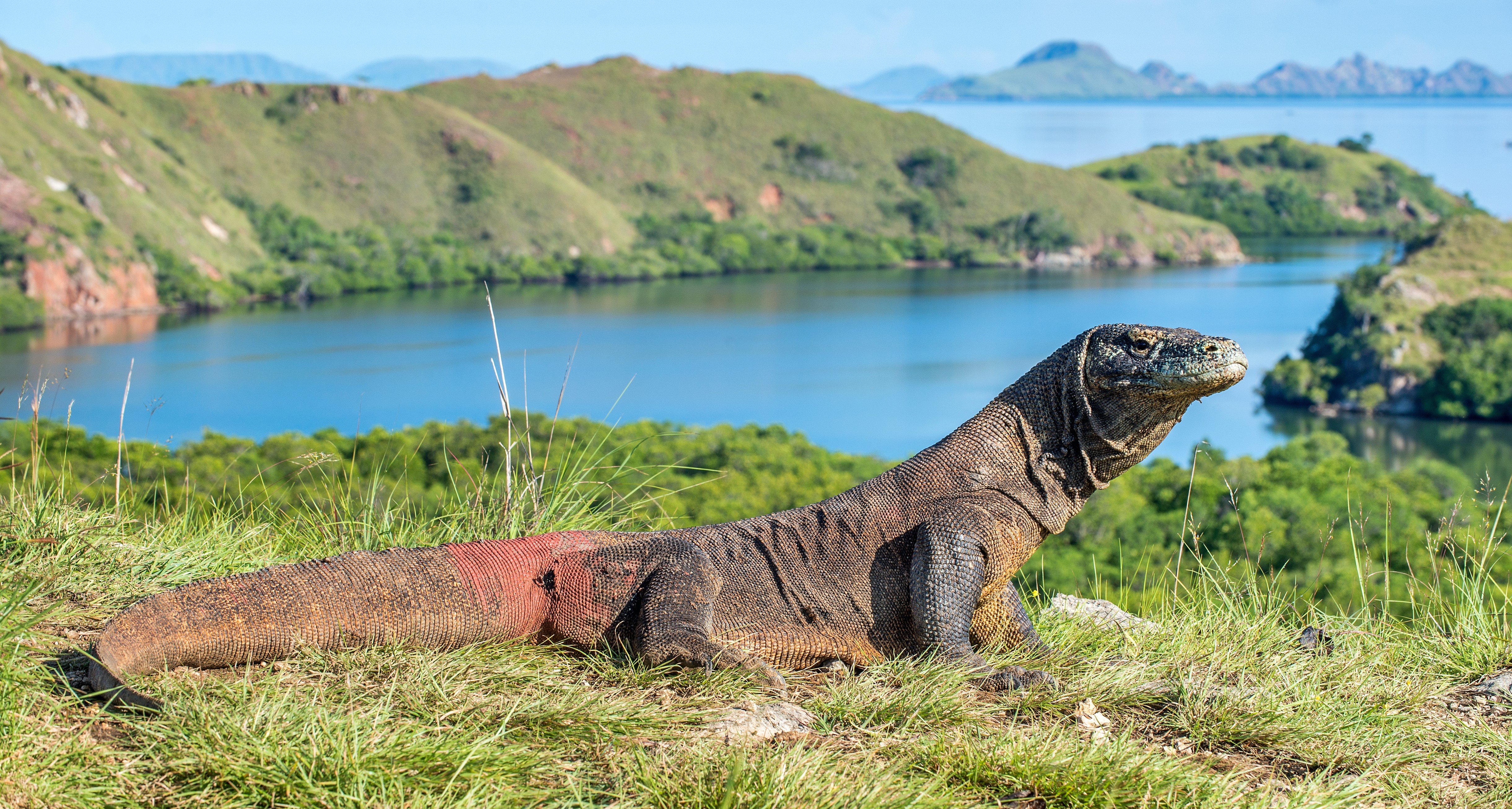 Alright, alright! Nothing that scary. This has a world heritage site in the form of Komodo National Park. And this is the home to the largest lizards in this world, the Komodo dragons. The animals out here gather most of the attention, the underwater life most often is overlooked. The marine area around this Island is home to manta rays, sharks, and some of the most spectacular reefs of Indonesia making it one of the best islands near Bali to visit for marine lovers. 
This is located at a distance of 479Kms from Bali via Lombok. And this is also known for its scuba spots. April to September would be the perfect time to visit this hidden Gem.
Well, well, with this list of best islands to visit near Bali, excited to plan you Bali holiday? What are you waiting for? Book now your Bali vacation with Pickyourtrail, or the interesting thing is that you can customise your own itinerary & make your personalised Bali tours from India. Go head to our website and plan your perfect holiday!