Are you a person who loves culture, history, temples, nature and stunning architecture? Well, you definitely need to add Chiang Rai on your bucket list. Chiang Rai is a perfect blend of all the above mentioned and is filled with many more interesting things which are waiting to surprise you. Chiang Rai is the northernmost largest city in Thailand and has a strong identity of the Lanna Kingdom even today. The city is a perfect mix of old and new which gives the tourist a lifelong memory to cherish. Don't you think you need to know more about this beautiful city? If yes, why not discover the top places to visit in Chiang Rai? That's a good idea, huh? So, quickly get your coffee or snacks and get ready to virtually discover the best places to visit in Chiang Rai for a splendid vacation.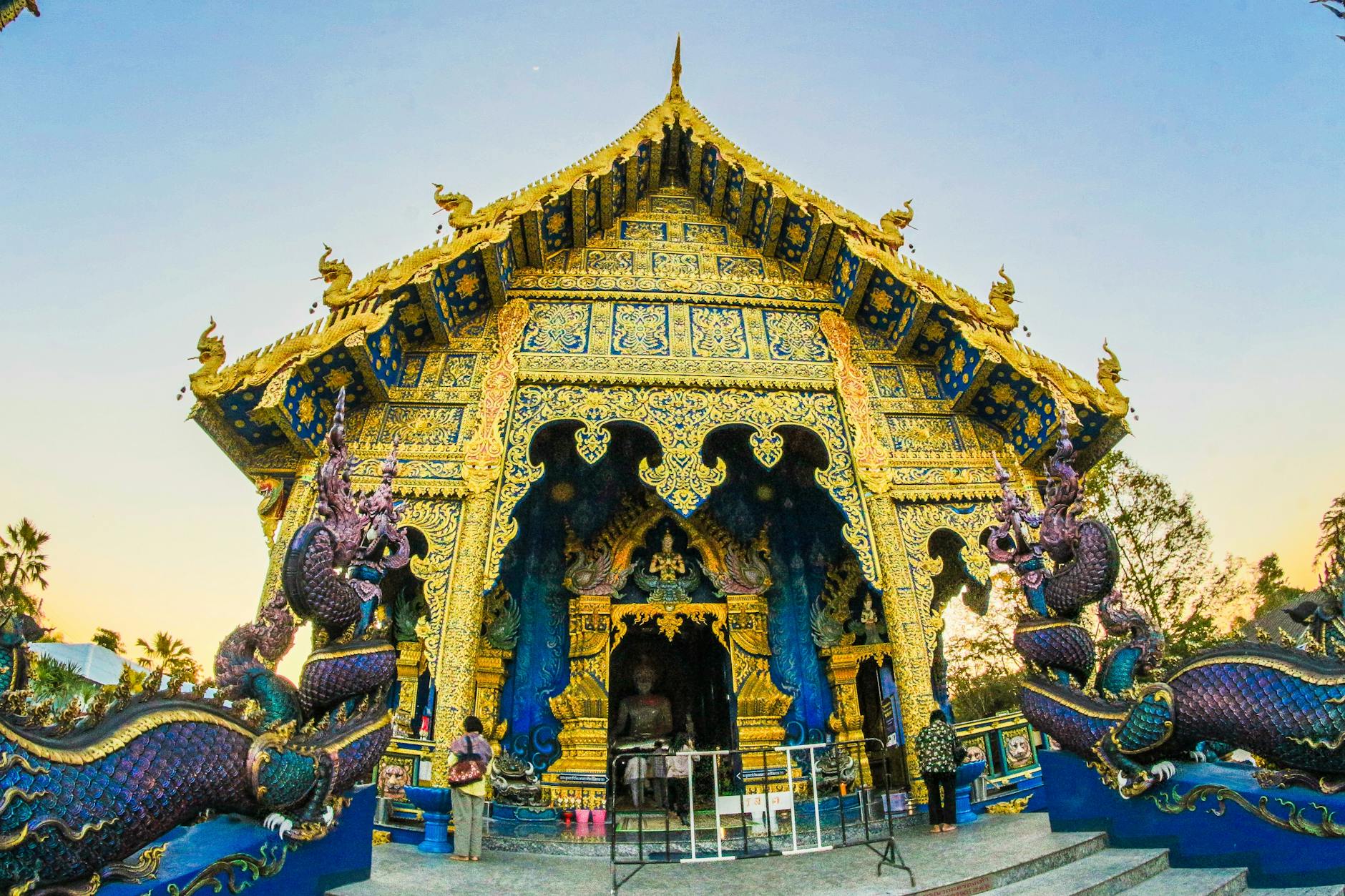 Also Read: Best Places To Visit During Your Vacation To Thailand
8 Best Places To Visit In Chiang Rai Thailand
Clock Tower
Golden triangle
Wat Rong Khun
Doi Mae Salong
Phu Chi Fah
Baan Dam Museum
Wat Huay Pla Kang
Blue Temple
Thailand Tour Package @ ₹ 20,990
1. Clock Tower
Well, the first place to enter the list of best places to visit in Chiang Rai is Clock Tower. This tower is a crowd puller. It's bright and beautiful golden architectural style is pretty enough to attract you. The tower seems to be normal in the day time and comes to life at night. Trust me, the best time to visit the Clock Tower is post 7 PM. The Clock Tower will be lit up in golden, green and pink colours which is a treat to the viewers.
Location📍
Suk Sathit, Tambon Wiang, Mueang Chiang Rai District, Chiang Rai
2. Golden triangle
You cannot complete your Chiang Rai trip without visiting this place. The Golden Triangle is famous because it shares a border with three countries. Well, now the name makes sense, huh? The three countries are Thailand, Laos and Myanmar. Interestingly, all three meet on the Mekong River. Beautiful, right? You will be stunned by its beautiful landscapes. In addition, this is a get off point for tourists who wants to explore the markets of Burma.
Location📍
Sob Ruak Village, Chiang Saen 57150
3. Wat Rong Khun
As soon as you type Chiang Rai on google, you will be able to spot this incredible temple on the first page. Also, none of the best places to visit in Chiang Rai list could be complete without mentioning this place. This masterpiece was designed by the famous artist Ajarn Chalermchai Kositpipat. Truly a masterpiece, right? This Buddhist temple is a crowd puller and you will see people visiting this place to witness the incredible architecture, the interiors, murals, sculptures and also to seek blessings of Buddha. So, make sure you visit this beautiful temple on your vacation.
Location📍
Mueang District, Chiang Rai
4. Doi Mae Salong
Doi Mae Salong is one of the highest peaks and is one of the top places to visit in Chiang Rai for nature lovers. It is located at an altitude of 1600 metres and will amaze you with its breathtaking views. In addition, you can also visit the tea plantation areas, eat the hot delicious local food, have a romantic walk with your loved one and click some stunning clicks. Trust me, this place is more than perfect and is truly satisfying.
Location📍
Daen Lao Range, Chiang Rai
5. Phu Chi Fah
The fifth one to enter the list of best places to visit in Chiang Rai is Phu Chi Fah. This place is blessed with some incredible views. Looking for a peaceful place in Chiang Rai? Well, Phu Chi Fah is the one for you people. The road leading to this place is completely filled with flora and mangroves which will make your journey more interesting. The bright flowers will light up your soul and your heart will find it hard to leave this place. Such beauty! Also, make sure you bring your loved one here and spend some quality time with your only one!
Location📍
Phi Pan Nam Range, the eastern edge of Thoeng District, Chiang Rai
Thailand Honeymoon Package @ ₹ 23,100
6. Baan Dam Museum
Baan Dam Museum is undoubtedly one of the best places to visit in Chiang Rai and is a collection of 40 buildings varying in shapes and sizes. These traditional Thai structures are in black colour and are also commonly known as Black House. This museum is a mix of art sculptures and buildings. You will be able to find a few buildings which are filled with animal skulls and skin which indicates the suffering Buddha witnessed. I am sure a visit to Baan Dam Museum won't be a regular museum visit. Also, once you are done visiting the museum, make sure you stroll around the garden for a lovely evening.
Location📍
333 Tambon Nang Lae, Amphoe Mueang Chiang Rai
7. Wat Huay Pla Kang
Wat Huay Pla Kang is a recent addition in Chiang Rai and is a Chinese style Buddhist temple which is located on the mountain top in Muang. The sparkling architecture work will make you fall in love with this place. The intricate designs and captivating patterns along with the magnificent Guan Yin Statue is definitely a treat for the tourists. If you are an architecture buff, this is one of the must visit and top places to visit in Chiang Rai for you.
Location📍
553 Moo 3, Rimkok, Chiang Rai
8. Blue Temple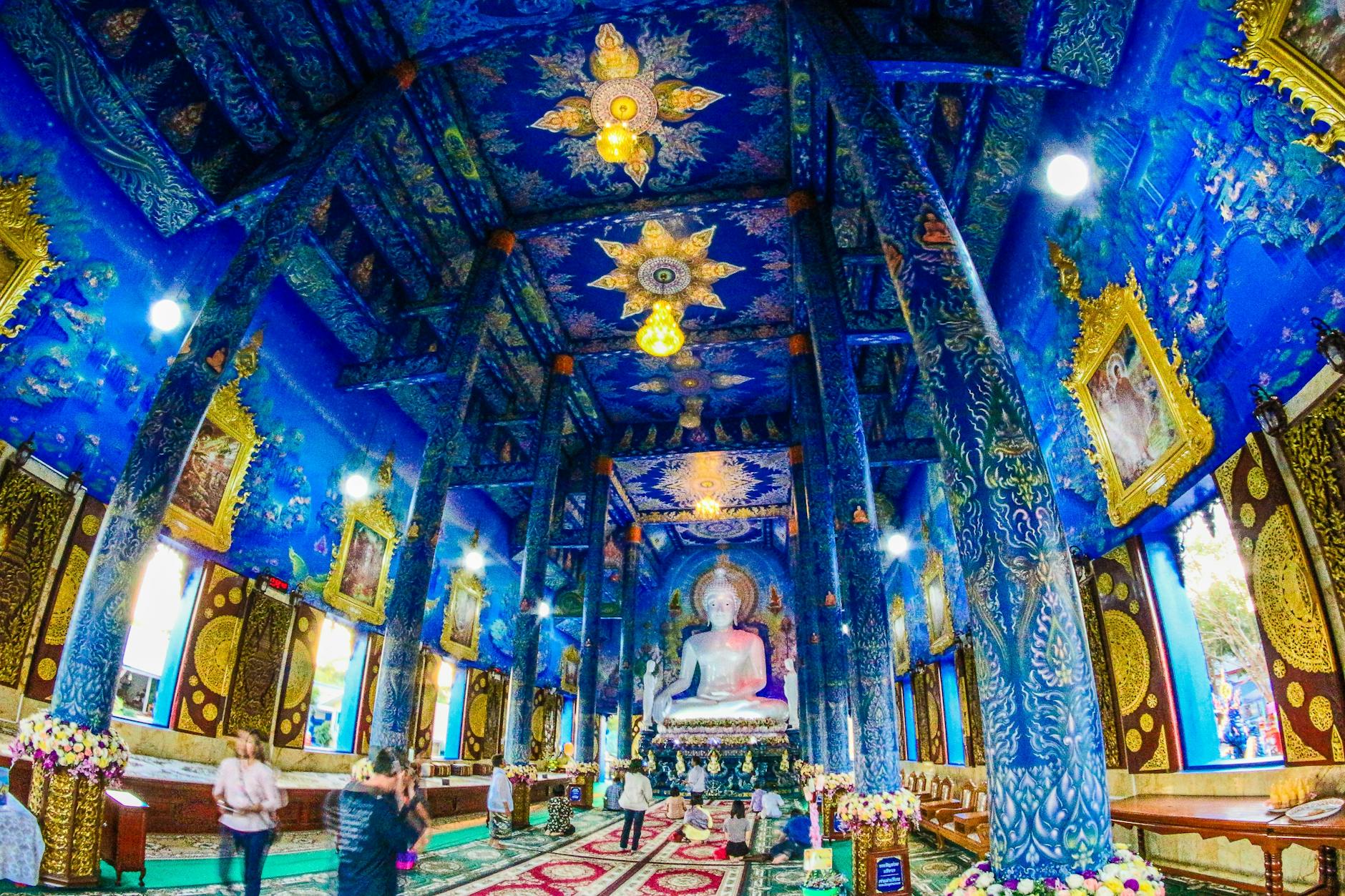 The Blue Temple is truly a masterpiece in Chiang Rai. This temple was built in 2005 over the ruins of an ancient shrine and is dedicated to the tigers that inhabited the region. This Blue Temple is a true blend of modern art and traditional architecture. The ceilings, walls and the whole place is a visual treat to the tourists. The blue and gold colour combination makes the place more attractive.
Location📍
Mae Kok Road, Chiang Rai
Also Read: How To Reach Thailand
Thailand Tour Package @ ₹ 20,990
Wasn't that truly an amazing list of best places to visit in Chiang Rai? It is, right? Such beautiful places! So, make sure you visit this incredible place for sure. Already planning to visit? Well, all you need to do is to head to Pickyourtrail website and check on the amazing Thailand packages. If you are exclusively looking to only cover Chiang rai, we also offer Chiang rai tour packages. Also, you can even drop a message in Whatsapp for more interesting options. In addition, follow this page for new travel updates and for super cool travel contents. It's time for a wonderful vacation!
Note: The images that are being published here are the author's choice, and the organisation takes no responsibility for their usability.