Thailand is truly a paradise, with white sand beaches and unique islands tucked away from the hustle and bustle of city life. It's always debatable whether visiting Thailand in June is worthwhile. The advent of the summer rains heralds the start of Thailand's green season months. The rains begin earnest in May, the Thai countryside begins to alter and take a notably greener tint in June. The level of rainfall in much of Thailand decreases somewhat (except for Ko Chang).
Visiting Thailand in June has its perks. Many major sights are less crowded and hotels are giving discounts to fill their rooms. It's worth looking into domestic airlines for green season offers. They frequently offer specific routes and may save you a lot of money.
Thailand Tour Package @ ₹ 20,990
Weather in Thailand in June
Thailand's weather is lovely in June, providing the ideal setting for a tropical holiday. The weather is unpredictable. It's always a good idea to be ready for a change in the weather, and never underestimate the sun's UV rays. Morning sunlight and beautiful sky might be followed by afternoon thunderstorms (and vice versa).
The unpredictable weather, with water flowing at the coastlines and streets drenched in an unexpected downpour. While the rain only lasts around two hours, the city quickly dries off, making Thailand's June weather pleasant and great for tourism.
How to Reach Thailand from India
There are two ways to reach Thailand from India, which are as follows:
By Air: The easiest and quickest way to reach your destination is by boarding an aeroplane. Complete a long journey of 2475km in 4 to 5 hours in a direct flight from any major city in India. If you want to avail low priced air tickets then book them 2 to 3 months before your trip.
By Road: Yes, you can also reach Thailand via road but this journey will be hectic and tiring and you will also need to do some paperwork. You can reach Thailand by the India-Myanmar-Thailand trilateral highway. It will take more than 60 to 80 hours to reach your destination.
What to Pack for Thailand in June
Check out this list of items to carry for a perfect Thailand trip in June:
Cotton clothes: T-shirts, tops, shirts, dresses, one-piece, shorts, jeans, pants, shrugs, etc
Footwear: Shoes, slippers, sandals, floters, flip flops, etc
Medical and emergency kit
Accessories: Jewellery, hat, cap, scarf, sunglasses, etc
Cosmetics: Moisturisers, sunscreen, mosquito repellent cream, etc
Electronic items: Laptop, camera, charger, earphones, etc
Others: Umbrella, water bottle, etc
Places to Visit in Thailand in June
Rainfall in the north and central areas begins to restore some greenery to the hills and rural countryside. The depth to rivers and waterfalls along with slightly muddy conditions should be expected if you are trekking the Golden Triangle region.
In the south and on the islands, weather patterns are similar to May. The weather in Khao Sok National Park is hot and humid. The islands of Koh Chang and Koh Kood are wet. While the rain is forecasted for Phuket, Khao Lak, and Krabi's west coast beaches.
Hua Hin and Cha-Am, as well as the east coast beaches of Koh Samui, Khanom, and Koh Pha Ngan, are the best bets for assured sunshine, with little to no rain forecast. Dive conditions are still favourable on Koh Tao and the east coast islands.
1. Chiang Mai
The prosperous city, Chiang Mai nestled to the north of Bangkok, flanked by massive mountains and hill tribe settlements. It's an old city with a beautiful blend of the laid-back north, breathtaking mountains, and a diverse range of historically rich buildings and activities just waiting to be explored.
2. Pai
Pai, a backpacker's dream come true. This little village tucked away from the turmoil of human habitation, is located halfway between Mae Hong Son and Chiang Mai. Its beautiful surroundings and remote area. Indeed, aside from exhilarating adventures, the area is home to amazing natural hot springs, waterfalls, and ethnic tribal settlements.
3. Mae Hong Son
This city, which is close to the Burmese border, offers a bizarre glimpse into rural life. Surrounded by the mountain's massive peaks, offering peace and tranquility in the heart of nature. The Padaung ethnic hill group who are famed for their long neck Karen, calls the city home. In fact, the rushing waterfalls, natural hot springs, and wooded caverns immersed in Mae Hong Son's enormous mountains make it a desirable destination.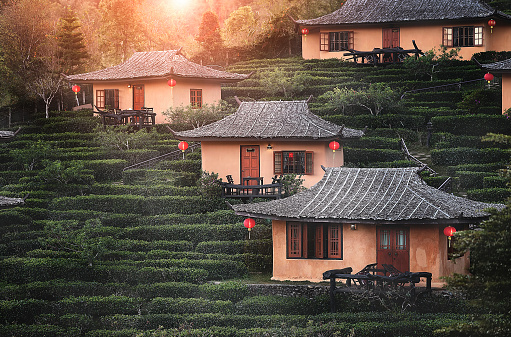 The national park is home to the country's highest peak, situated at an elevation that receives snowfall throughout the winter season. Indeed, the park is a dope to crystal clear waterfalls (Mai Klang Waterfall, Mae Ya Waterfall, and Sirithan Waterfall), challenging treks (Ang Ka Nature paths), and marketplaces brimming with tribal people dressed in their traditional garb.
5. Chiang Rai
Chiang Rai, located in Thailand's far north, acts as a connecting point for the golden triangle. This town has its own beauty by the Buddhist temples and museums that tell the area's heritage. In fact, Boat rides on the Kok River, visits to Wat Klang Wiang, White Temple, Munitti Chiang Rai Buddhist temple, Cultural Hall Museum, and Baan Dam Museum are among the things to do.
6. Yai Chai Mongkhon
Wat Yai Chai Mongkhon has a bell-shaped Chedi in the northeast corner which represents the town. It was erected by King Naresuan in 1592, one of Ayutthaya's best kings. The king's satisfaction of defeating the Burmese army reflects in the architecture. In fact, The stillness that pervades the temple's perimeter will allow you to enjoy a few moments of serenity.
Thailand Honeymoon Package @ ₹ 23,100
7. Erawan National Park
Erawan Falls, which flows down seven tiers, is its most famous feature. Furthermore, the falls are surrounded by an emerald green pond providing a close look at the animals and difficult pathways. It is a fantastic spot for families and adventurous tourists. Nonetheless, Phartat Cave, which features stalactites and stalagmites, and Ta Duang Cave, which contains rock drawings, are two of the park's caves.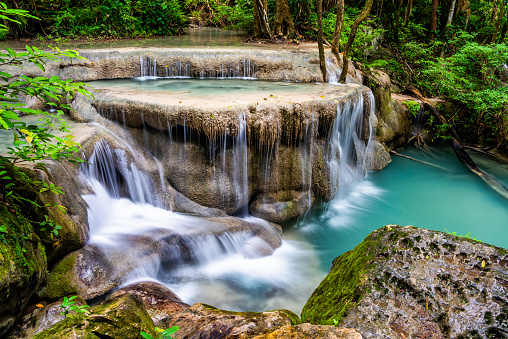 8. Khao Laem Lake
This massive lake encompasses the entire territory of Sangkhlaburi, with a gorgeous view of the hills in the background. The lake was formed in the 1980s by the Vajiralongkorn dam. Two communities were burried, which were eventually moved. Hence, A boat trip on the lake, which provides a view into the bizarre world, is a must-do for all visitors.
9. Koh Tao
Explore the world underneath the emerald green sea water by experiencing the excitement of Scuba Diving on this little island, which is located 55 kilometres from Koh Samui. The name Koh Tao translates to "Turtle Island," and the island lives true to its name by providing a safe haven for turtles and other marine animals, as well as a breathtaking view of the coral reef.
Festivals In Thailand in June
Phi Ta Khon Ghost Festival
Sunthorn Phu Day
Phi Ta Khon Ghost Festival
The annual Phi Ta Khon Ghost Festival happens in Loei, north-east Thailand. It is usually held around June, the actual date varies from year to year. In total contrast, drive south to Hua Hin, where you can listen to soothing jazz on the beach at the Hua Hin Jazz Festival. People wearing white masks throng Thailand's streets in June. The Thai people commemorate their victory over death during this time. Thus, the significance of this day stems from local legends about Prince Vessantara's rebirth.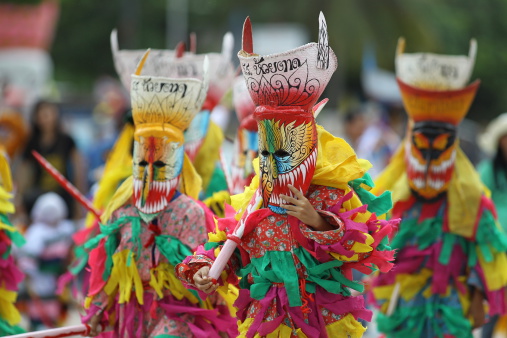 Sunthorn Phu Day
This festival will be a fantastic event to attend in Thailand in June if you are a poet. Moreover, This event takes place every year honoring Sunthorn Phu's Birthday, Thailand's finest royal poet. However, It is then followed by a cultural event in which Sunthorn Phu's famous poems are performed.
Thailand's eastern provinces, which include Rayong, Chanthaburi, and Trat, are known as the "orchard of Thailand". Meanwhile, In May and June, a variety of local fruit festivals commemorate the region's agricultural past. Staying in Rayong, on June 26th, the life and work of Thailand's most famous poet, Sunthorn Phu, is commemorated.
Thailand Tour Package @ ₹ 20,990
Tips for travelling to Thailand in June
It's essential to have a rain jacket and a rainfly with you.
To fight the sweltering Thailand temperatures in June, don't forget to use sunscreen while sunbathing.
Moreover, Spa treatments are priced reasonably
To communicate with the pleasant natives, learn a few basic words.
Frequently Asked Questions about Thailand in June
Q: Is it worth going to Thailand in June?
A: Yes, it may not be a peak month to visit but there are various opportunities to avail in the month of June. Visiting in the off-season has its own advantages such as fewer crowds, economical stay options and air tickets and so much more. June temperature is perfect to visit a beach and enjoy a laid-back vacation.
Q: How is the weather in June in Thailand?
A: The weather is warm but pleasant which can be enjoyed on a beach or wandering the streets around. The average temperature is around 29°C to 31°C with fewer chances of rainfall.
Q: What activities should I participate in, in Thailand?
A: There are a plethora of fun activities to participate in and make your vacation way more exciting:
1. Exciting water sports activities
2. Island hopping
3. Visiting museums
4. Having romantic dinners on a boat
5. Enjoying Thai spa
6. Strolling the vast markets
7. Trying local food
Q: What is the official language of Thailand and do people speak English there?
A: The official language of Thailand is "Thai" but there is nothing to worry about as many people do know how to speak English.
Q: How to travel around Bangkok?
A: The best way to travel around the magnificent city of Bangkok is by Skytrain or Metro. Both commuting ways are economical, fast and easy to ride in. You can also get around on a bus but traffic may get in between you and your destination. Another way to travel around is by booking a cab or a taxi, not much expensive either but may face other issues like traffic
Excited to visit Thailand for the blush of greeneries at the end of winter? Customize and grab great deals on your Thailand holiday packages or Thailand couple tour packages with Pickyourtrail to spend a pleasant vacation with your loved ones at this seaside paradise. To know more reach out to us, see you soon!
Note: The images that are being published here are the author's choice, and the organisation takes no responsibility for their usability.