Are you looking to escape the confines of a mundane life? Or are you seeking a new adventure? Whatever is your reason, Bali is the ultimate holiday destination for everyone. Bali is a beautiful tropical island nestled among the other Indonesian islands in the Java Sea. The beautiful volcanoes, beaches, coral reefs are enough to fill you with euphoria. All you need to do is breathe in the salty sea air and relax, you will feel all your problems melt away. Here I have compiled 8 hidden gems of Bali one must absolutely check off their bucket list. Read on and drown yourself in the natural beauty of Bali filled with glorious mountains, lush greenery, scenic lakes and yes stunning waterfalls.

Also read: 5 Best Bali Beaches for Those Who Love Surf & Sand


Best places to visit in Bali
Underwater Temple Garden
Trunyan Village
Rugged Tunnel Cliffs
Sanur Beach
Kecak Fire show
Swimmimg with the Manta Rays
Blow hole in Nusa Dua
WaterBom Waterpark
1. Underwater temple garden in Nusa Lembongan

Snorkelling is one of the best experiences you can bet on while on a trip to Bali. You can explore the rich flora and the eye captivating coral reefs. You can spend the morning snorkelling under the bright sunshine that seeps through the translucent water. Here, once you go deeper you can find a couple of submerged Buddha statues that would catch your eyes. Over a couple of years, corals have formed over the statues turning them into an array of colorful sights to view underwater.
If you are wondering how to get there, you can use the daily boats that sail from Sanur or Padang Bai to the islands of Nusa Lembongan or Penida. You can generally hire a local tour operator and ask him to take you to the underwater temple garden in Nusa Lembongan.
2. Trunyan or Terunyan : A small Balinese village

Trunyan or Terunyan is a small Balinese village (Banjar) located on the eastern shore of Lake Batur. This might seem like a very creepy place to visit, this place is notable for its different approach to treating dead bodies. In Trunyan, the corpse is actually placed in open bamboo cages and left to rot on its own (yes, you heard that right). It's definitely not for the weak-hearted. The rows of the empty skull are enough to make anyone's heart falter. But it sure is a thrill in its own way.


3. Wander Around the Rugged Tunnel Cliffs in Nusa Penida
Bali is notable for its picturesque greenery and wavy shorelines. But, they also have stunning high cliffs that have been carved and eroded over the years by the ravages of nature. Do visit the famous Kelingking Beach and stroll around the Broken Beach which is also known as Pasih Uug. You can marvel at the mighty cliffs and take aesthetic pictures for your Instagram handle.


4 .Sanur Beach
If you are looking to explore Bali's unique culture and natural landscape, you would find this Sanur beach very appealing. This is home to some of the first hotels and beachfront retreats in Bali and is known for the amazing mix of restaurants, shops and bars. It is also known for its laid back atmosphere and is visited by those looking for a dose of art and culture.


5. Kecak Fire Show in Uluwatu

This is a must-visit place and it surely deserves a place in your checklist if you want an insight into the culture of the Balinese people. They host a show of natives dancing to their songs and music and it is hosted around their natural amphitheater. The amphitheater is located on the coast and you can have an opportunity to view the beautiful sunset simultaneously. The only thing you need to watch out for are the adorable monkeys that might steal your purse, phone, or your water bottles if you don't keep an eye on them. Kecak is basically a traditional dance form of the Balinese people, you will definitely remember it as one of the craziest fun dances.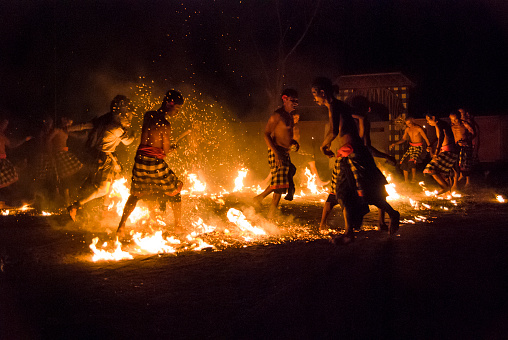 6. Swimming with the Manta Rays

Manta rays are majestic harmless oceanic creatures. If you go to any Island destination, swimming with the Manta rays is sure to be on your bucket list. Some people tend to confuse the Manta Ray with the Sting Ray which is lethal to human beings. Manta Ray is completely harmless and you can go pretty near those sea creatures. You can go and snorkel at two separate islands Nusa Penida and Nusa Lembongan. Both of them offer a very good snorkeling experience as they are filled with Manta Rays swimming around. It is definitely an animal lover's paradise. Make sure you don't touch them though, they have a mucous coating all over their skin which might get infected from human touch. We do want them to be safe as well, right!!


7. Majestic blow hole in Nusa Dua

Be sure to check out this awesome site in Nusa Dua. This is a pretty popular place among the locals but not a lot of tourists are aware of this site. There is a long narrow footpath that leads to the cliff. On one side you might find a cliff and on the other side a range of rocks where you can stand and watch the high majestic waves crash against the cliff. They say the best time to visit this place is during the high tides when the waves are at their strongest and the highest. Just make sure you don't go too close as the waves are a little unpredictable and we don't want the waves dragging you inside! And make sure you have a waterproof camera if you want to capture the breathtaking scenes of the crashing waves.


8. Visit at the WaterPark for all the adventure junkies
WaterBom that is located in South Kuta, is a must for all the thrill seekers. It has rides and attractions not only for the kids and teens but irrespective of the ages you can definitely find a ride according to your taste. They have restaurants, swim-up bars, and food courts inside the park to fulfill your growling stomach as well. So whether you want to eat before your water rides or after your water rides, you would find multiple food stalls around the place. They also believe in protecting the environment and are particular about sustainable development, so you can well expect to see tropical greenery around you and a very cool climate to chill.



Craft your upcoming vacation with PickYourTrail
Bali is an absolutely adventurous place worth sightseeing and having fun around with your partner. Bali a must-visit, not just for the HoneyMooners but also for anyone looking for a leisure family trip. Check out a couple of Bali holiday packages and you can also check the Bali Guides for further info. Connect with PickYourTrail and look forward to create a memorable vacation.

Also read: Best time to visit Bali in 2021