The Isle of Wight – the perfect spot for 'family holiday' destination. Guess what? It's an awesome place for grown-ups too with lots of interesting and romantic spots for single people and swooning couples. England's largest offshore island is the Isle of Wight. Subsequently, located a few miles off the coast of Hampshire in the English channel.
Newport is the county town of the Isle of Wight. At the head of the River Medina's estuary lies this diamond-shaped island.
From plenty of activities at your doorstep to great places to shop, Newport has everything you might need for a relaxed, easy-going holiday on the Isle of Wight.
Let's explore the top attraction to be visited in Newport.
Top highlights of Newport
Monkey Haven
Carisbrooke Castle
Newport Roman Villa
Compton Beach
Robin Hill Country Park
Quay Arts Centre
Museum Of Island History
Godshill Model Village
Isle Of Wight Festival
Isle Of Wight Steam Railway
Parkhurst Forest
Newport Minster
1. Monkey Haven
Monkey Haven is the islands must-visit award-winning rescue centre. It's objective is to provide a forever home for the rescued animals and a wonderful experience for the tourists. This embraces whooping gibbons, cheeky capuchins, mischievous meerkats, birds of prey and many more exotic creatures.
With a wide range of activities available, it is a sure-shot entertainer for the kids especially, if you visit the Wise Owl Lodge, a fully heated building that is to open all visitors. Moreover, this includes quiz trails, interactive map and colouring making it more fun for the kids.
2. Carisbrooke Castle
Carisbrooke Castle has a beautiful view from the top of the mound. Along with beautiful gardens, cannons can also be seen. In addition to this, this castle possesses a beautiful wall walks around. The residents of this castle are donkeys. They draw up water from well-house up this has been happening here for more than hundreds of years. Visitors get the opportunity to watch daily working donkey demonstrations working the 16th-century treadwheel to raise the water up (49 metres) from the bottom of the castle well and watch their celebrity voiced animation about life as a donkey!
3. Newport Roman Villa
Newport Roman Villa – a classic example of Romano-British farmhouse built in 280 AD. The historians call it 1,700-year-old country pile. The most interesting thing about this villa is that it has replanted Roman herb garden with the same contents as nearly 2,000 years ago!
The Newport Roman Villa is well preserved and provides a fascinating insight into third-century Britain's country life that you simply won't get anywhere else.
4. Compton Beach
Compton beach located between Freshwater Bay and Brooke offers a two-mile stretch of contrasting golden and dark sands snuggled between rolling surf and multi-coloured sandstone cliffs. This beach is famous and most favourite among routine beachgoers and a few local water sports lovers. Facing west, this beach is exposed to some vigorous waves making it the perfect spot for surfing on the island.
5. Robin Hill Country Park
Robin Hill Country park is the Isle of Wight's favourite countryside attraction. It has got something for everyone making it a more exciting place for the visitors. From beautiful rolling countryside with stunning views to mystical ancient woodland, the 88 acres of gardens, ponds and landscaped grounds make Robin Hill the perfect place for outdoor adventure. It comes with a large field relevant for a picnic, playing sports and feeding the fish and ducks at the main ponds.
6. Quay Arts Centre
Quay Arts Centre is the Isle of Wight's premier performing arts venue and gallery, also a venue for live arts events. The complex was refurbished in 1997 by award-winning architect Tony Fretton. It is now supported by the Arts Council of England and the Isle of Wight Council. Above all, a large variety of craft is available including ceramics, glass, textiles, metalwork, wood and jewellery. This place is a home for most talented artists in the region.
7. Museum Of Island History
To begin with, the Museum Of Island History is a great start point for any Isle of Wight visit showcasing the island through the years. It is situated within the historic Guildhall on Newport High Street. Visitors get the opportunity to view the incredible objects highlighting the historic past of the island along with the latest archaeological finds displayed. In addition, get to view a range of exciting, changing exhibitions throughout the year.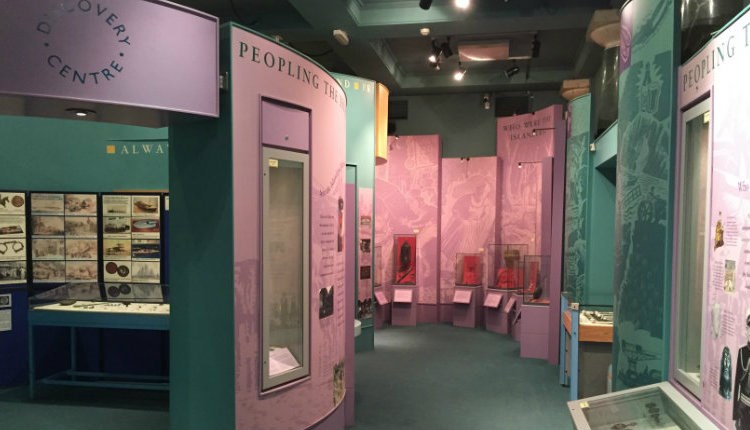 8. Godshill Model Village
Godshill Model Village is an authentic retro attraction that will stay in your memories down the lane. Furthermore, it has beautifully recreated models of Godshill and Shanklin Old Villages as they were in the 1920s and '30s. The gardens here are packed with conifers and shrubs in the Japanese style of Niwaki. This will surely make you want to dash home and start gardening!
9. Isle Of Wight Festival
Isle Of Wight Festival is the first and best-loved music festivals in the summer season – One of the UK's oldest and most historic music festivals. 1970 is the festival's most fabled year. An estimate of 700,000 people turned up to see Jimi Hendrix perform live. By the way, this festival has been happening since 1968 and therefore this huge gathering led to the UK Parliament to pass a law banning the festival.
10. Isle Of Wight Steam Railway
This beautifully preserved award-winning railway creates the perfect backdrop to your special day out. Marvel at the majestic steam engines, beautifully restored comfortable period carriages and charming rural stations. Especially, dressed in traditional Southern Railway uniform – the staffs give the visitors the feeling of living in a different era. This adds more charm to the place leaving you with memories that will last a lifetime.
11. Parkhurst Forest
Walking in the forest is the perfect way to get some fresh air and explore some of the Isle of Wight's most beautiful landscapes. Parkhurst Forest has a range of paths that run through the woodland. It is a mix of remnant ancient woodland, heathland and Forestry Commission plantation woodland. Moreover, the rarely spotted red squirrel in the UK finds its natural habitat in this forest.
12. Newport Minster
More of a history, church, concerts, exhibition lover? Newport Minster has something to offer you. Newport Minster is the Church at the Heart of the Isle of Wight. You'll find it in the centre where you can combine a visit with shopping and enjoying the atmosphere of the surrounding square. This is the place for refreshment in the centre of the bustling town!
Can't wait to write your best chapter of travel story? Newport is for you and the family to discover. From enlightening museums to art galleries, top tourist attractions to soft play areas, this town has it all to keep you engaged.
Book your customised vacation with us and craft your own itinerary. Alternatively, you can also simply pick from the packages online. Also, Whatsapp us for any queries as our travel agents are at your service. Download our app for more information.
Note: The images that are being published here are the author's choice, and the organisation takes no responsibility for their usability.