Dear travelers, romanticism lies in the breeze! Be it your first holiday together, a honeymoon in Maldives or an anniversary, or an impromptu choice of travel, a holiday is a fantastic opportunity to renew your love and spice up your life. What ideal destination to go on a romantic getaway with your partner than the Maldives?
As a matter of fact, stay at one of the 5-star resorts famed for its lavish, charming villas, pristine beaches, exquisite dining options, and world-class scuba diving. Male's main atoll is a fantastic spot to begin your romantic odyssey.
Let's take a gander at some of the most beautiful honeymoon resorts, a short speedboat ride from Male International Airport.
1. One & Only Reethi Rah
The One&Only Reethi Rah is an all-villa insanely finest resort in the North Male atoll, only a short luxury boat ride from Malé. A stylish and elegant resort on one of the Maldives' biggest islands. It is one of the Maldives' largest luxury resorts, and while the island has been enhanced to produce its characteristic form (similar to Dubai's renowned Palm Islands), the outcomes are breathtaking, even in the context of the natural paradise in which it is located.
When you go offhore, Reethi Rah has its own unique style. This accolade resort, a beloved among A-listers, is ideal for couples and families looking for seclusion and the utmost in laid-back luxury. This is the epitome of tropical island living.
2. Velassaru Maldives
Velassaru Maldives was resurrected as a magnificent 5-star resort for couples and families, offering luxury beachfront and over-water accommodation with unobstructed ocean views. It has been tastefully renovated and now competes with all but a handful of the Maldives' top resorts. The degree of employee training is instantly evident. Velassaru began to stand out for its exceptional service in an otherwise calm and well-organized environment. Okay, the resort is now part of the famous Small Luxury Hotels of the World network (SLH).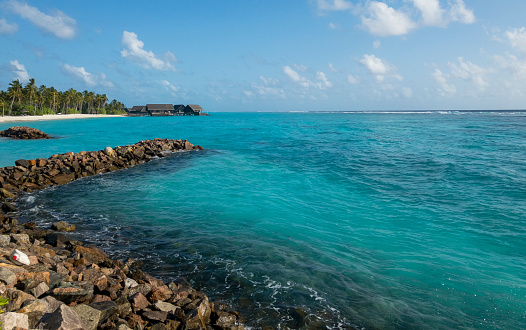 3. Huvafen Fushi
Huvafen Fushi is a unique jewel among the Maldivian resorts. This is a fantastic option if you're searching for a once-in-a-lifetime Maldives trip. It's on a tiny island about a half-hour speedboat trip away from the airport. The house reef is magnificent, just off the bungalows! It is no longer necessary to board a boat and travel to a reef. The main restaurant is also a popular hangout for around 20 species sharks with whom you may dive! The subaquatic spa! Imagining oneself as Ariel from The Little Mermaid, making it opulant activity one couldn't miss.
4. Gili Lankanfushi
Gili Lankanfushi called the finest resort in the Maldives with good reason. This beautiful eco-resort with 46 villas is only 20 minutes by speedboat from Male airport and specialises in delivering really unpretentious, relaxing luxury.
This luxury island is home on a serene, secluded island in the Laccadive Sea, surrounded by tropical plants. Moreover, the beautiful, overwater homes are accessed by boardwalks from the island and include natural materials and wood floors. Japanese cuisine and local seafood are among the upscale seaside eating options. There's an overwater bar and a wine/chocolate cellar, as well as a stylish pool, a theatre, and a spa.
5. COMO Cocoa Island
COMO Cocoa Island is a low-key private island resort in the Maldives with 34 overwater villas that allow you to step off your balcony and into the blue lagoon to enjoy the house reef's teeming marine life. Offering quiet, solitude, and the ability to do very nothing – except from strolling on velvety beach, snorkelling in a world of vibrant marine life, and just unwinding, whether on a massage table or on a daybed looking out at the mesmerising turquoise ocean.
Aside from the gorgeous lagoon views, wonderful beaches, delicious dining, diving, and house reef snorkelling, there's also a fantastic COMO Shambhala Retreat and a yoga pavilion.
6. Baros Maldives
Baros' spirit softly coaxes the senses. "Romantic Moments" is the ideal combination of activities and experiences for creating unforgettable romantic moments. In fact, this holiday package is built with refined refinement and timeless elegance in mind. Complemented by the lush splendor of this tropical island getaway, and is ideal for a honeymoon or a romantic interlude.
The lagoon tempts you to dive in and swim alongside turtles while gliding over coral reefs. Indeed, the sailing expedition tempts you to explore beyond our atoll and see what's out there. As you toast to another memorable Baros moment, champagne fizzes in your glass.
7. Ozen life Madhoo
OZEN Life is the third premium resort in the Atmosphere Hotels & Resorts portfolio, which includes a number of well-known Maldives destinations. Subsequently, It is a prestigious all-inclusive resort in the Maldives, with a thoughtful blend of world-class luxury with authentic Maldivian characteristics. Moreover, there are 41 beachfront villas stretched along the beautiful shore and 49 overwater villas situated over lovely lagoons, exemplifying nature-oriented hospitality. The resort is located on the South Male atoll and can be reached by speedboat in 45 minutes.
8. Grand Park Kodhipparu
Grand Park Kodhipparu was established by Hirsch Bedner Associates, an award-winning hospitality firm, and you can expect the gorgeous ambiance of the resort. The exquisite blend of traditional and contemporary architectural style makes everything on the island picture perfect, from the lovely hallway to the homes, to the main endless pool at the bar, and, of course, the romantic overwater hammock!
9. Waldorf Astoria Maldives Ithaafushi
Escape to a world of unique experiences surrounded by breathtaking natural beauty. This magnificent Waldorf Astoria Maldives Ithaafushi resort is a 40-minute boat ride from Velana International Airport. Indeed, discover 11 famous eating locations, a world-class lifestyle spa retreat, and a variety of activities for people of all ages.
Moreover, Experience true Waldorf Astoria service, tailored to your specific needs. Relax in the tranquility of your villa, which has subtle elements of luxury inspired by the surroundings. In fact, Beyond the luxuriant green, there are vistas of boundless marine horizons and beautiful beaches.
10. Anantara Veli Maldives Resort
Getaway to a secluded island surrounded by a beautiful lagoon. Pufferfish swim in crystal-clear waters below while you relax in your water villas in Maldives or bungalow. Indeed, write your own romantic tale at Anantara Veli Maldives Resort.
In an ocean-facing pavilion, salute the sun. Balance Wellness by Anantara offers relaxing Ayurvedic therapies. Dine under the stars or cruise into the sunset aboard a luxurious boat. Anantara Veli, one of the Maldives' few adults-only resorts, caters solely to adults in order to preserve the tranquility of the island.
---
Indeed, the breathtaking island country of the Maldives is one of the most popular honeymoons and holiday locations in the world, and it is brimming with honeymoon resorts! In this tropical paradise, nothing can possibly go wrong. Which of the resorts do you intend to visit first? Surprise your spouse with a choice from our selection, and go on an adventure together, with Pickyourtrail for the best customized Maldives packages for couple!