A vacation is one of the happiest times that anyone would experience in their life. Whether it is exploring the culture or becoming one with nature, you can let yourself lose while you are on vacation. But if you are a Daredevil, you might also want to explore the haunted places of a region. There is an eerie excitement about experiencing paranormal activities in another country. But did you know that our own country of India is home to some of the most haunted places in the world? Well, I am as surprised as you are. Here is a list of the top 5 haunted places in India that we dare you to visit. Let's see if you manage to stand the test of supernatural time!
1. Dow Hill, Kurseong
Dow Hill in Kurseong is a hill station which is located close to Darjeeling. Although hill stations are beautiful, there are some stories which will send a shiver down your spine. Dow Hill is in fact well known for being one of the most haunted places in India. If you happen to visit this place, get ready to experience supernatural adventure. You can take the help of a local to understand the kind of horror stories which has haunted people for a long time.
The locals have reported incidents of a headless boy and a saree-clad lady roaming around in the dense forest. Dow Hill is also home to Victoria Boys High School. You might hear from some of the locals that they have heard shrieks or voices of children laughing even when the school is closed during the summer holidays. If stories are to be believed, these are the spirits of children and it is recommended that you do not visit this place after sunset. Is this spooky enough for you?
Also read: 9 Haunted hotels around the globe, you could check into!!
2. Three Kings Church, Goa
You might be wondering how a place of worship could be haunted? Although Goa is one of the happiest places to visit in India, there is a scary side to it as well. Three Portuguese kings earlier ruled Cansaulim, a small village in Goa. The three kings used to be envious of each other about who was the superior one. They finally decided to settle the issue. This was when one of the kings invited the other two kings for dinner to discuss the matter. But he had poisoned the meals of the other two kings, and upon consuming the food, both of them died.
Afraid that he might get beaten up by the villagers, he drank the poison himself and died on spot. When the villagers barged into the house they found the bodies of the three kings and decided to bury them inside the Three Kings Church. If you plan on visiting the church, make sure you head back before dusk. Locals believe that the supernatural presence of the three kings is felt even today which is why nobody takes the route of the Three Kings Church in Cansaulim.
Interesting Read: Most Haunted places in Kerala: The Scary Side of "Gods Own Country"
3. Kuldhara village, Rajasthan
Kuldhara! Rings a bell doesn't it? This is one of the most famous haunted places in India and is located in the colourful state of Rajasthan. Although Rajasthan is colourful in itself, the history of the Kuldhara village is not so colourful. According to stories as narrated by the locals of Rajasthan, a powerful community of Paliwal Brahmins used to live in Kuldhara village about 200 years ago. The local king's minister, Salim Singh was considered a brute and an alcoholic. Not only did he levy heavy taxes on the villagers but also wanted to get married to the Kuldhara village chief's daughter. Upon hearing this, all the villagers abandoned the village overnight and fled.
But just before they left the village, they cursed that anyone who inhabited the Kuldhara village would end up with a huge misfortune. This is the reason that till today no one has set up their livelihood in this village. To understand if the village is actually haunted, the Delhi Paranormal Society decided to stay in the village for one night. To their utter horror, they recorded instances of spirits roaming around on their devices and also felt someone tap their shoulder even though there was no one around. This was enough to make them believe that Kuldhara was indeed haunted!
Interesting Read: Haunted Places In Bangalore
4. Bhangarh Fort, Rajasthan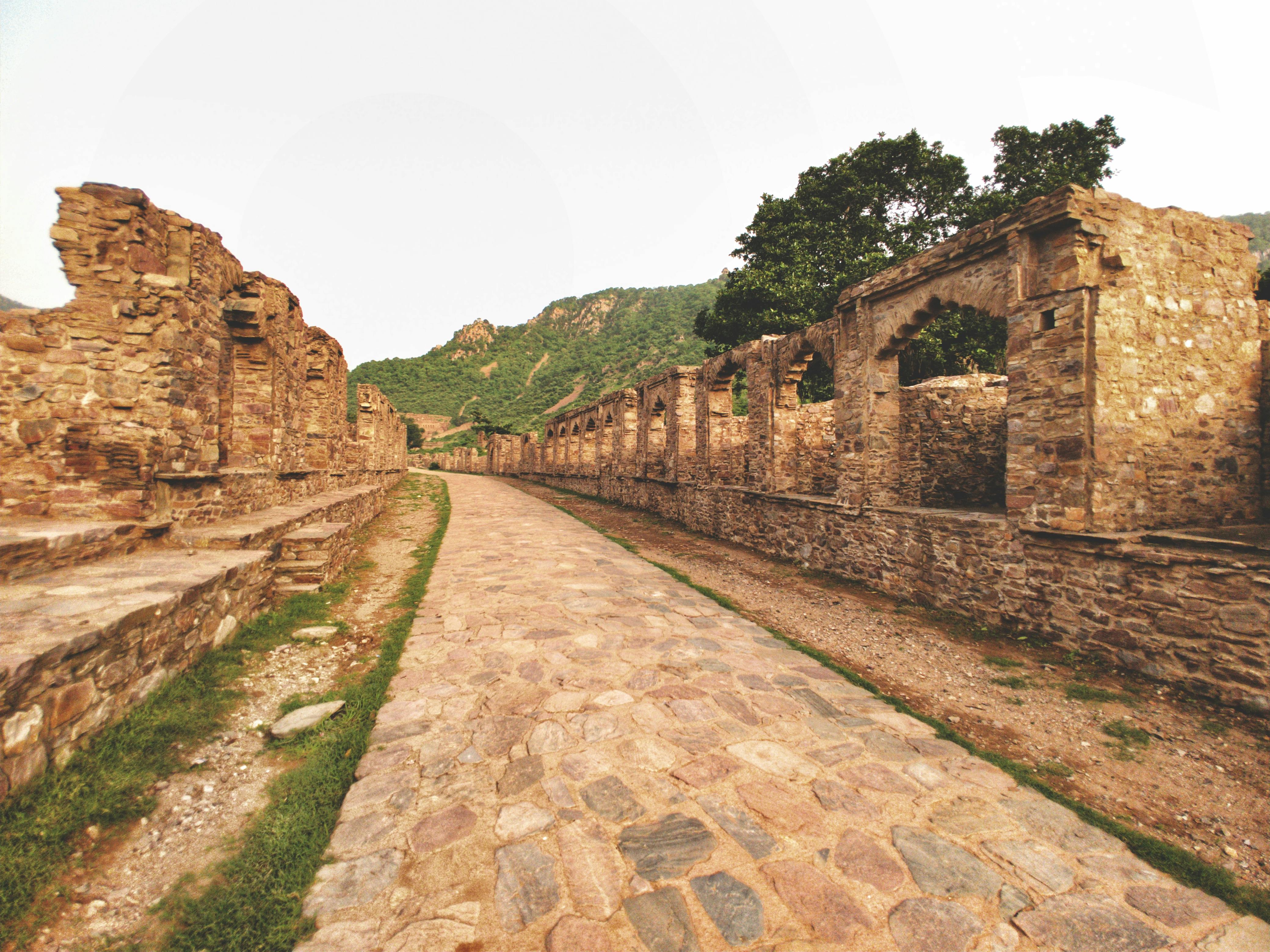 Rajasthan, the colourful state in India has a history of supernatural elements and horror stories. The reason for the Bhangarh Fort being dilapidated is due to a curse. There are two famous stories associated with it. The first one states that Baba Balanath who lived in close vicinity to the fort announced that he did not want any other architectural structure to be built higher than his own house. Anyone not following this condition would be cursed with misfortune and downfall. But the king did not pay heed to his requests and just as the curse had suggested, Bhangarh Fort reached its present-day state.
Another legend has it that there was a wizard who was in love with the princess of the fort. He prepared a magic potion and mixed it with the perfume that the princess used to lure her towards him. Just after she used her perfume, she learnt of the wizard's evil intentions. Hence, she used the very same potion on a boulder. Considering that the potion would attract anything and everything to the wizard, the boulder attacked the wizard leading to his death. When he was breathing his last, he cursed Bhangarh Fort of facing extreme destruction. Rightly so, the Mughals had invaded Bhangarh Fort a few years later. It is believed that the spirits of these people still haunt the fort which is why nobody is allowed to enter it from dusk to dawn.
Also read: 10 haunted places in Rajasthan that will scare you in 2021
5. Ramoji Film City, Hyderabad
Yet another surprise among the haunted places to visit in India. Ramoji Film City is a major tourist attraction in Hyderabad and some of the most evergreen films have been shot in this place. So what makes this place spooky? Legends believe that Ramoji Film City was built on the battleground of the Hyderabadi Nizams. There have been reports of people falling down from great heights while taking care of lighting or while performing stunt scenes. Actresses who have worked on films in the Ramoji Film City have also reported mysterious happenings inside their green room with their clothes being torn or food being eaten.
The spirit of the Nizam soldiers are believed to haunt whoever comes to Ramoji Film City and people have recorded instances of Urdu words being written on the walls and the mirrors. This place is certainly not for the faint-hearted as it is sure to haunt the spirit in you. If you are someone who doesn't mind exploring the supernatural side of India, Ramoji Film City should top your list. You can book an overnight stay at the hotel in Ramoji Film City and look forward to what awaits you!
These were some of the top haunted places to visit in India. Which ones spooked you out the most? If you are a lover of dark tourism, try visiting at least one if not all of these haunted places. Although the COVID-19 pandemic has brought the tourism industry to a standstill, you can still plan in advance, so that once travel kickstarts you will be the first to post that travel Instagram story! If you are craving for travel, check out some of the safe options with staycation deals of Pickyourtrail. Get ready to experience horror like never before!